UPDATE 04.08.18: 6790 may not be crossed for this count to be valid. But there is also another bullish count... If it bounces @ 6825, 6666 or 6400, then white wave 1 and 2 are already in! Yes, this is panic mode right now (this fits the character of a wave 2), but there is no need for panic at all. At least not yet.
The next levels to watch for a big bounce are 6825, 6666 and 6400... If this is indeed already white wave 2, then white wave 3 is next! Target at least 10800.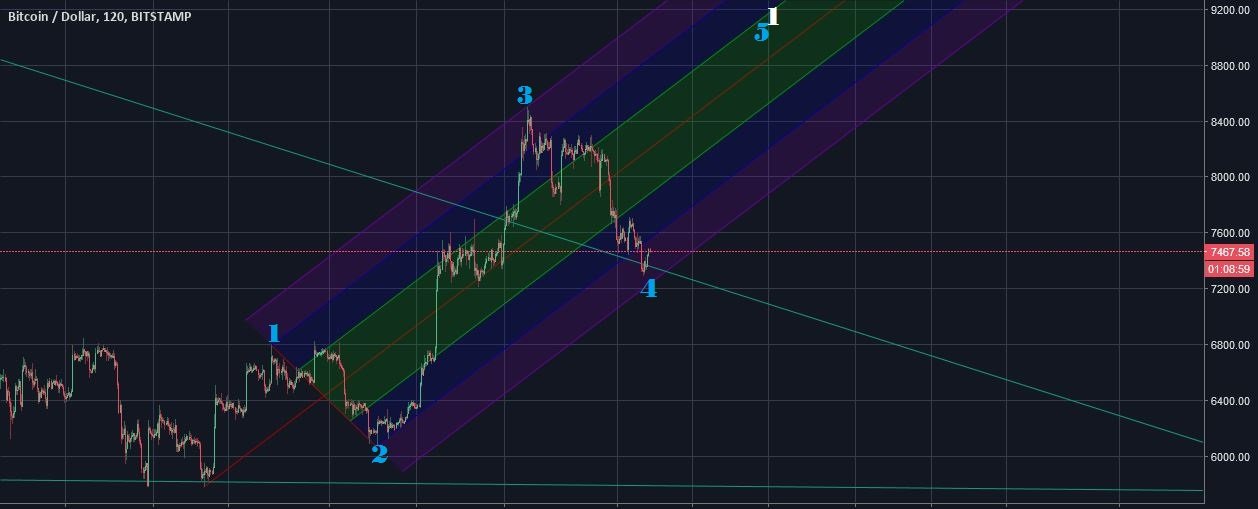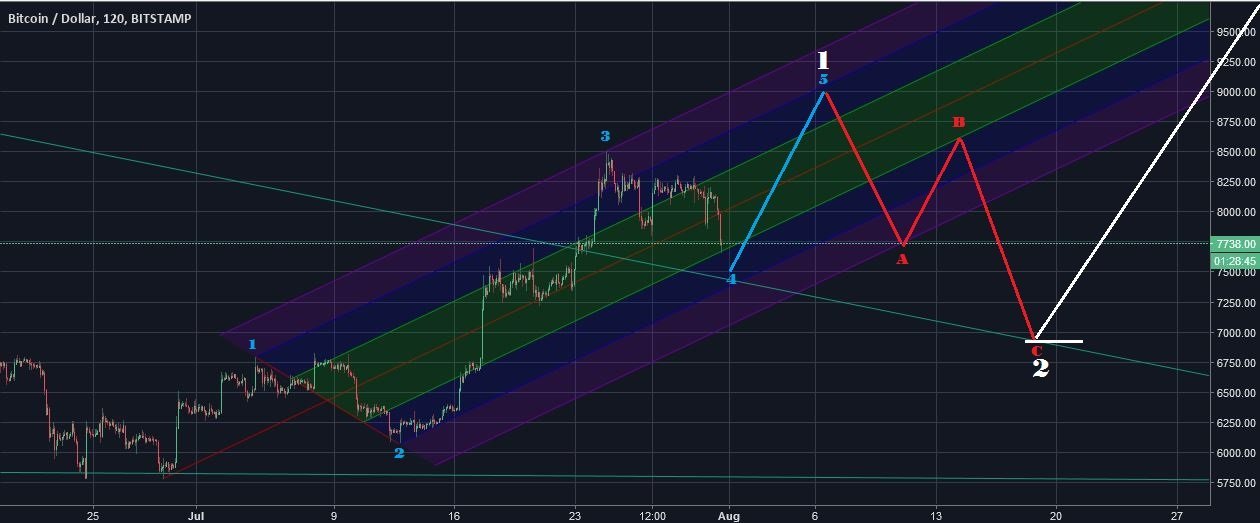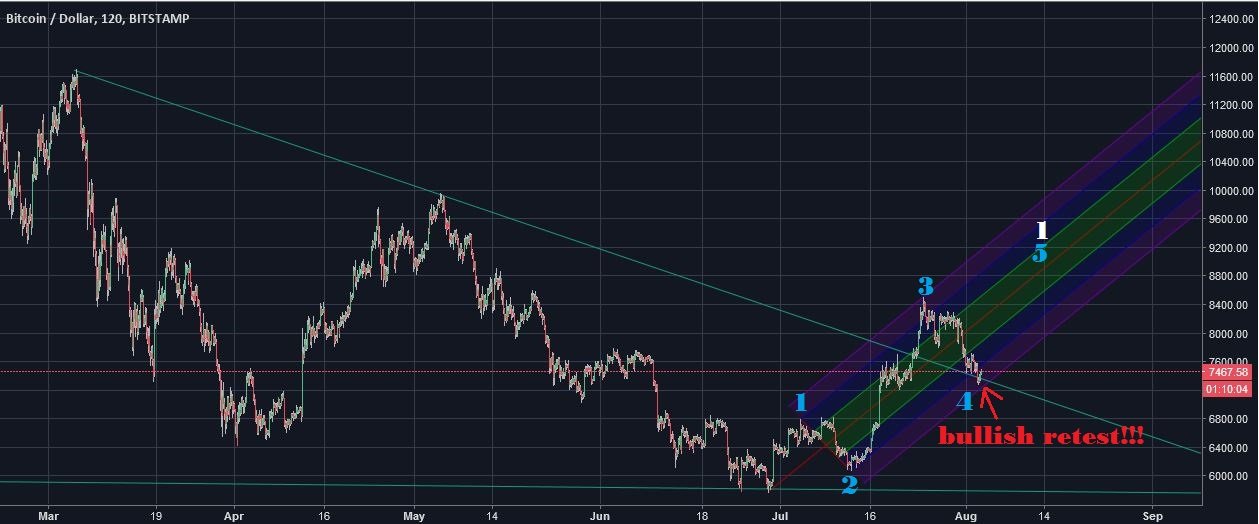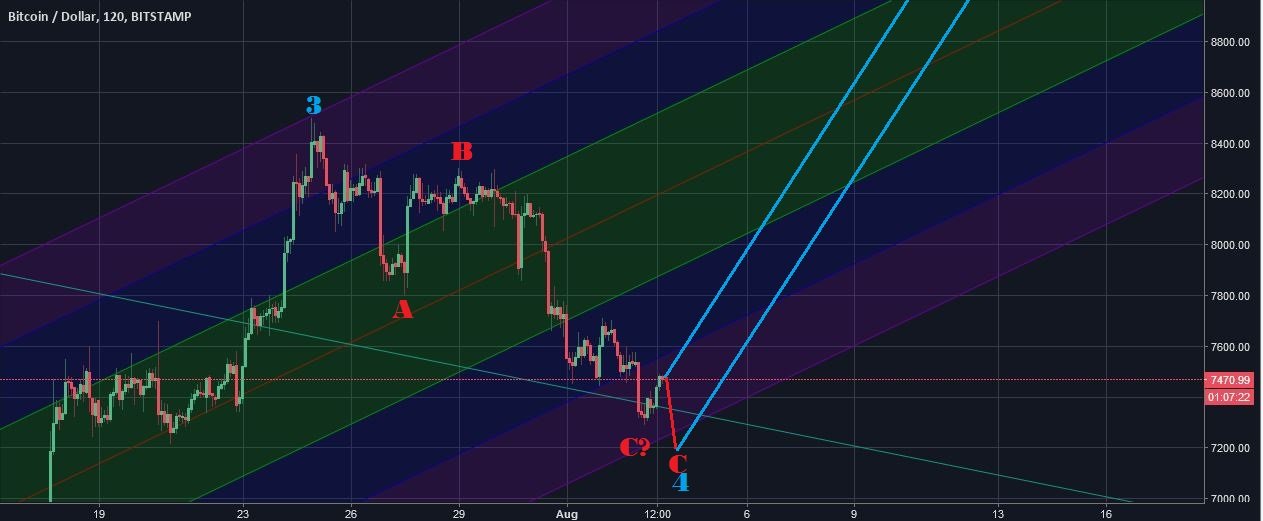 Blue wave 4 will likely come to an end soon. It either is done already or one more low is going to show up.
Blue wave 2 hit a standard correction target and blue wave 4 hit one as well. We also have good alternation in the waves, because wave 2 is an expanding flat and wave 4 is a ZigZag. I don't think there is much to argue with this count.
Now all we need to see is at least 8500+1 for blue wave 5. If it happens BTC has likely seen at least a midterm low, which might develop into a longterm low in 2019.


If you think this to be useful information:




Feel free to use and share my charts, but please mention me, @ew-and-patterns as the author. Otherwise it is considered plagiarism and I will flag you and advise my friends to do the same.



MUST READ!
DISCLAIMER: This post / analysis serves general information purposes only. I am not a financial adviser. The material in this post does not constitute any trading advice of any kind. This is just the way I see the charts and what my trading ideas are. I use chart pattern and Elliott Wave analysis for my trading ideas.
For full disclosure: The author of this post is holding positions in this market at the time of this post. Please conduct your own due diligence, if you plan to copy anyones investment decisions!
If you make any trades or investments after reading this post, it is entirely at your own risk. I am not responsible for any of your losses. By reading this post you acknowledge and agree that you will never hold me liable for any of your losses.
Please consider leaving a comment, like or resteem, if this post entertained you or helped you see things differently...
Have a nice day :-)


#bitcoin #btc #crypto #cryptocurrency #cryptocurrencies #steem #sbd #ethereum #eth #ripple #xrp #bitcoincash #bch #eos #litecoin #ltc #stellar #lumen #xlm #digibyte #dgb #cardano #ada #iota #tether #neo #tron #trx #omg #verge #xvg #bitshares #bts #nano #monero #xmr #dash #ethereumclassic #nem #binance #binancecoin #vechain #tezos #omisego #steemit #money #life #altcoin #altcoins #trading #investing #investment #investments #forex #forextrading #market #finance #gold #silver #commodity #commodities #stock #stocktrading #stockmarket #facebook #fb #apple #aapl #spx #xau #xag #usdjpy #usd #amazon #amzn