EDIT 2: BTC is not moving. It is far to quiet right now. This cannot last forever and implies a bigger move (probably to the downside, even though it does not really fit my preferred counts). WXYX2Z comes to mind again, but such a small wave X2 would be very unlikely and implies extreme weakness in the market...
EDIT: I checked the rules of an X triangle again and there is indeed a rule violation in the last picture. This triangle will likely look like this instead: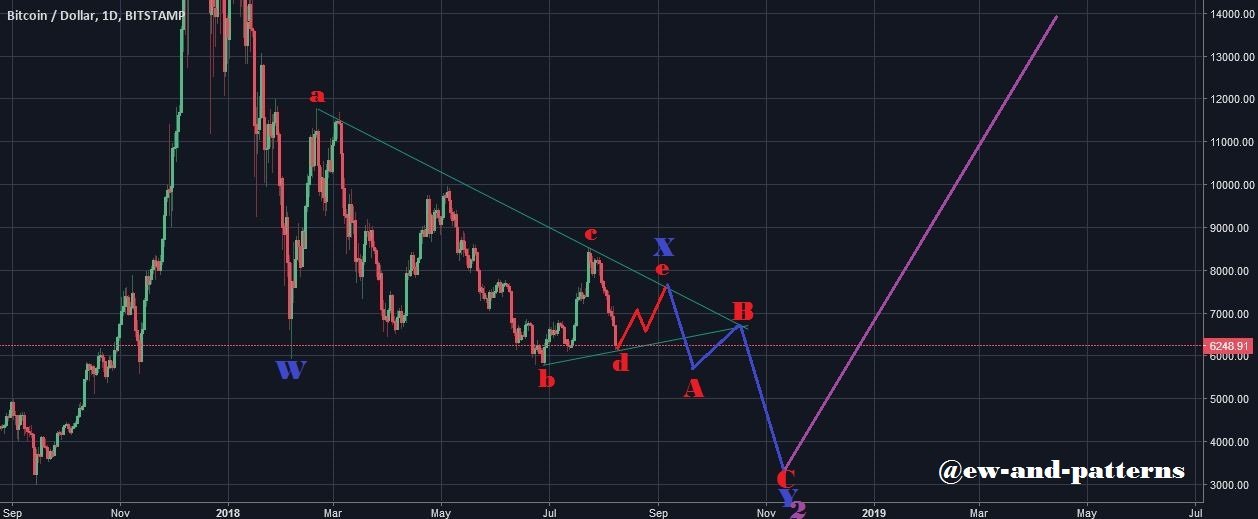 Wave e is allowed to break the downtrend line, but it cannot move above wave c.
I actually like this scenario, because it means that the correction will likely be over in November once the weak hands have thrown in the towel... stay tuned...
BTW: Steem is trading below the value of SBD again for the first time in months...


Updated above:
We are now facing red alert signals in BTC. This could be a completed abcde triangle for wave X. If correct, that means we are heading much lower... target 3500-3000.
A wave 1 and 2 impulse (my primary count of the last few posts) is now unlikely...
It looks right, BUT: I need to check up the rules for X triangles again. I think there is a rule violation in this scenario.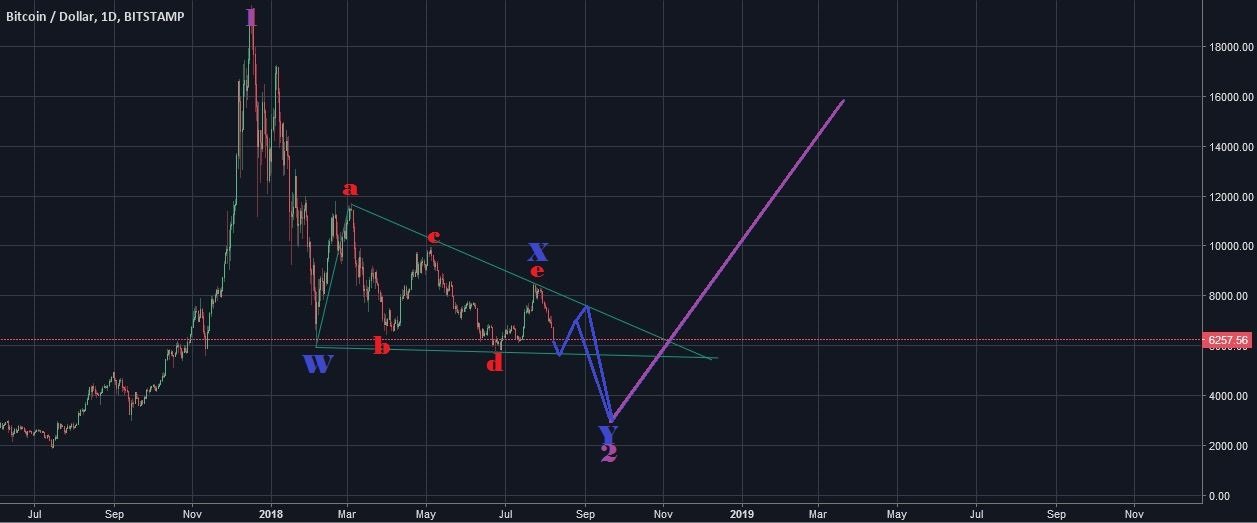 EDIT: This count is not valid. Wave d is not allowed to move below wave b...


If you think this to be useful information:




Feel free to use and share my charts, but please mention me, @ew-and-patterns as the author. Otherwise it is considered plagiarism and I will flag you and advise my friends to do the same.



MUST READ!
DISCLAIMER: This post / analysis serves general information purposes only. I am not a financial adviser. The material in this post does not constitute any trading advice of any kind. This is just the way I see the charts and what my trading ideas are. I use chart pattern and Elliott Wave analysis for my trading ideas.
For full disclosure: The author of this post is holding positions in this market at the time of this post. Please conduct your own due diligence, if you plan to copy anyones investment decisions!
If you make any trades or investments after reading this post, it is entirely at your own risk. I am not responsible for any of your losses. By reading this post you acknowledge and agree that you will never hold me liable for any of your losses.
Please consider leaving a comment, like or resteem, if this post entertained you or helped you see things differently...
Have a nice day :-)


#bitcoin #btc #crypto #cryptocurrency #cryptocurrencies #steem #sbd #ethereum #eth #ripple #xrp #bitcoincash #bch #eos #litecoin #ltc #stellar #lumen #xlm #digibyte #dgb #cardano #ada #iota #tether #neo #tron #trx #omg #verge #xvg #bitshares #bts #nano #monero #xmr #dash #ethereumclassic #nem #binance #binancecoin #vechain #tezos #omisego #steemit #money #life #altcoin #altcoins #trading #investing #investment #investments #forex #forextrading #market #finance #gold #silver #commodity #commodities #stock #stocktrading #stockmarket #facebook #fb #apple #aapl #spx #xau #xag #usdjpy #usd #amazon #amzn