Poker on Steemit.
Let's Play Poker.




Brosino
Poker is a growing community of people who enjoy the game of poker on a recreational level. Deposits to
Brosino
are not permitted so you cannot lose your hard earned Steem or Sports tokens earned through your posts on
Steemit
or the
Sports
entry points to the Steem Blockchain. What you have is secure in your wallet.
The Brosino poker community is supported by two well known and respected witness on Steem @GuiltyParties and @ATS-David and @Tuck-Fheman along with donations from some Sponsors and players.

ATS-David: BRO CEO.
Guilty Parties: BRO CTO.
Tuck Fheman: BRO COO.
Before I begin this post I would like to extend an invitation to @TheyCallMeDan and @Pennsif to participate in a 200 Steem game coming up on March 7th.
Dan and Pennsif contact me once you register on site. I will need to get you a Ticket for the tournament.
There are some guidelines to playing poker. Poker Ethics. Poker can become frustrating at times and in those times the poker ethics of the following link should be followed. https://brosinopoker.com/rules.php
@Enginewitty also hosts a weekly 10 Free Roll tournament for The Alliance. All are welcome to play, The game is not restricted to only Alliance members.
Each week at 11.00 PM UTC.
Engine also is aiming to host a Quarterly game which I hear has a bigger prize pool than the 200.
Contact @enginewitty to add to that pot
Click Here to go to the Brosino poker site, register to play. Registering is easy and your Steem keys are not required.

Registration only requires an email and verification with your
Steemit
name. This can be done easily using the Brosino discord server.
https://discord.gg/qupQHQP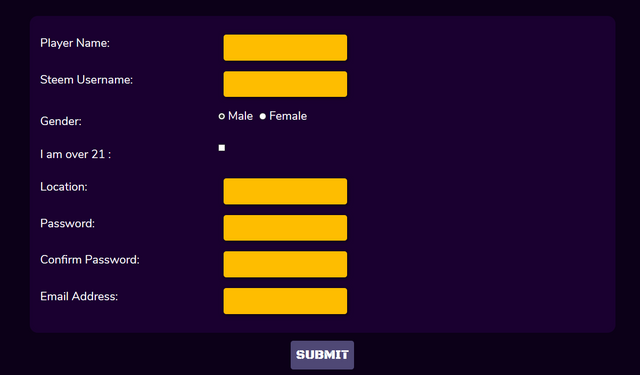 Note: Multiple accounts are not permitted and these cheating methods are watched out for.
After your registration is complete. Click on the Game Lobby link to log in.


You will be directed to the log in page. My own log in is displayed in this image.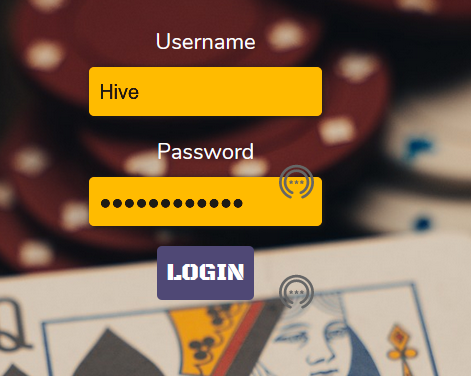 When logged in you will see a main table with some tabs.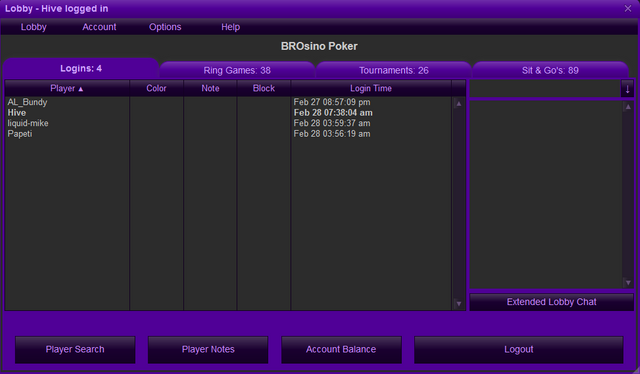 The tab you are looking to find is the tournaments tab. In the tournaments tab you will see a whole heaps of games to play. Many will have a small buy in price to the game. Among them are some Free-roll games to help get your balance up if you want to play other games. Other feature's are also available to assist in getting into some games. I will go into those nearer the end of the post.
Clicking the tournaments tab, this is what you will see.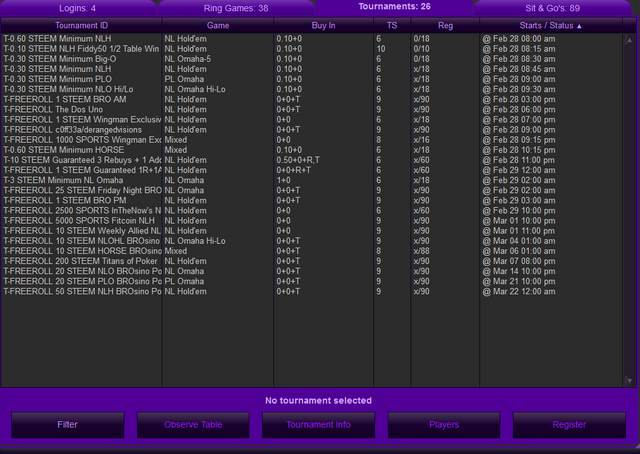 In this tab my personal preference is to select the start/status sub tab and have the arrow in an upward position to show the next available game at the top.

There is a range of games available to play.
No Limit Holden, a favorite of many.
Omaha, each player gets 4 cards to their hand and uses two from their hand with three from the table to make the best poker hand
Omaha Hi Lo, both the highest hand and lowest hand win.
Omaha 5, each player gets 5 cards to your hand and use two along with three cards from the table to make the best poker hand.
Horse or mixed games, this game confuses many at the start and plays through several types of poker during the games. Holdem, Omaha Hi lo, Razz, Stud and Stud Hi lo (Stud Hi lo is also known as 8 low)
If you want to read up more on how to play these alternative games or Holdem my suggestion is to read the basics from Pokerstars.
Registering for a game is easy and done by highlighting the game of interest and clicking the register button at the base of the game list.
If playing on a Phone you might need to turn the phone landscape to see the register. Alternatively, you can double click the game and register in the pop up window.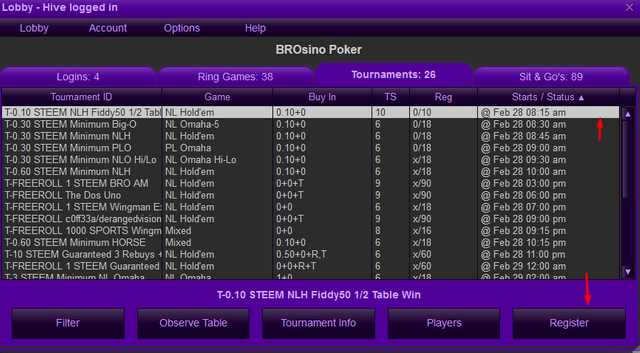 You will notice a T beside some games in the Buy In column. This T means a ticket is required for entry. Don't panic. Tickets are available to enter most of those tournaments.
At the top of the page across the top there are also tabs.

The one you want is the first one.
Get Tickets
. Scroll your mouse over the
Get Tickets
tab and a drop down menu will appear were you can select to receive a
Tier 1
Ticket. Coming in position 4 3 2 or 1 in these games also rewards a Brosino card. A collection of these cards can also be traded for some game privilege.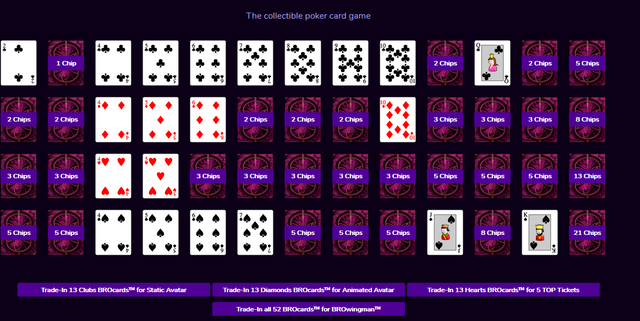 All poker images are taken from the Brosino poker site.