BROsino Update - 14 October 2019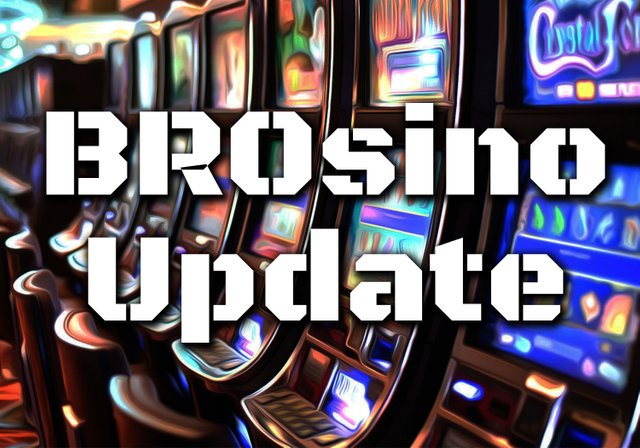 October 14, 2019
The #1 cryptocurrency faucet keeps getting better!
We made some interface improvements, added some automation for our players' convenience, and have even more opportunities for bloggers and advertisers to promote themselves on our growing site!
The BRO Casino
has everything you need for having fun and earning profits!
Check out our new additions and updates from this past week!
BROsino free credit reloads and advertising!
To make it easier on our players (and us!), we automated your daily credit requests! You can find the
Reload page
on the menu bar - which is glowing, so you can't miss it. Once per day, you can request a free reload of 10,000 credits, but
only if your current balance is below 1000 credits.
As every player will need to visit this page in order to reload their balances, it provides a great opportunity for any sponsor or advertiser to promote their business, brand, or blog! Do you want to be recognized for being one of the BROsino's top supporters? What better way to get that recognition than by reminding our players every time they seek more FREE credits?


New weekly contests!
We're adding a new weekly contest at the BROsino! Now players can win additional free credits from monthly
and
weekly contests! The weekly contest will run from Monday through Sunday and will award bonus credits in the same manner as the monthly contest. Here is the weekly prize breakdown:
| Rank | Total Wins | Total Net Wins |
| --- | --- | --- |
| 1st | 10,000 | 5000 |
| 2nd | 5000 | 4000 |
| 3rd | 3000 | 3000 |
| 4th | 2000 | 2000 |
| 5th | 1000 | 1000 |
Get to the BROsino today and start placing your free virtual "bets!" These are our current weekly leaders: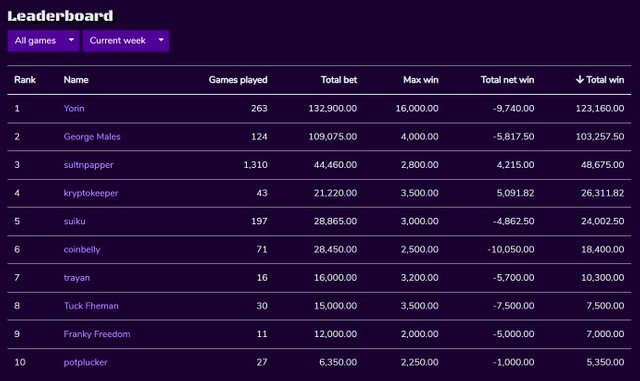 Other site fixes and game improvements this week
In our continual efforts to improve player experience and gameplay, here are some additional updates for the BROsino this week:
OAuth2 fixes for Steem logins
Minor interface fixes for Bingo and Dice
Roulette game page redesign, mobile version improvement, and single-game total bet limits
---
The BROsino Raffle
Our
daily raffle
is going strong and has given away over over 550,000 credits to players in the first two weeks!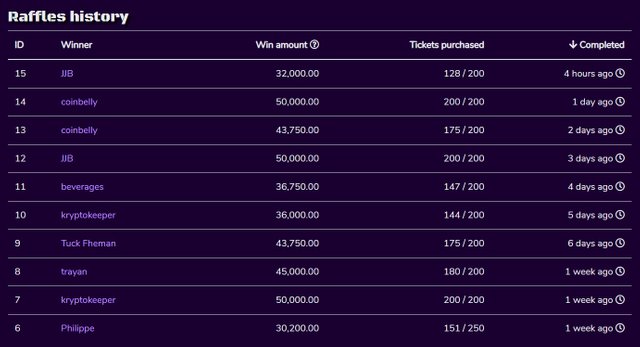 The raffle runs every 24 hours and the total daily prize can reach up to 50,000 credits. Players can enter the raffle by purchasing tickets with their BROsino credits. Tickets currently cost 250 credits and each player can purchase up to 20 per raffle. The more players who enter the raffle, the higher the prize goes, up to the maximum 50,000 credits.
The BROsino's daily raffle is also a fantastic way to grab attention for your business, website, project, community, or cause! The raffle page features a full banner ad in its header that can be customized and reserved exclusively for raffle sponsors! We are currently accepting daily, weekly, and monthly sponsors to be featured at the BROsino.
If you'd like to reserve a raffle sponsorship, contact us on Discord today!
BROsino Leaderboard Contest
Here are the current leaders for October's monthly BRO Casino contest. The top five monthly players at
the BROsino
will win bonus credits!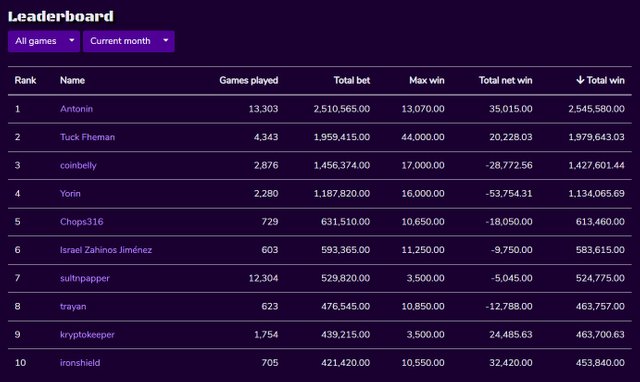 There are 17 days left until the monthly contest ends! Sign up with our BRO referral link to get 5000 bonus credits on top of the 10,000 for all new registered players: Claim 15,000 BRO credits to get you started!
---
BROsino Stats Tracker
| Stats | Yesterday | Last 7 Days | All-Time |
| --- | --- | --- | --- |
| Sign-Ups | 2 | 20 | 849 |
| Games Played | 3653 | 20,600 | 353,631 |
| STEEM Paid Out | 20 | 25 | 105 |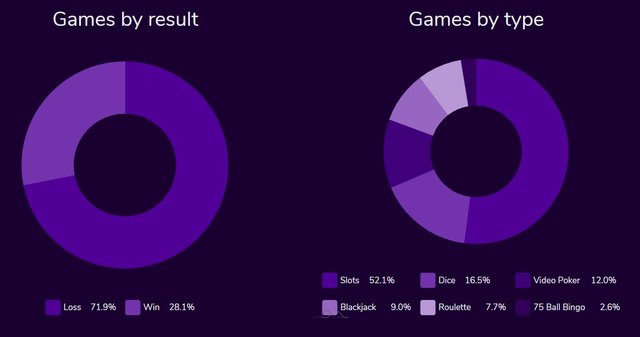 ---
Current BROsino Sponsors
The following are
official BRO sponsors
as of October 14, 2019:
Our sponsors thank you for your support! If you would like to become a sponsor or advertise with the BROsino, please Contact us on Discord!
---
Thank you for your BRO patronage and good luck to everyone playing at the BROsino!
---
If you'd like to give extra support to the BRO Sports & Gaming Network™, please approve ats-witness and guiltyparties as Steem witnesses!