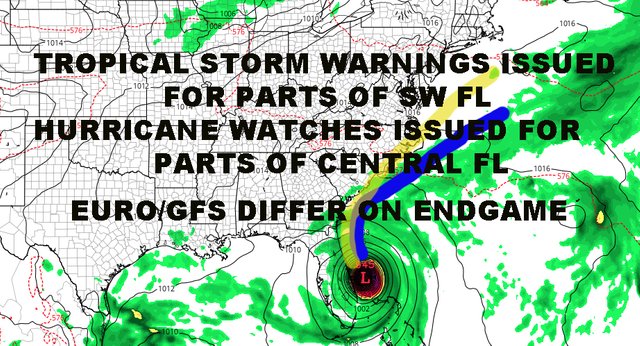 Hurricane Dorian Closes In On Southeast Endgame Questions Arise
Good morning everyone. Hurricane Dorian remains a Category 4 Hurricane on the verge of Category 5. We'll see today if it can reach that status with the help of some daytime heating, but whether it does or doesn't, this is a very dangerous storm. We feel at this point that Florida will see some dangerous storm surge and damaging effects of Dorian even if it doesn't experience the eyewall or a official landfall.
Meanwhile, the longer this thing takes, the chance increases for us up here to see some effects before Dorian races NE. Models differ at this point in terms of how close he gets, but coastal communities should keep a close watch, especially the Forks of Long Island and Cape Cod; areas that jut out into the Atlantic.

SATELLITE


For the rest of your holiday weekend up here, today is looking like the better of the two days with clouds and sun, precip-free, and a comfortable 75 to near 80 degree day.
That return flow tomorrow will pack us in with clouds, plus the chance of some showers in the early/mid afternoon onward. Expect mid to upper 70's again tomorrow.

REGIONAL RADAR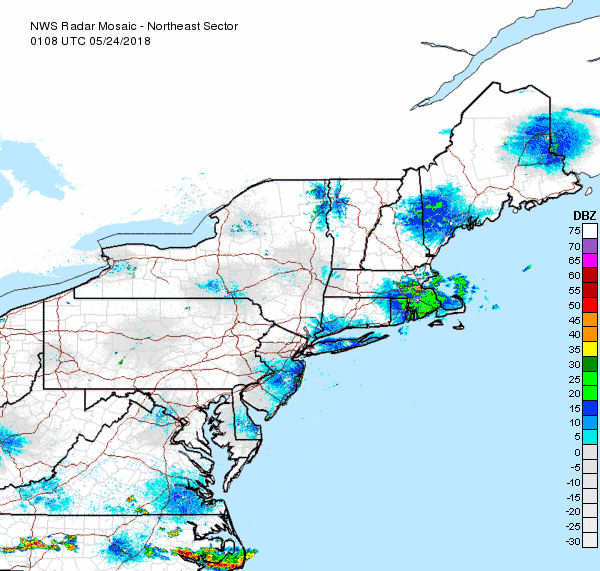 Tuesday we clear out, warm up, and slowly increase the humidity. It'll remain comfortable in my opinion, but the humidity creep will set us up for Wednesday. Highs Tuesday in the low 80's.
With a cold front approaching Wednesday, warmer air and more humidity get pumped into area. Look for the chance of afternoon storms, and highs in the mid to upper 80's.
Depending on Hurricane Dorian's behavior, we begin to watch closely Thursday through Saturday. If he heads out to sea with little fanfare, expect sunny and cool conditions for a 3 day block.

LOCAL RADAR NEW YORK CITY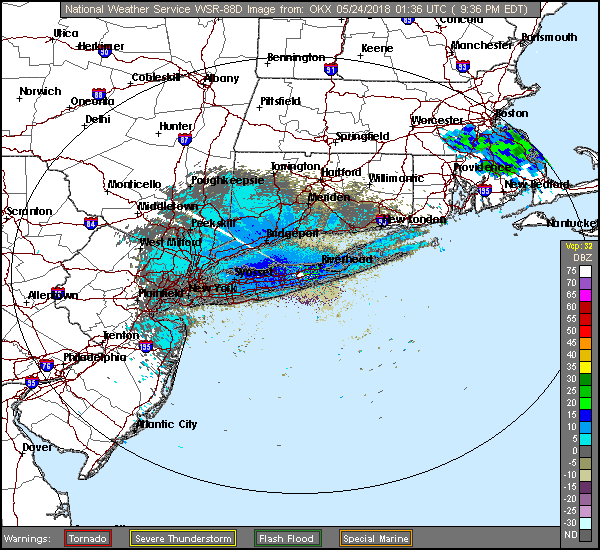 For Florida, Tropical Storm Watches have been posted for Ft Lauderdale, and warnings posted around Boca on northward to near the St Lucie area. Hurricane watches have been posted for the waters surrounding Cape Canaveral and the Merritt Island area, and I'm sure that'll equate to watches for land as well.
Dorian itself will come too close for comfort, and even if it doesn't make an official landfall, coastal areas will experience tropical storm to hurricane force winds, as well as dangerous/damaging storm surge. These storms at this strength tend to wobble, so any wobble in the wrong direction could dramatically increase the strength of the wind, so do not take Dorian lightly even if it looks like eye wall will be hanging off of the coast. There will still be strong winds and torrential rain.
As Dorian moves north, areas such as St Augustine and St Simon Island, GA are in the same boat. Strong winds, torrential rain and dangerous surge will buffet the area. Most of Savannah, GA with its homes and businesses are up high away from the river, so we don't have to worry about surge as much there, but Charleston, SC could run into a big problem as Dorian brushes the coast.
Where he goes from there and how long it takes is anybody's guess at this point. Myrtle Beach, SC northward to the Outer Banks need to watch closely and make sure they are prepared. The GFS and EURO differ on the time frame and how close to the coast it gets. EURO has Dorian racing out to sea on a trajectory that takes it further off the coast after nipping the Outer Banks.
The GFS keeps it hugging the coast, whipping the Myrtle Beach area and moving into the Outer Banks; then moving south of Long Island; clipping parts of NJ, Long Island, and Cape Cod with possible tropical storm conditions and very rough surf. At a minimum, we will see some rough surf up here, but wind and precipitation will be determined as to how close Dorian gets, if close at all.
Before anyone gets into a panic, this is not a Sandy-type situation or even an Irene. We have the moon phase on our side, and in order to come any closer to us than the GFS depicts at this point, the trajectory would have to take it over land more, weakening Dorian greatly.

LOCAL RADAR PHILADELPHIA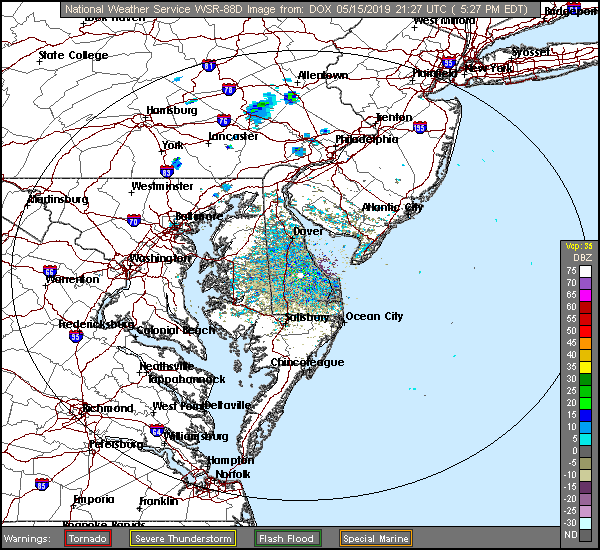 MANY THANKS TO TROPICAL TIDBITS FOR THE USE OF MAPS
Please note that with regards to any tropical storms or hurricanes, should a storm be threatening, please consult your local
National Weather Service office
or your local government officials about what action you should be taking to protect life and property.
---
Posted from my blog with SteemPress : https://www.nycweathernow.com/hurricane-dorian-closes-in-on-southeast-endgame-questions-arise/
---