💥The Roman Catholic Church: Mega-rich Yet Begging. En Español: La Iglesia Católica Romana: Mega-Rica aún Mendigando💥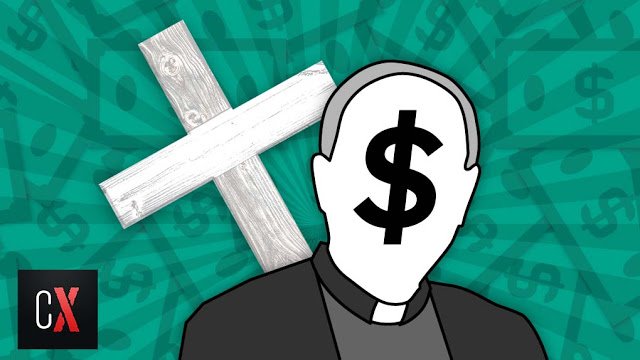 There is not an iota of doubt that the Roman Catholic Church is very rich. But is it pro-poor?
First, the Philippine Security Exchange (PSE) records show that the RCC is a major player in the stock market.
With billions of pesos in funds locked in shares, the RCC has investments in banking, oil, information technology, energy, food and beverages, construction, and mining.
Specifically, RCC's archdioceses are top stockholders in companies such as the Bank of the Philippine Islands (BPI), Philex Mining Corporation (PX), San Miguel Corporation (SMC), Ayala Corporation (AC), and Phinma Corporation (PHN), among others.
For Bank of Philippine Islands (BPI) alone, the Archdiocese of Manila has stock investments of almost 328 million shares valued at 30 Billion Pesos; Archdiocese of Zamboanga has 269,982 shares valued at 25.378 million pesos, and Archdiocese of Jaro has 491, 385 shares valued at 46.19 million pesos. (Aries Rufo, "Billions of pesos in Church funds locked in stocks," Rappler, 1/11/2015).
From the same report, below are the latest available files on RCC funds locked in stocks. Table 1 declares the stocks of the Archdiocese of Manila in five companies.

The same report shows a Table 2 indicating stocks of other Archdioceses outside of Manila and their values in Philippine pesos.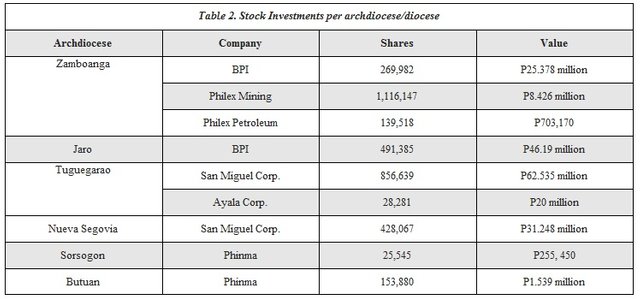 Second, the RCC acts like it is cash-strapped.
The Roman Catholic Archdiocese of Manila (RCAM) is one of the richest Catholic dioceses in the entire world. So says a report that also tackled the reconstruction and renovation of the Manila Cathedral, the 'Mother church' in the Philippines by a supposed cash-strapped diocese. Some few years back, then Manila Archbishop Luis Antonio Tagle appealed for help to realize one of the most expensive ventures of the Archdiocese of Manila. Repair and construction cost was initially pegged at P40 million - P50 million, ballooning to P136 million after some two years.
Donors were quick to respond to Tagle's appeal for help, with San Miguel Corp president Ramon Ang and Metrobank chairman George Ty easily shelling out P50 million and P20 million, respectively. There were also other private donors who gave huge sums of money, as well as the "simple people" who gave loose coins for the reconstruction of the cathedral.
Given its appeal for help, many would assume the Roman Catholic Archdiocese of Manila (RCAM) is cash-strapped. But in reality, it is overflowing with money, tucked in bonds, foreign currency deposits and stocks investments, maintaining its position as one of the richest Catholic dioceses in the entire world. (Aries Rufo, "Can we know how rich the Catholic Church is?" RapplerDotCom, 1/19/2015)
Third, the RCC asks for gifts from government.
Flashback to 2011, the Philippine Charity Sweepstakes Office (PCSO) named a priest and several Catholic bishops who were given sports utility vehicles (SUVs) during the time of then President Gloria Arroyo. The agency charged these to its charity fund (Perseus Echeminada, "Bishops in PCSO scam identified," Philippine Star, 6/20/2011).
The seven bishops obtained the controversial vehicles using funds released by the PCSO supposedly in exchange for their loyalty. [Note: Gloria Arroyo figured in corruption charges of rigging the elections of 2004 in her favor. In the "Hello Garci" scandal, bishops were expected by the public to condemn it, but there was none of it.] The grant sparked a Senate investigation and the bishops agreed to surrender the vehicles. According to the Commission on Audit (COA), the grant of the five vehicles amounting to P6.940 million violates the constitutional provision that "no public money or property shall be appropriated, applied or employed directly or indirectly, for the use of, benefit or support to any sect, church, denomination… except when such priest, preacher or dignitary is assigned to the Armed Forces or to any penal institution, or government orphanage or leprosarium."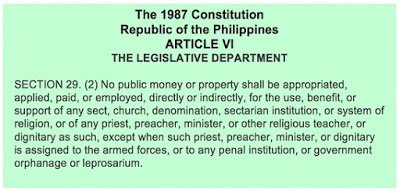 Days later, news have it that a fund-raising campaign was organized by lay leaders belonging to the Coalition for Family and Life to help the now "car-less" prelates get new vehicles.
Romulo Macalintal together with Lito Atienza, Macalintal led a campaign to replace the vehicles returned by Catholic bishops in the wake of the recent PCSO scandal. In less than two weeks of fundraising, donations exceeded a million pesos.
But are they the poor?
There are reactions from the public about the RCC -
But it's not the amount of donations that I consider miraculous. Nor is it the fact that they were collected in less than half a month. The fact that Macalintal managed to convince so many that the bishops needed money — now that's a miracle….
All I'm saying is that if you're really pro-poor, you should be the ones giving to the poor, not the other way around. The question is, have the bishops accumulated wealth so that they could be pro-poor? Or have they pretended to be pro-poor so that they could accumulate wealth? (Red Tani, "Blessed are the Poor, said the Billionaire Bishops,"7/27/2011/FilipinoFreethinkersDotOrg).
Meanwhile, Lawyer Aleta Tolentino, a Philippine Charity Sweepstake Office (PCSO) director, impressed that a bishop that asked Gloria Arroyo for a car as birthday gift used the name of the poor.
Tolentino reportedly said –
We are not against the Church. We are just denouncing what happened in the past—corruption of government funds, which is prohibited by the Constitution itself. Would the bishops rather that we keep mum or we lie about it? Would they want us to just keep quiet about this?" (Tina G. Santos, "Bishop Juan de Dios Pueblos asked Gloria Arroyo for a car as b'day gift," Philippine Daily Inquirer, 7/6/2011).
Manila Standard Columnist Elizabeth Angsioco in her article, "The Church of the Poor," wrote –
This is something that only few of us know: the Philippine Roman Catholic Church is a multi-billionaire religious and business organization. Yes, the Church is mega-rich.
We have always known that the Church, to which at least 80 per cent of Filipinos belong, is rich. Its properties like cathedrals and other big churches, expensive private Catholic colleges and universities all over the country, private hospitals, big buildings and huge tracts of land for their seminaries, etc. are there for people to see. We have always thought this as a given, normal. After all, the Church has been here longer than any of us.
No one really cared to approximate how rich the bishops really are and what the church can do if it really wanted to help poor Catholics. (http://propinoy.net/2011/05/29/the-church-of-the-poor/)
Angsioco, head of Democratic Socialist Women of the Philippines (DSWP), goes on to enumerate the billions of stocks that the RCC has and their value in pesos. She makes a calculation what these billions can do. In the end she says the RCC is in a very good position to remove millions of families from poverty.
The Church positions itself as the vanguard of morality. Yet, while it sits on at least P17.5 billion, it continues to solicit donations from the poor instead of helping them have a better life. The Church proclaims itself as the protector of life. Yet it doesn't use its billions to save the Catholic poor from hunger, sickness, and death.
Why don't we see anything wrong with the bishop in all his finery standing beside the Catholic beggar? Is it really acceptable that cathedrals are in the same community of Catholic slum dwellers?
When will the Roman Catholic Church realize that as the multi-billionaire church of the millions of poor Filipino Catholics, it is its moral responsibility to substantially help its flock? (http://propinoy.net/2011/05/29/the-church-of-the-poor/)
Note that the latest report on value of BPI shares of the Roman Catholic Archdiocese of Manila is P30 billion. In 2011, it was P17.5 billion. Now, contrast their lying billions to the fact that the Philippine Government is badly in debt. Yet, they managed to ask vehicles "for the poor."
What are the stocks for with the poor around?
One archbishop reasoned out that they have only inherited their wealth from the Spanish friars so they have to protect and nourish it! The wealth of the Spanish friars were accumulated in deceiving our Filipino forefathers, even to the extent of selling indulgences, pardoning thieves and criminals in exchange for their money!
Cannot the bishops now use their wealth taken from Filipinos of yesteryears to the poor Filipinos of the present generation? Cannot they exempt a poor Filipino from paying baptismal fees, marriage fees, and many others? It is the teaching of the Gospel to tend to the poor.
In truth, the coffers of the Roman Catholic Church are full compared to that of the government of the Philippines. It is that plain and simple. To date, the government has an outstanding foreign debt of US$77.659 billion (https://en.wikipedia.org/wiki/External_debt_of_the_Philippines), an obligation of the people of the Philippines to pay. Meanwhile, the Roman Catholic Church with its billions of investments earns interests without any obligation to pay any tax - unlike the ordinary hardworking Filipino.
Just a quick glance at the facts and figures shows clear indication of injustice and inequity.
I am reminded of a verse in Ezequiel that says -
EZEKIEL 34:2-4
2 Son of man, prophesy against the shepherds of Israel, prophesy, and say unto them, Thus saith the Lord GOD unto the shepherds; Woe be to the shepherds of Israel that do feed themselves! should not the shepherds feed the flocks?
3 Ye eat the fat, and ye clothe you with the wool, ye kill them that are fed: but ye feed not the flock.
4 The diseased have ye not strengthened, neither have ye healed that which was sick, neither have ye bound up that which was broken, neither have ye brought again that which was driven away, neither have ye sought that which was lost; but with force and with cruelty have ye ruled them.
There are many Catholics sleeping in the streets and slums of Metro Manila some of whom are sleeping in the cold just beside and in front of the Catholic Quiapo Church - a breathe away from where the bishop sleeps in comfort inside! Only the walls of the church separate them.
But then they continuously ask for fees in baptism, confirmation, wedding ceremonies, masses, and other services, and donations practically selling all kinds of services and rituals, with their members as captive market, 80 percent of whom are living below the poverty line.
I PETER 4:10
As every man hath received the gift, even so minister the same one to another, as good stewards of the manifold grace of God.
A good steward of God uses the gifts he received to minister or to help others. But Catholic priests are not willing to obey this scriptural injunction.
MICAH 3:11
The heads thereof judge for reward, and the priests thereof teach for hire, and the prophets thereof divine for money: yet will they lean upon the LORD, and say, Is not the LORD among us? none evil can come upon us.
The way it is behaving, the Roman Catholic Church is a money making institution! It is not pro-poor; more yet, it acts as a beggar.
Follow us on Twitter: https://twitter.com/mrcontroversyx

Disclaimer: Any rewards we receive for posting on Steem blockchain are also being distributed for people in economic needs. We are rewarding people who dedicate some of their time and effort to comment in our topic explained by Brother Eli Soriano.
Visit our official website: https://www.controversyextraordinary.com/2016/05/catholic-church-mega-rich-not-pro-poor.html

En Español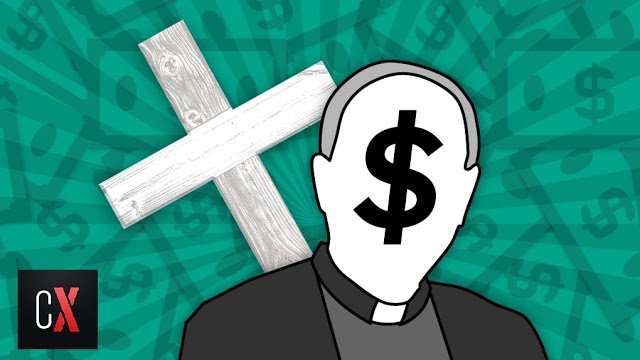 No hay un ápice de duda de que la Iglesia católica es muy rica. Pero, ¿es favorable a los pobres?
En primer lugar, los registros de la Philippine Security Exchange (La Bolsa de Filipinas) muestran que el ICR es un jugador importante en La Bolsa.
Con miles de millones de pesos en los fondos bloqueados en acciones, la ICR tiene inversiones en actividades bancarias, petróleo, la informática, energía, alimentos y bebidas, la construcción y la minería.
En concreto, la archidiócesis de la ICR son los principales accionistas de las empresas, como Bank of the Philippine Islands (BPI), Philex Mining Corporation (PX), San Miguel Corporation (SMC), Ayala Corporation (AC), and Phinma Corporation (PHN), entre otros.
Para el Bank of Philippine Islands (Banco de las Islas Filipinas "BPI") solamente, la Arquidiócesis de Manila tiene inversiones en acciones de casi 328 millones de acciones por un valor de 30 mil millones de pesos; La Arquidiócesis de Zamboanga tiene 269,982 acciones por un valor de 25, 378 millones de pesos, y la Arquidiócesis de Jaro tiene 491, 385 acciones por un valor de 46,19 millones de pesos. (Aries Rufo, "Miles de millones de pesos en fondos de la Iglesia encerrada en las acciones", Rappler, 01/11/2015).

En el mismo informe se muestra en la Tabla 2 las acciones de otras Arquidiócesis fuera de Manila y sus valores en pesos filipinos.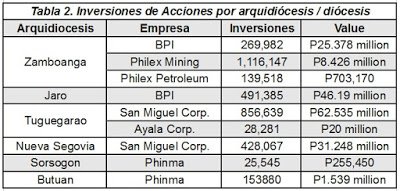 En segundo lugar, la ICR actúa como si tuviera problemas de liquidez.
La Arquidiócesis de Manila (RCAM) es una de las diócesis más ricas de todo el mundo. Así lo afirma un informe en el que también abordó la reconstrucción y renovación de la catedral de Manila, la "iglesia madre" en las Filipinas por un supuesto diócesis con problemas de liquidez. Algunos años atrás, el arzobispo de Manila, Luis Antonio Tagle pidió ayuda para iniciar una de las más caras emprendimientos de la Arquidiócesis de Manila. La reparación y el costo de construcción alcanzaron, en un principio, en P40 millones - P50 millones, y se elevaron súbitamente a P136 millones después de unos dos años.
Los donantes fueron rápidos en responder a la llamada de Tagle en busca de ayuda, con el presidente de la Corp. de San Miguel Ramón y el presidente de Metrobank George Ty fácilmente dieron P50 milliones, y P20 milliones, respectivamente. También habían otros donantes privados que dieron grandes sumas de dinero, así como la "gente común" que dio monedas sueltas para la reconstrucción de la catedral.
Teniendo en cuenta su petición de ayuda, muchos asumen la Arquidiócesis de Manila (RCAM) carente de dinero. Pero, en realidad, está llena de dinero, escondido en bonos, depósitos en divisas y las acciones de inversiones, manteniendo su posición como una de las diócesis más ricas de todo el mundo. (Aries Rufo ", ¿podemos saber lo rico que es la Iglesia Católica?" RapplerDotCom, 01/19/2015)
En tercer lugar, la ICR pide regalos de gobierno.
Flashback a 2011, la oficina de Philippine Charity Sweepstakes (PCSO) nombró un cura y varios obispos católicos que recibieron los vehículos utilitarios deportivos (SUV) durante el tiempo de la entonces presidenta Gloria Arroyo. La agencia había tomado en cuenta estos a su fondo de caridad (Perseus Echeminada, "Obispos de PCSO en estafa identificados," Philippine Star, 6/20/2011).
Los siete obispos obtuvieron los vehículos controversiales utilizando fondos entregados por la PCSO supuestamente a cambio de su lealtad. [Nota: Gloria Arroyo apareció en acusaciones de corrupción de manipular las elecciones de 2004, a su favor. En el escándalo "Hola Garci", se esperaba por parte del público que los obispos fueran condenados, pero no hubo nada de eso.] La subvención provocó una investigación del Senado y los obispos acordaron entregar los vehículos.
De acuerdo con la Comisión de Auditoría (COA), la concesión de los cinco vehículos que ascienden a P6.940 millones viola la disposición constitucional de que "no hay dinero o propiedad públicos serán apropiados, aplicados o empleadas directa o indirectamente, por el uso de, el beneficio o el apoyo a ninguna secta, iglesia, denominación... excepto cuando tal sacerdote, predicador o dignatario se asigna a las Fuerzas Armadas o a cualquier institución penal, o de orfandad o leprosería de "gobierno".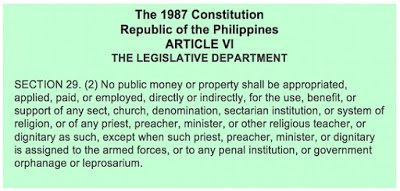 La constitución de 1987
Republica de las Filipinas
Articulo VI
El departamento legislativo
SECCIÓN 29. (2) No se debe apropiar dinero público o propiedades, directamente o indirectamente, para el uso, beneficio o apoyo para cualquier secta, iglesia, denominación, institución sectaria, sistema de religión o a cualquier sacerdote, predicador, ministro u otros predicadores religiosos, o como tal dignatario, excepto cuando tal líder, predicador, ministro o dignatario es asignado a las fuerzas armadas, o a cualquier institución penal u orfanato o leprosario de govierno.
Días después, la noticia dijo que una campaña de recaudación de fondos fue organizada por líderes laicos pertenecientes a la Coalición para la Familia y la Vida para ayudar a los prelados ahora "sin coches" conseguir nuevos vehículos.
Rómulo Macalintal junto con Lito Atienza, Macalintal dirigió una campaña para reemplazar los vehículos devueltos por los obispos católicos como consecuencia del reciente escándalo de la PCSO. En menos de dos semanas de recaudación de fondos, las donaciones superaron un millón de pesos.
¿Pero ellos son los pobres?
Hay reacciones del público acerca de la ICR -
Pero no es la cantidad de donaciones que considero milagrosa. Tampoco es el hecho de que se recogieron en menos de un mes y medio. El hecho de que Macalintal logró convencer a tantos de que los obispos necesitaban dinero - ahora es un milagro....
Todo lo que digo es que si usted es realmente favorable a los pobres, debe ser el que da al pobre, no al revés. La pregunta es, ¿los obispos han acumulado riqueza de modo que pudieran favorecer a los pobres? O ¿han pretendido ser favorable a los pobres para que pudieran acumular riqueza? (Red Tani, "Bienaventurados los pobres, lo dijo por los obispos billonarios," .7 / 27/2011 / FilipinoFreethinkersDotOrg).
Mientras tanto, el Abogado Aleta Tolentino, un director de la oficina de Philippine Charity Sweepstake (PCSO), impresionado por un obispo que pidió a Gloria Arroyo un automóvil como regalo de cumpleaños utilizando el nombre de los pobres.
Tolentino dijo según se informa -
No estamos en contra de la Iglesia. Sólo estamos denunciando lo que sucedió en el pasado, la corrupción de los fondos del gobierno, la cual está prohibido por la propia Constitución. ¿Los obispos prefieren que guardemos silencio o mentamos al respecto? ¿Quieren que guardemos silencio acerca de esto? "(Tina G. Santos," el obispo Juan de Dios Pueblos pidió a Gloria Arroyo un coche como regalo de cumpleaños, "Philippine Daily Inquirer, 7/6/2011).
Columnista de Manila Standard en su artículo Elizabeth Angsioco, escribió -"La Iglesia de los pobres",
Esto es algo que sólo unos pocos de nosotros sabemos: la Iglesia Católica Romana de Filipinas es una organización religiosa y negocio multimillonario. Sí, la Iglesia es mega-rica.
Siempre hemos sabido que la Iglesia, a la que al menos el 80 por ciento de los filipinos pertenecen, es rica. Sus propiedades como catedrales y otras iglesias grandes, caros colegios católicos privados y universidades de todo el país, los hospitales privados, edificios grandes y de enormes extensiones de tierra para sus seminarios, etc., están ahí para que la gente vea. Siempre hemos pensado en esto como un hecho, lo normal. Después de todo, la Iglesia ha estado aquí más tiempo que cualquiera de nosotros.
En realidad, nadie se preocupa de aproximarse a lo rico que los obispos son en realidad y lo que la iglesia puede hacer si realmente quiere ayudar a los católicos pobres. (Http://propinoy.net/2011/05/29/the-church-of-the-poor/)
Angsioco, jefe de Mujeres Socialistas Democráticas de las Filipinas (DSWP), continúa enumerando los miles de millones de las reservas que la ICR tiene y su valor en pesos. Ella hace un cálculo de lo que estos pueden hacer miles de millones. Al final, ella dice que la ICR se encuentra en una posición muy buena para retirar a millones de familias de la pobreza.
La Iglesia se posiciona como la vanguardia de la moralidad. Sin embargo, mientras que se sienta en al menos P17.5 mil millones, se sigue solicitando donaciones de los pobres en lugar de ayudar a tener una vida mejor. La Iglesia proclama a sí mismo como el protector de la vida. Sin embargo, no utiliza sus miles de millones para salvar los Católicos pobres del hambre, las enfermedades y la muerte.
¿Por qué no vemos nada malo en un obispo con todas sus galas de pie al lado del mendigo católico? ¿Es realmente aceptable que las catedrales están en la misma comunidad de habitantes de barrios pobres católicos?
¿Cuando la Iglesia Católica Romana se dará cuenta de que, como iglesia multibillonaria de los millones de pobres católicos filipinos, es su responsabilidad moral para ayudar sustancialmente su rebaño? (http://propinoy.net/2011/05/29/the-church-of-the-poor/)
Tenga en cuenta que el último informe sobre el valor de las acciones de BPI de la Arquidiócesis de Manila es P30 millones de dólares. En 2011, fue P17.5 mil millones. Ahora, en contra de su mentira de miles de millones al hecho de que el Gobierno de Filipinas está mal por deudas. Sin embargo, se las arreglaron para pedir vehículos " de los pobres."
¿Para que son las acciones, sabiendo que hay pobres en todos lados?
Un arzobispo razonaba que sólo han heredado su riqueza a partir de los frailes españoles por lo que tienen que proteger y nutrir a La riqueza de los frailes españoles se acumuló en engañar a nuestros antepasados filipinos, incluso hasta el punto de vender indulgencias, ¡que perdona los ladrones y criminales a cambio de su dinero!
¿No pueden los obispos Ahora usar su riqueza tomada de los filipinos de antaño en los pobres filipinos de la generación actual? ¿No pueden eximir a los filipinos pobres de pagar gastos de bautismo, gastos de matrimonio, y muchos otros? Es la enseñanza del Evangelio ayudar a los pobres.
En realidad, los cofres de la Iglesia Católica Romana están llenos en comparación con la del gobierno de Filipinas. Es así de simple y sencillo. Hasta la fecha, el gobierno tiene una deuda externa pendiente de US $ 77,659 millones (https://en.wikipedia.org/wiki/External_debt_of_the_Philippines), es la obligación de la gente de las Filipinas, pagar. Mientras tanto, la Iglesia Católica Romana, con sus miles de millones de inversiones gana intereses sin ninguna obligación de pagar cualquier impuesto - no como un trabajador ordinario filipino.
Sólo un rápido vistazo a los hechos y las cifras muestran una clara indicación de la injusticia y la desigualdad.
Me viene a la memoria un verso que dice en Ezequiel -
EZEQUIEL 34:2-4
2 Hijo de hombre, profetiza contra los pastores de Israel; profetiza y di a los pastores: "Así dice el Señor Dios: '¡Ay de los pastores de Israel que se apacientan a sí mismos! ¿No deben los pastores apacentar el rebaño?
3 'Coméis la grosura, os habéis vestido con la lana, degolláis la oveja engordada, pero no apacentáis el rebaño.
4 'Las débiles no habéis fortalecido, la enferma no habéis curado, la perniquebrada no habéis vendado, la descarriada no habéis hecho volver, la perdida no habéis buscado; sino que las habéis dominado con dureza y con severidad.
Hay muchos católicos que duermen en las calles y los barrios pobres de Manila algunos de los cuales están durmiendo en el frío justo al lado y en frente de la Iglesia católica de Quiapo – ¡una respiración de distancia de donde el obispo duerme con comodidad dentro! Sólo las paredes de la iglesia los separan.
Sin embargo, continuamente, ellos piden honorarios en el bautismo, confirmación, bodas, misas y otros servicios, y las donaciones, prácticamente están vendiendo todo tipo de servicios y rituales, a sus miembros como mercado cautivo, el 80 por ciento de los cuales viven por debajo la línea de pobreza.
I PEDRO 4:10
Según cada uno ha recibido un don especial, úselo sirviéndoos los unos a los otros como buenos administradores de la multiforme gracia de Dios.
Un buen administrador de Dios usa los regalos que recibió en el ministerio o en ayudar a otros. Sin embargo, los sacerdotes católicos no están dispuestos a obedecer este mandato de las Escrituras.
MIQUEAS 3:11
Sus jefes juzgan por soborno, sus sacerdotes enseñan por precio, sus profetas adivinan por dinero, y se apoyan en el Señor, diciendo: ¿No está el Señor en medio de nosotros? No vendrá sobre nosotros mal alguno.
La forma en que se comporta, la Iglesia Católica es una institución de ¡hacer dinero! No es favorable a los pobres; más aún, actúa como un mendigo.
[exclusión de responsabilida: Esta traducción en español: Es realizada por nuestros traductores con el máximo cuidado y lo mejor de sus capacidades. ControversyExtraordinary.com, sin embargo, no garantiza la exactitud de cualquier información traducida debido a varios factores. Cuando hay alguna discrepancia en la versión original en inglés y la versión en español, la versión en inglés siempre prevalece.]
Síganos en Twitter: https://twitter.com/mrcontroversyx

Descargo de responsabilidad: cualquier recompensa que recibamos por publicar en Steem blockchain también se distribuye a personas con necesidades económicas. Estamos premiando a las personas que dedican parte de su tiempo y esfuerzo a comentar sobre nuestro tema explicado por el hermano Eli Soriano.
Visita nuestro sitio web oficial: https://es.controversyextraordinary.com/2016/06/la-iglesia-catolica-romana-mega-rica-aun-mendigando.html