Do you suffer from vertigo? Why not challenge yourself on a Tibetan Bridge!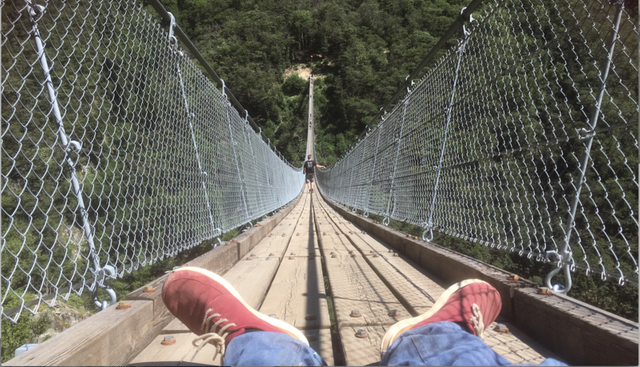 The bridge, while safe, will challenge your vertigo limits! That's me in the distance!
The Tibetan Bridge "Carasc"
Two weeks ago my son and I decided to experience the thrill of crossing one of the longest Tibetan bridges in Switzerland. It is found above the town of Monte Carasso which is not too far from Bellinzona in the Canton of Ticino.
Facts About The Bridge
It connects the hill of Sementina to the one above Monte Carasso. 
The bridge measures 270 metres in length and is suspended 130 metres above the creek below. 
The walkway is comprised of  boards, a safety wire mesh on the sides and has a cable a handrail.
Getting There
From Monte Carasso you can either take a Cable car or a shuttle bus part way up. Once you get to the starting point you'll have about a 45 minute walk to the bridge.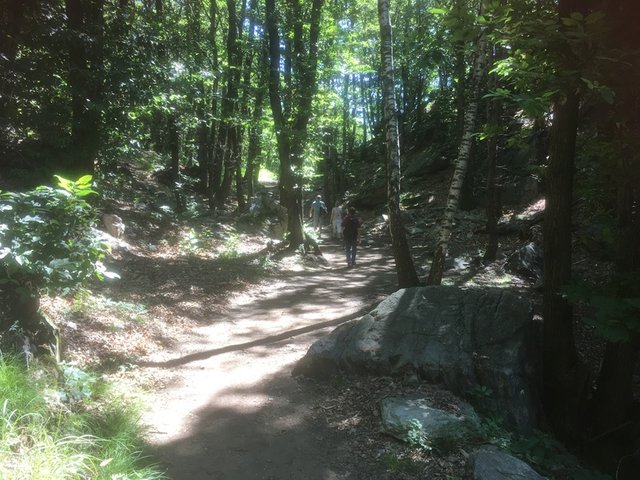 Walking through the woods was both relaxing and exciting because we kept anticipating seeing the bridge!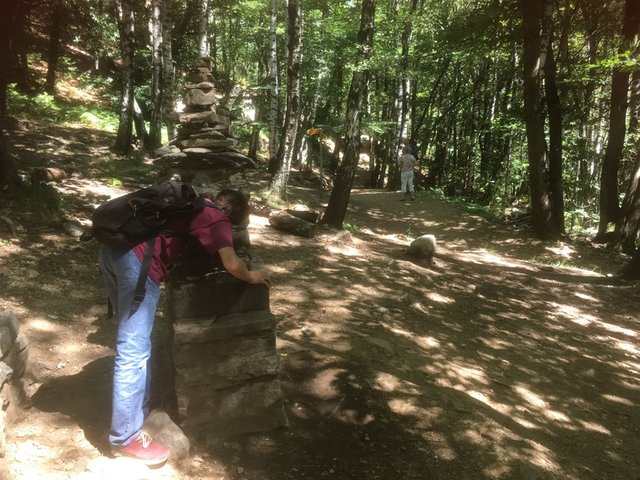 We were thankful that there was some clean spring mountain water along the route!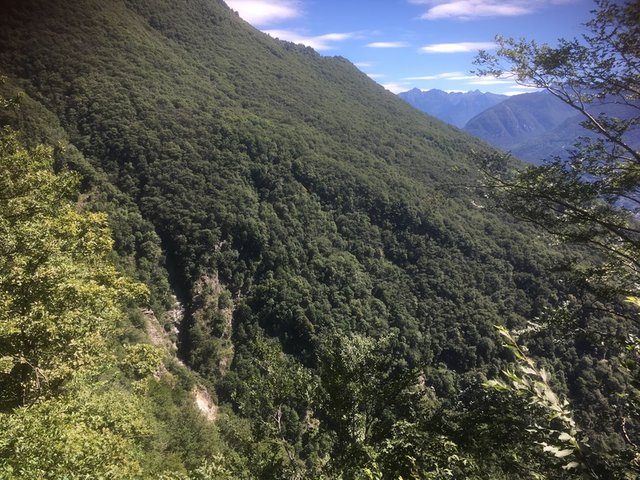 Was the bridge going to be around the next bend? The anticipation was getting to us!
Finally There it Was!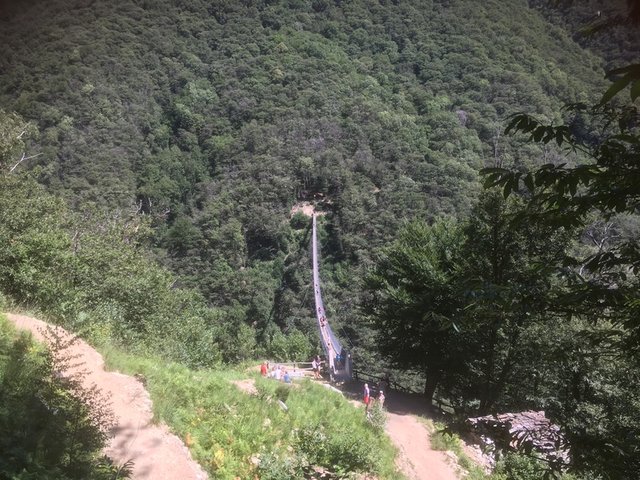 Finally we were in sight of the object of our desire!
It was fun crossing it and also watching others as they struggled to overcome their jitters. While we were there a couple of people gave up after getting part way and ended turning back. One women ended up paralyzed with fear at about the 1/3 point. She was still there after we left the area but her husband was coaxing her on!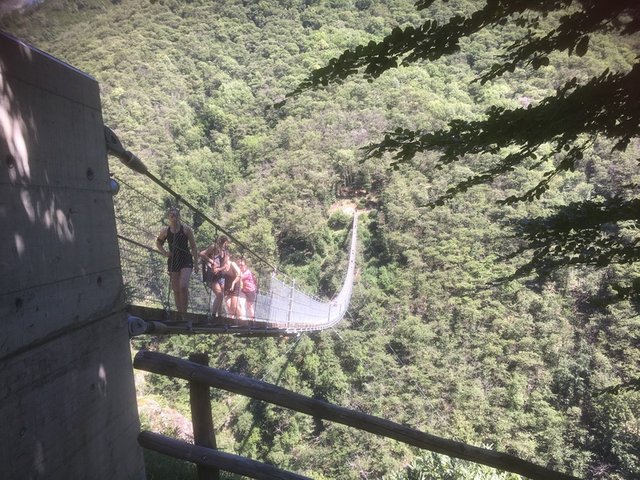 Here you can see that the sag in bridge is quite pronounced. It sways a bit while walking and some "passengers" like to rock it a bit and freak the others out!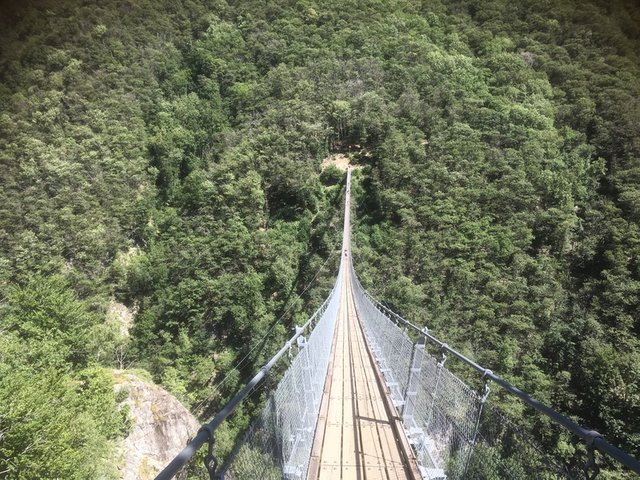 Here's another shot showing almost the full length of the bridge.
This video shows how the bridge was constructed. I wonder how they did it in olden times!
Other Things to See Near the Bridge
 There is a beautiful housing cluster in Curzútt, which features stone buildings, gardens, and the terraced hills are planted with fields of grain and vineyards. The town has recently undergone a 6 million franc restoration and it gives you a feel for life in the ancient past.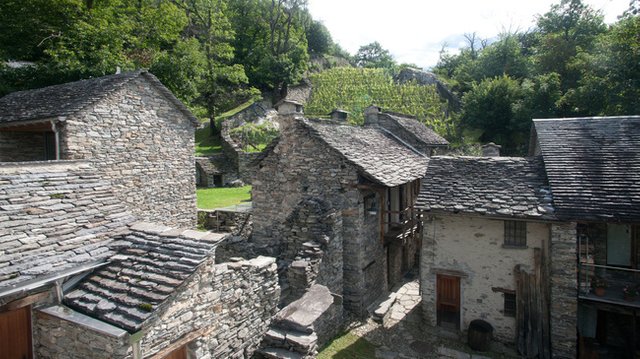 This shot showing the typical stone roofs is from myswitzerland.com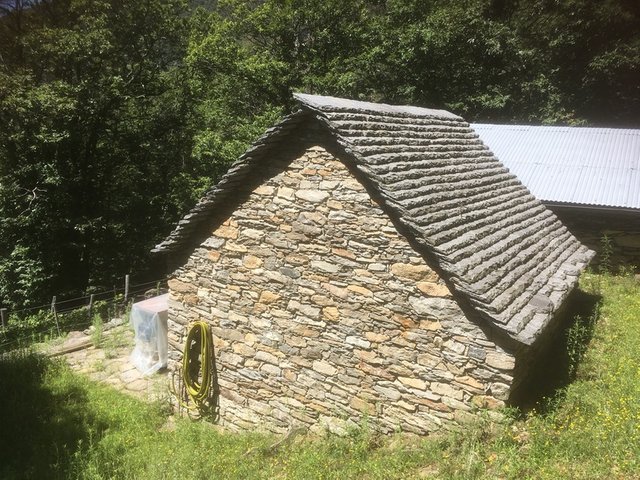 A closer view of the type of structure is quite common in Old Ticino! So Cool!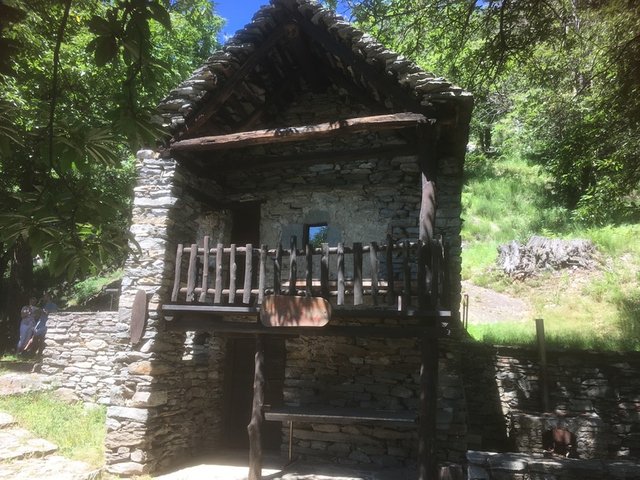 There was no shortage of interesting structures to see along the paths!
Some Things to Discuss
Do you suffer from vertigo?
Have you ever crossed a Tibetan style bridge?
If not would you like to?
Do you enjoy this type of exciting and cultural hiking?
I hope that you enjoyed this "Vertigo Challenge With a Great Trip to a Wobbly Bridge!"
Until next time,
@kus-knee (The Old Dog)

Remember, if you upvote my post and leave a comment I will do my best to upvote it with some of my 41,000 plus Steem Power!