The ICO's Brickblock period begins on May 9 at 13 pm UTC. This article will give you step by step instructions for buying BBK tokens during the token sale phase.
Brickblock ICO registration
Click the "Contribute" button to register the ICO
You will be redirected to the registration page.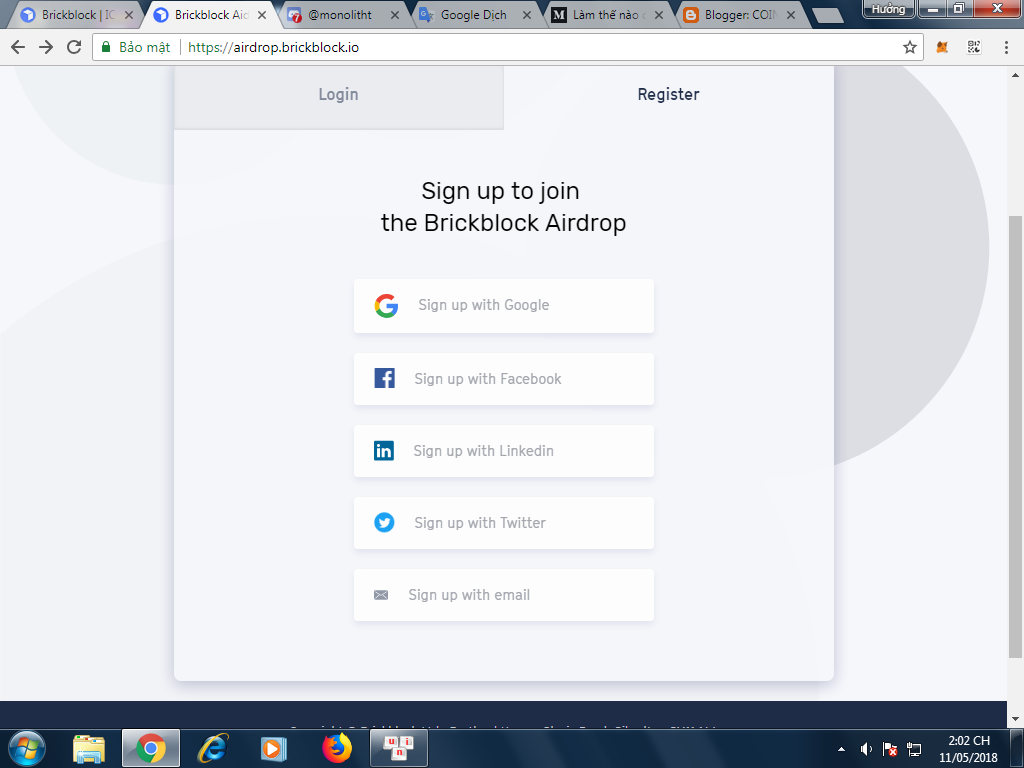 Enter your email address and password and click on "Register" (Or you can also subscribe through Google, Facebook, Linkedin, Twitter with the available options.
If you already have a pre-registered account, click "Login" and enter your login information.
After registration you will receive confirmation email.
Log in to the mailbox you used to sign up and follow the instructions.
Buy BBK token
Transactions can be made with ETH, and other types of coins use Shapeshift. If you have other coins with the above coin, you can change Shapeshift to get ETH and then use ETH to contribute to the ICO. In special cases, the token can also be traded in cash. Read each of our guides for more details.
All BBK tokens will be distributed after the end of the ICO period. More information about receiving a token will be provided later on this page.
For all past and future transactions, the following base rates apply:
1 BBK = $ 0.60 USD
$ 1.00 = 1.66667 BBK
One USD is equivalent to 1.66667 BBK. A BBK is $ 0.60. ETH will be the average exchange rate during the lifetime of the public transaction. The average is calculated by subtracting the average daily average of the day for the public transaction, divided by the number of days of trading.
The total number of BBK codes you will receive is calculated by the formula: = amount of US dollars (token (1 +% bonus)).
Buy BBK token with ETH (NOT EXCHANGE!)
Copy the Smart Contract Address to your wallet (https://etherscan.io/address/brickblock-ico.eth).
Enter the following information into your ETH wallet.
Amount: (ETH)
Address: 0xC7F4ed68592327Aa2755b320c353B1aF715020DD
Gas Limit: 21 GWEI
Bonus and other information when buying BBK:
Bonus $ 12 USD for the first 1000 deals.
For transactions above $ 10,000 USD (Ether ETH) need to verify identity (KYC).
For more information please visit:
Telegram: https://t.me/joinchat/AAAAAERj-_1p8AktrkESlQ
Website: https://www.brickblock.io