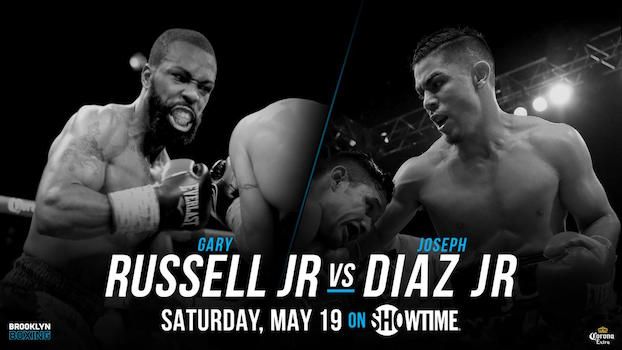 Golden Boy Boxing vs. Premiere Boxing Champions

Russell vs. Diaz
In a few hours, Showtime Sports will be airing the featherweight championship matchup between Gary Russell Jr. vs. Joesph Diaz from the MGM in Oxon, Maryland. This should turn out to be a good fight with Gary Russell Jr. coming out on top while retaining his WBC title. Although Russell has not fought in about one year, this should be his fight. Diaz, with an undefeated record, is an up and coming fighter and mandatory challenger under the Golden Boy banner. He is young and strong and should pose a challenge for Russell, but I don't think it will be an unsolvable problem for Russell.
Russell is four years older than Jojo Diaz, and also has a few more fights under his belt as well. Although Jojo Diaz has a slight height advantage, their reach is about the same. Jojo Diaz has an undefeated recorded while Russell Jr. has one loss. Their knockout percentage is close as well, with Diaz knocking out 54% of his opponents and Russell knocking out about 59% of his challengers. They both fight in the Southpaw stance.
The difference between these fighters will show itself as the fight progresses into the middle and later rounds. Russell's speed and strength will become bigger factors as the fight goes on. I don't think Diaz will have an answer for either Russell's speed or strength.
I expect a knockout in the 8th or 9th round. I hope not because I like Jojo Diaz. I have seen him fight in person and have seen him after the fights. He is a good young man, who loves the sport of boxing and its fans. He is humble and yet determined. I hope I am wrong and he wins this fight, or at the very least goes the distance. Yet I fear that with an opponent of Gary Russell's caliber, Diaz is in for a long night. If Russell can survive a battle with Vasyl Lomachenko and come out with a Majority Decision loss, then this will be a much easier challenge for Russell.
Russell by KO in the 8th or 9th
05/19/18
Full Steem Ahead!
@streetstyle
img src.
Pic 1- PBC