Anthony Joshua defeated Andy Ruiz on Saturday night with a dominant points win to regain the WBA, IBF and WBO heavyweight belts.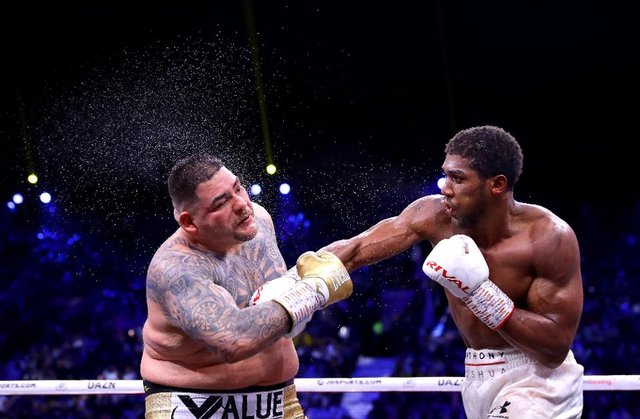 Pre-fight bluster...
In the build-up to the fight, a lot of boxing insiders were backing Ruiz to win. The talk was of Ruiz, who had been boxing since he was 6 years old being too well schooled for Joshua who took up the sport relatively late.
This narrative was torn to bits in the dunes of Diriyah, Saudi Arabia over the weekend. Joshua didn't just beat Ruiz, he outboxed him. Joshua stuck and move and reduced Ruiz to a punches chance of retaining his belts.
Now Joshua's explanation for his shock defeat to Ruiz six months earlier, on June 1, has much more credence. In their first clash, Joshua dropped Ruiz in the third only to be floored twice himself later in the round. Four rounds later, Ruiz completed the job to be crowned the first Mexican heavyweight champion in history.
Joshua blamed his recklessness for going for the finish too soon. 'The meat wasn't cooked.' Ruiz was a late replacement for Jarrell Miller who failed a drug test. If Joshua was too cavalier in the first fight with Ruiz. He certainly minded his Ps & Qs in the rematch.
Restrained aggression
Having stunned Ruiz several times early in the fight, Joshua resisted his natural instinct to go for the finish but instead opted to stick the gameplan and to his boxing. It was a wise move as when they did tie-up, Ruiz was able to let his fast hands go as he sought to catch Joshua trying to exchange in the pocket.
However, Joshua didn't bite, he boxed at long range and keep Ruiz tied up when the distance closed.
Ruiz cut a frustrated figure in the ring, unable to close the distance and initiate the exchanges that would give him a better chance of landing a big punch.
A poor, 'rich man' excuse
After the fight, Ruiz blamed the defeat on his lack of preparation. He came in the fight overweight and hadn't been disciplined with his training camp. For me, this really wasn't a legitimate excuse. He had enjoyed the fruits of being champion too much. There is a saying that 'winning a title is easy, retaining it is the difficult part.'
On June 2nd, Ruiz's life changed forever. Before then, very few outside of hardcore boxing circles knew or rated Ruiz's ability. He had fallen under the radar, even more so due to the unassuming personality he has.
After June 1st, Ruiz had achieved his childhood goals. He had secured his financial future. He had media obligations. There were expectations that he had Joshua's number, would beat him in a rematch and go on to a unification fight with either Wilder or Fury.
Some fighter double-down and get better as champions others self-sabotage. We saw it with Tyson Fury, who went off the rails after his upset win over Wladimir Klitschko. Ruiz is guilty of a similar thing. It is difficult to juggle the discipline of being a champion, being the man with a target on your back with the notoriety and newfound fame.
So Ruiz will go back to being an avoided fighter. However, no-one can take away that night in June nor his position in history nor the financial security he has locked down for himself and his family.
Bigger threat than before
As for Joshua he can look at the defeat to Ruiz as a blip and valuable learning experience. If you factor in his relative lack of amateur experience, Joshua has been seriously fast-tracked. Probably the fastest tracked unified Heavyweight Champion in history. This is mainly a testament to Joshua's ability. What he showed on Saturday night is that he has the ability to adapt his style. We saw glimpses of it in the Joseph Parker fight. The Ruiz rematch was further evidence that Joshua is more than just a knockout artist. He is the most well-rounded of the current crop of top heavyweights. He has knockout power, he has the instincts to clinically finish a hurt opponent. Now we've seen he has a great backfoot game and ability to fight to a disciplined gameplan.
As long as Joshua stays focussed and motivated, it's difficult to see a heavyweight that can beat him... perhaps his toughest opponent is himself.