THIS TOKEN WILL BE THE FIRST SWAP EXCHANGE TOKEN- You want to know more about NOWToken.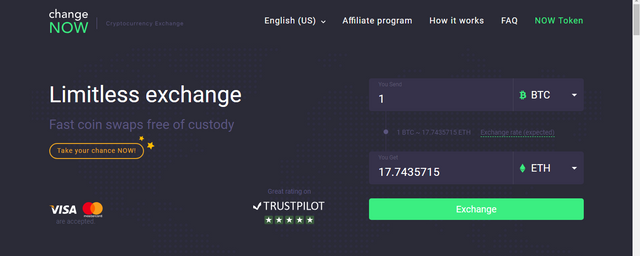 NOWToken is an exchange token unlike every other exchange token you may know NOWToken is the first of its kind, it's the first exchange token by a swap exchange.
ARE THERE DIFFERENT TYPES OF EXCHANGES?
Yes, there are different types of exchanges in the crypto space, the most popular one most people are familiar with is the centralized exchanges but there are several other types of exchanges in the crypto space.
TYPES OF CRYPTOCURRENCY EXCHANGES:
A cryptocurrency exchange can either be centralized or decentralized. However, some people also use these terms to categorize cryptocurrency exchanges. Majorly we can say there are centralized, decentralized exchanges, P2P exchanges and instant exchanges.
The centralized exchange:
An example of a centralized exchange is bittrex.com, these types of exchange are subject to regulations by bodys who control financial activities in the country these types of exchanges are incorporated. Users of this type of exchange do not have full control over their funds as they don't own private key to their assets in their exchange wallet they, these exchanges offer trading services whereby a user can have an account with them and trade among the pairs available on the platform with the aim of accumulating more profit. They also provide their users with the trading tools;
A decentralized exchange:
These type of exchanges also offer it users a trading platform where they can trade their assets for other pairs, in some cases users of a total decentralized exchange own private key to their wallet. This protects them from hackers and fraud as can trade directly from their wallet;
A P2P exchange:
These type of exchange in most occurrence only peer buyers and sellers of cryptocurrencies directly to themselves while they offer escrow service to ensure both parties in the transaction got what they wanted;
Lastly, the instant exchange: This type of exchange is easy to use, in most cases users of this type of exchange find it user-friendly as they don't have to go through the process of signing up or kyc. A good example of an instant exchange is changenow.io.
Changenow.io is a swap exchange as mentioned above, it has been operating for some time now. Changenow is launching its own cryptocurrency called NOWToken.
The NOWToken is the default currency of the platform, it will be the way to list new coins and tokens on the platform, it will be the payment for promotional services and more.
Token supply is 200 000 000 NOW. There's no crowd sale but you can get free airdrops by using the exchange services. 30% of the tokens will be distributed to the exchange users every week until the limit of 30 000 000 NOW tokens reached. If you wish to get airdrops you can visit https://changenow.io to use their service.

TOKEN INFO
Type: ERC20 Token
Symbol: NOW
Full name: ChangeNOW Token
Decimals: 8
Total supply: 200 000 000 NOW
Change now developers are however considering to swap the NOWTokens to the EOS network after its mainnet is stable.
USEFUL LINKS
WEBSITE https://changenow.io/
WHITEPAPER https://changenow.io/files/WhitePaper._NOW_Token._v1.2.pdf?v=1.26
TWITTER https://twitter.com/ChangeNOW_io
AUTHOR INFO
BTT LINK https://bitcointalk.org/index.php?action=profile;u=1106862;sa=summary
NAME Tobicrypto
Telegram oyin2002