This new exchange has invented a unique technology that allow liquidity pooling. YOU WANT TO KNOW MORE
LIQNET is a unique cryptocurrency exchange that links liquidity from various platforms, this new exchange is solving the problem of the splitting of users and their trading orders by forming a unified order book with the best market depth and prices.

WHAT'S LIQUIDITY POOL?
In the economics world "Liquidity pools" are levels at which price frequently "makes a decision" as a large number of orders hit the market. They are, so to speak, intersections of orders.
However Liquidity pool on a crypto exchange we might just say it's a type of access we get to trade on multiple exchanges while one another exchange.
Why does liquidity pooling matter in crypto?
It matters because it gives you want the ability to buy and sell currencies at will and using your preferred currency. You can boycott paying multiple conversion fees to access the liquidity needed to facilitate your desired transaction; it fastens transactions; it will enable you to invest in promising tokens despite your choice of exchange.
THE LIQNET PLATFORM
LEN (LIQUIDITY EXCHANGE NETWORK) mechanism allows it to collect buy/sell orders through the use of other exchange APIs, it aggregates them to form one order book for it users to deals with best prices and minimal spread.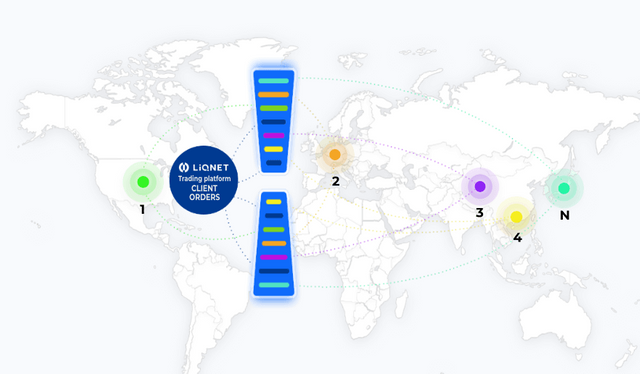 The Liqnet exchange is currently live at https://liqnet.com/, traders can now register and make use of this unique platform.
Liqnet exchange feature
A graph with a multitude of tools for technical analysis

All types of orders and their execution policies

Tools for scalping trading, market making, and more
What makes Liqnet exchange unique from other traditional crypto exchanges?
Liqnet has the ability to execute a big order at the best price, traditional exchanges have minimal volumes at the best price.
There are Minimal spreads on Liqnet exchange, There are larger spreads on traditional exchanges.
Users of Liqnet exchange have the ability to trade large volumes without the risk of shifting the market, When trading large volumes on traditional exchanges, there's a chance to shift the prices on a particular platform.
Users of Liqnet exchange will have the best prices, minimal spreads, and the biggest volumes all in one place, traditional exchanges users will need to monitor several platforms.
Liqnet exchange Advantage:
Users will have access to desktopapps ( owndesktopapp, MultiСharts, TradingView, and MT5 )

A trading app available for Android and iOS

Online Wallet

LEN aggregates requests into a single stream, and because of that users can make deals at the most favorable price with a minimal spread.
TOKEN INFO:
LEN TOKEN DESCRIPTION
Token ticker symbol: LEN
Standard: Erc20
Total supply of tokens: 63,746,032
Ico price of tokens: 1 LEN =1$
Payment can be made in ETH, BTC, BCH, ZEC, LTC, XRP, Waves, USD
You can get some LEN Tokens at ICO stage here https://liqnet.io/
TOKEN BENEFITS TO HOLDERS:
Holder benefit dicount on fee: one LEN token gives a 0,5% discount on the sum of fees for a day.The discount is activated for 24 hours in the personal account immediately after the withdrawal of tokens or at a particular time. Increment size is 0,5%, the highest possible discount is 90%. The timing of the discount can be chosen in the personal account.
Token holder get to act as the decision maker on choosing the trading pairs offered in the exchange and control the economy of the token.
TOKEN ALLOCATION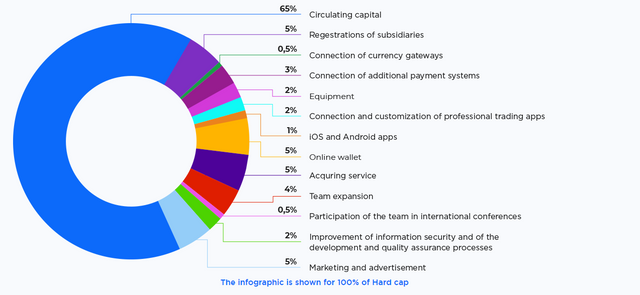 The company Liqnet is registered in Singapore
USEFUL LINKS BELOW:
WEBSITE: https://liqnet.io
Whitepaper: https://liqnet.io/static/docs/Liqnet_WhitePaper_en.pdf
Bitcoin talk: https://bitcointalk.org/index.php?topic=3736633.new#new
Telegram group: https://t.me/liqnet_official
Facebook: https://www.facebook.com/LiqNet.io
Twitter: https://twitter.com/LIQNET_official
"I am not trying to give you some kind of financial advice but I think an ico with a realistic working product is a good buy, you might want to participate in Liqnet crowd sale you can use this link https://liqnet.io"
Writer nickname: timt360