People have been flocking to the banks of the Chobe River to fly-fish in the incredible waters for such a long time, it's no wonder this is one of the best experiences to be had in Botswana. The Chobe river has its origins in Angola where it is called the Cuando River. As it snakes its way through Namibia into Botswana and eventually meets the Zambezi, it transforms the land in the most incredible way. Attracting all manner and wildlife and birds, these water systems are vital for the surrounding landscape. The Cuando is called the Chobe River in Botswana, and attracts anglers from all over the world due to the abundance of fish, wildlife and birds.

Enjoy this safari activity at Ichingo Safari Lodge
When to hit the waters
The best time to fish in the Chobe is from June until August. By June, the wet and rainy green season has come to an end, and the waters are beginning to clear, which means greater visibility in the water. Young bait fish begin to leave the comfort of smaller streams and estuaries and begin venturing into main channels. Predatory game fish are on high alert, finding an abundance of food available during this period. October and November are also great months to catch tigerfish on the run.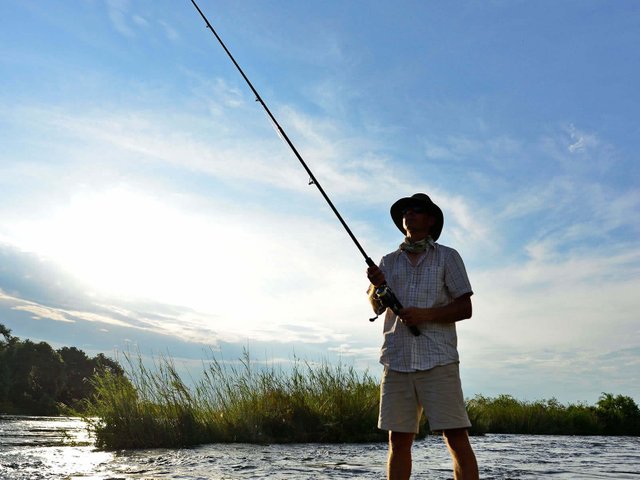 Game viewing from the river or lodge where you are staying is also better at this time of the year. Lush vegetation begins to recede and dry out, leaving much ground exposed for highly visibility of predators and game. The dry conditions force animals towards inland waterholes and the banks of the Chobe River, making your time on the water an idyllic experience with plenty of action in the water and on land.
No need to bring your own gear
Many lodges and camps along the Chobe River offer fly-fishing as an activity to enjoy while on safari. This is usually at an additional cost, but is inexpensive and well worth it. We highly recommend opting for this activity during your Botswana safari. A luxury safari package generally includes two activities per day as part of your itinerary, whether it be game drives, sunset boat cruises or mokoro rides. However, you can opt not to join these activities and spend a day (or two) on the magnificent Chobe instead.
There is no need to bring your own equipment (although professionals might want to). The safari lodge or camp will provide all the necessary fishing gear (rods, reels and tackle) that you will need to for your catch. Seasoned anglers who have been fishing these waters for generations are there to advise you on the best techniques to use and the behaviour of the fish you hope to catch.
The who's who of the Chobe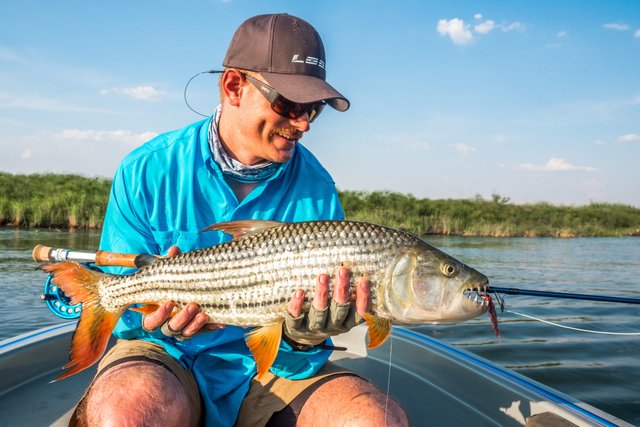 Notoriously ferocious, the tigerfish is the lion of the Chobe River. This freshwater monster can reach an incredible weight of 28 kgs at maturity. These fish often hunt in groups, feeding on smaller fish like small bream and tilapia. Another exciting catch to make on the Chobe is the enormous catfish or barbel. These bottom feeders are a crocodile's favourite so look out for any conflict between these species on the water.
In addition to these iconic Chobe fish, the African pike, carp and Zambezi yellow fish are other great fish to look out for.
Travel tips
In keeping with natural conservation, fishing around the Chobe National Park is strictly prohibited. In addition, certain camps and lodges operate on a catch-and-release policy only, in order to discourage overfishing and fishing of juvenile species. Your safari consultant will be able to find out about fishing opportunities on the Chobe, or how you can include this adrenaline-pumping activity into your bespoke safari itinerary.