Win 250,000 BOOL On Hobit.io! 4,000,000 BOOL Giveaway And 1,100,000 BOOL Ranking Competition! Beginning Aug 31st, 2018 And Ending Sept 15th, 2018!
BEGIN LOADING UP ON BOOL! YOU CAN WIN 250,000, 50,000, OR 10,000!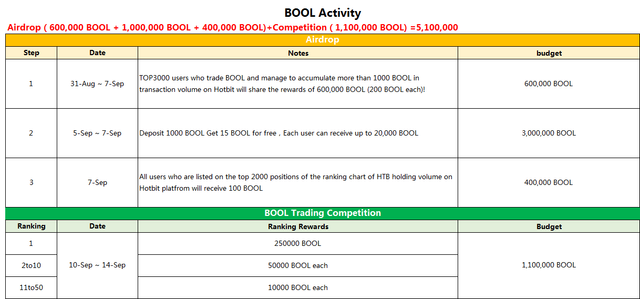 THIS IS HUGE!! BEGIN STOCKING UP NOW!
The final, legally binding details can be seen at: https://help.hotbit.io/hc/en-us/articles/360008584854-BOOL-Airdrop-4-000-000-BOOL-GIVEAWAY!!!! You can currently buy it at:
https://www.boolean.news/buy-booleancoins/
It will update constantly to match the BOOL/ETH exchange price and you can buy using USD, ETH, BTC, and many other cryptocurrencies! If you have any questions, you can reach out to [email protected]! The Boolean.News API will be released imminently, which will allow the managing of your blog content, website, news content utilizing our Automatic News Accuracy Testing automatically, the ability to integrate public method calls which will return JSON Data, as well as formatted data, which can be utilized to reference News Accuracy and Credibility Ratings on our site! Our marketplace is also releasing imminently! This is a very limited competition and offer, so make use of it; additionally, you can utilize it in concert with our Boolean Hodlers Program which will allow early adopters to earn additional rewards by Hodling their Booleancoin after the competition is over!
The clock is already ticking and you want to be fully prepared for trading to begin, as the price could skyrocket based on the volume increase on the exchange that will accompany it! There is a lot of money to be made here if you begin your preparation now! If you're in the top 50 traders of BOOL, you can earn a SUBSTANTIAL amount of bonus BOOL, which will be extremely liquid on the exchange once the competition begins!!! Tell your friends, tell your family, tell all of Steemit! Upvote, Resteem, And Give Your Input! This is huge for the Booleancoin Team and all of our supporters, so begin your prep today and make sure that you take part in this once-in-a-lifetime opportunity! There will never be a competition like this again; there are only 20,000,000 BOOL in existence, so this is an opportunity greater than any that has been seen thus far in the Booleancoin Ecosystem!
INTEGRATION BETWEEN STEEMIT, DTUBE, DLIVE, AND BOOLEAN: THE NEWS ACCURACY PLATFORM IS A DEFINITE WILL BE ACHIEVED DURING 2019, IN LINE WITH THE OFFICIAL SMT RELEASE DATE, DURING THE NEXT STAGE OF STEEMIT AS A PLATFORM AND THE RISE OF STEEM AS A STANDALONE, EXPANDABLE BLOCKCHAIN WITH A TOP 10 WORLDWIDE CRYPTOCURRENCY MARKET CAP!
Again, do yourself a favor and buy some prior to this and prep:
https://www.boolean.news/buy-booleancoins/
AS ALWAYS, WISHES OF WEALTH AND HEALTH FOR ALL!