"Read a Damn Book – 003: This Ain't No Disco"
Continuing my archival project (bringing my books reviews, and a few other posts, over to the Steem Blockchain,) I present for you BOOK REVIEW #3! I found this book in a cut-out bookseller in Seaside, Oregon, USA, for about six bucks, and I've loved having it ever since. I'm a confirmed NEW WAVE HEAD, and although I love punk and techno and goth and industrial and modern electronic and (some) pop music, NEW WAVE is by far my favorite music style... (It's probably an age thing...) And this book, which is basically a catalog of NEW WAVE album covers, is one of my best book-shop finds! It's not worth much, economically speaking, but it MEANS a lot to me because of how many memories it brings back every time I flip through it! Anyway, before I get all blubbery, here's the review:
"Read a Damn Book – 003: This Ain't No Disco"
[Originally posted on February 27, 2017, by richardfyates]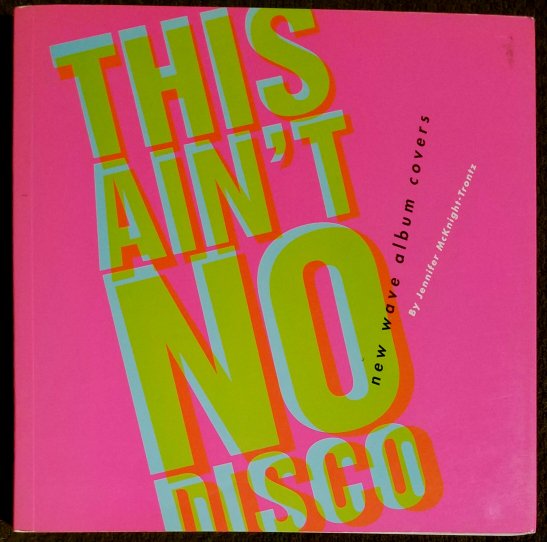 [This is a photograph that I took of the actual book that I read. The image is included for review purposes only!]
Jennifer McKnight-Trontz – This Ain't No Disco: New Wave Album Covers (2005)
As an artist, I have to admit that New Wave album covers (and music videos) were some of the most important influences on me. Brash colors, strange images, geometric designs, and creative juxtapositions combined with a futuristic sensibility, the whole package really appealed to me, visually and ideologically, as a kid. This book by Jennifer McKnight-Trontz, which nobly covers this freakish and often misunderstood era in music history, is a fabulous resource, particularly for a visual artist. It has a short intro talking about New Wave style, then it dives right into a couple hundred album covers, ranging from around 1970 to the mid-1980s.
Gary Numan, Duran Duran, XTC, Adam and the Ants, the Go-Go's… These bands created some absolutely iconic images for their album art… And, as a record collector, I was fascinated by the fact that the book's compilers found SO MANY New Wave albums that I don't already own! (I have A LOT of records...) Combine the variety of design styles with the shear number of albums, plus the little bits of trivia and informative notes peppered throughout the book, and you've got a collection worth flipping through, over and over again. I would recommend this book for art and design fans, for music lovers, and for anyone who was either too young or too sheltered to have run across the great New Wave aesthetic when it was in full blossom. At the moment, the book is available for about $5.00 on Amazon, and, if you're a fan of the '80s, it's definitely worth the price!
—Richard F. Yates
(Primitive Thoughtician and Supreme Bunny Lord of The P.E.W.)
SUPPORT INDEPENDENT FOLKS WHO ARE JUST MAKING STUFF BECAUSE THEY LOVE IT!!!
https://steemit.com/@richardfyates
https://primitiveentertainment.wordpress.com/read-a-damn-book-list/
https://makersplace.com/store/richardyates/