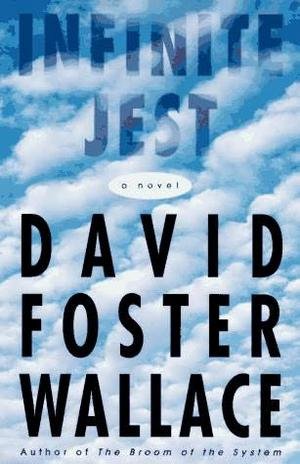 We are happy to announce the successful launch of the second Steemit Book Club last Monday.
It was a great meeting with a lot of new participants, interesting conversations, and unique perspectives. And to make everything better, we were joined by a David Foster wallace expert to help us navigate this beautiful masterpiece.
Infinite Jest
Reading through the pages of Infinite Jest you immediately realize that you are in the presence of something extraordinary. It's one of those books that come out every twenty years or so, and which probably would remain acclaimed for many more years to come.
What makes the work of David Foster Wallace so unique is its exceptional mind-stretching aspect. That, and the fact that quality classics like this one may just help you elevate your writing too, which is no small bonus.
To help us navigate this timeless chef d'oeuvre, we were pleased to be joined by Ahmed Kabil, who is a great self-styled Infinite Jest expert, and who gracefully provided us with such an amazing and thorough presentation about David Foster Wallace, his books, and his life and death, and many other interesting subjects.
Ahmed, if you're reading this, thank you so much for all your insight last Monday, it was such a pleasure to have you with us.
For those who missed last Monday's session, you can find the recording of the entire session below:
https://soundcloud.com/user-655948001/steemit-book-club-2-infinite-jest
But meanwhile we leave you a short yet brilliant extract of the first Chapter: "Year of Glad":
"My application's not bought,' I am telling them, calling into the darkness of the red cave that opens out before closed eyes. 'I am not just a boy who plays tennis. I have an intricate history. Experiences and feelings. I'm complex.
I read,' I say. 'I study and read. I bet I've read everything you've read. Don't think I haven't. I consume libraries. I wear out spines and ROM-drives. I do things like get in a taxi and say, "The library, and step on it." My instincts concerning syntax and mechanics are better than your own, I can tell, with due respect. But it transcends the mechanics.
I'm not a machine. I feel and believe. I have opinions. Some of them are interesting. I could, if you'd let me, talk and talk. Let's talk about anything. I believe the influence of Kierkegaard on Camus is underestimated. I believe Dennis Gabor may very well have been the Antichrist.
I believe Hobbes is just Rousseau in a dark mirror. I believe, with Hegel, that transcendence is absorption. I could interface you guys right under the table,' I say. 'I'm not just a creatus, manufactured, conditioned, bred for a function.'
I open my eyes. 'Please don't think I don't care.' ― David Foster Wallace, Infinite Jest
Details for next week's meeting:
Book: Infinite Jest by David Foster Wallace
Reading Assignment: Chapter Two "Year of the Depend Adult Undergarment" (pages 18-49)
First Session: Monday, March 20th
Start Time: 6:00 p.m. PST / 9 p.m. EST / 2 a.m. GMT
Call Length: One hour.
Phone Access: (800) 719-6100 or (218) 339-7800, access code 629-1831#
Web Audio Access (sound quality isn't generally as good as phone): https://hello.freeconference.com/conf/call/6291831
P.S.
Just to avoid any background noises, one of the things the makes the call go so well and makes the meeting more pleasant is for everyone to mute themselves in the beginning of each call and then un-mute themselves whenever there is anything you want to comment on.
And please, by all means do not hold out on any comment you may have, all contributions are very valuable and we are all here to pick each other's brains.
If you're on the phone, all you have to do is to press *6 whenever you want to mute/unmute yourself, and if you are joining via web link, you have the mute symbol at the top right of your username.
Although in full disclosure, the quality of sound when calling by phone is nothing compared to the web link. For a better quality we would recommend joining by phone if you can, which is toll-free of course.
P.P.S.
If you have any problems joining during the call, or if you have any doubts or questions feel free to message in the steemit chat to @the-alien in https://steemit.chat.
It will be a great experience embarking in this new journey with all of you.
Hope you can join us.
P.P.P.S.
You can these links to help guide you as you read Infinite Jest
http://faculty.sunydutchess.edu/oneill/Infinite.htm (THIS LINK HAS SPOILERS)
http://infinitejest.wallacewiki.com/david-foster-wallace/index.php?title=Main_Page#Page_by_Page_Annotations (No spoilers---This is the link Ahmed mentioned on the first call)