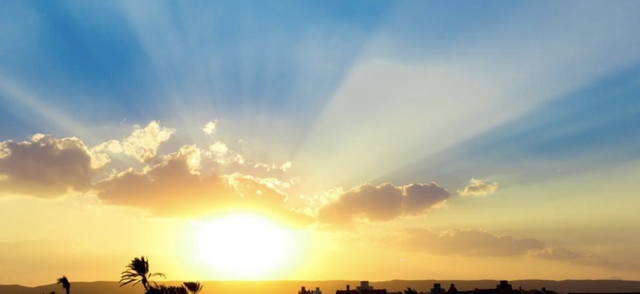 "I was born anew, owner of my own darkness." ― Pablo Neruda
In Homer's Odyssey, Odysseus washed ashore on the land of the Phaeacians after his ship has wrecked in the Ocean. Exhausted and dehydrated he passed out on the shore but he was suddenly awakened from sleep when he was hit by a ball mis-thrown by Princess Nausicaa and her friends who had come to the beach to play and do laundry.
Nausicaa, in this chapter is represented by Gerty MacDowell who from the beginning we realize that she's standing in front of Bloom in the beach with her friends Edy Boardman and Cissy Caffrey.
Gerty is immediately attracted to Bloom in part because of the sadness in his face and wants to comfort the apparently soul wrecked man, just like Nausicaa felt about the ship wrecked man.
The other reason she was attracted to Bloom is because he seemed like a mysterious stranger, he appears to be a foreigner to her land (like Odysseus to Princess Nausicaa) which constitutes a huge contrast with the last chapter Cyclops where the men in the bar were afraid of whoever is different and getting themselves on a permanent state of fight or flight.
To make the contrast even bigger, while last chapter's technique was giganticism, the technique used in this chapter is tumescence and detumescence, which in layman's terms means swelling and then a cessation of swelling.
If you're thinking of something sexual here, you're right on the mark.
Parallels in this chapter with the Odyssey are not hard to come by, Gerty daydreams of marriage and domestic life just like the unmarried Nausicaa since both women had marriage on their minds.
Chapter Thirteen: Nausicaa
Playing at the beach, one of Cissy's children kicks the ball too far and it lands right next to Leopold Bloom who picks it up and throws it back to them only that the ball lands under Gerty's skirt from all places.
As Gerty tries to pass the ball to her friend Cissy she perceives Bloom's eyes on her and picked up on his sad face and begins to fantasize that Bloom is a grieving foreigner who needs her comfort.
Knowing that Bloom's eyes are on her, Gerty flaunts her legs and her hair for Bloom, knowing she that he's getting aroused.
Cissy then approaches Bloom to ask for the time, Bloom has his hands in his pocket since he is busy doing… Something. Bloom takes a look at his watch and realized that it stopped working.
The clock stopped at 4:30, the exact time when his wife Molly was meeting Boylan for a presumably adulterous affair.
His stopped-up timepiece is also a metaphor for his own impotence.
When Cissy returns to her friends, Bloom just puts his hands back in his pockets and resumes what he was doing.
A mysterious "nobleman" walks right next to Bloom. Leopold wonders about the man and ponders about writing a story about him titled "The Mystery Man on the Beach." which reminds him of The Man in the Macintosh.
The events in Nausicaa take place at the Sandymount beach which we've seen before in the consciousness focused chapter "Proteus" where Stephen Dedalus experimented with closing his eyes and concentrating on his other senses. In contrast to Bloom in this chapter who has as most significant moments those that are directly correlated imagery or even straight up voyeuristic.
Everyone Loves Fireworks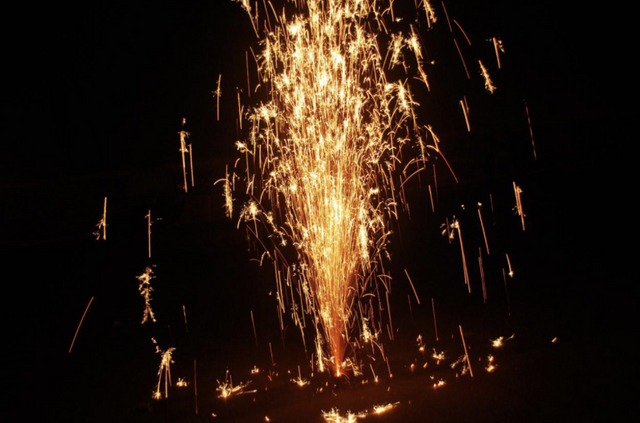 As Edy and Cissy and are packing up to leave the beach, a few fireworks shot up from the Mirus bazaar. They start run down the strand with their children to watch, but Gerty decides to stay. And as the fireworks display goes on, so does the display Gerty gives Bloom. She leans back and lifts her knee so he could see more of her leg while she watches a "long Roman candle" firework shoot high in the sky.
"And then a rocket sprang and bang shot blind blank and O! then the Roman candle burst and it was like a sigh of O! and everyone cried O! O! in raptures and it gushed out of it a stream of rain gold hair threads they shed and ah!... O so lovely, O, soft, sweet, soft!" – James Joyce
The chapter climaxes with the fireworks and Bloom's orgasm, a man who has been sexually dead for years is now alive again.
Yeah, that's what's going on on in Bloom's pocket in case you didn't catch on that earlier.
Bloom stands up, rearranges his now semen stained shirt and gets ready to leave the beach as well.
And a little bit of rain begins to fall, signifying the end of the drought.
He wonders whether Gerty will return to the beach the next day, them picks up a stick and begins to write her a message in the sand.
The message reads "I AM A" but he doesn't finish the sentence. Instead, he erases the letters and throws the stick away, which lands straight up in the sand symbolizing his own returned potency.
What could the cryptic message mean? If you have any ideas please leave them in the comments below..
According to @tyger on the call, it could relate to Jesus Christ who wrote an unknown message in the ground to save the "woman taken in adultery."
With that in mind, it's funny to observe Gerty who in this chapter is associated with blue and white, also corresponds to Virgin Mary, with Joyce dropping yet another clever hint by having the events of the evening take place evening on the Sandymount Strand, near Mary, Star of the Sea church.
It's there where we witness a newly revived Bloom, a man reborn.
Speaking of which, next week's reading is the Oxen in the Sun chapter, which takes place in…the maternity ward of a hospital, where we will witness in Joyce's style language being born.
For more, here's the recording of the latest session of the Steemit Book Club:
https://soundcloud.com/user-471385730/steemit-book-club-part-13
NEXT WEEK'S SBC CALL
Steemit Book Club, Session 15
Book: James Joyce, Ulysses (Preferably Gabler Edition)
Reading Assignment: Chapter Fourteen ("Oxen of the Sun")
Date: Monday, December 19th
Time: 6 p.m. PST / 9 p.m. EST / 2 a.m. GMT / 11 a.m. (Tuesday) UTC
Phone: (800) 719-6100 or (218) 339-7800, access code 629-1831#
Web audio link (and location for international call-in
numbers): https://hello.freeconference.com/conf/call/6291831
Chat: #steemit-book-club channel on steemit.chat
Best,
@neilstrauss, @the-alien, and the #steemit-book-club
P.S. Note that the Comments section of this post will also serve as a discussion forum for the current reading.