Uncle Warren's books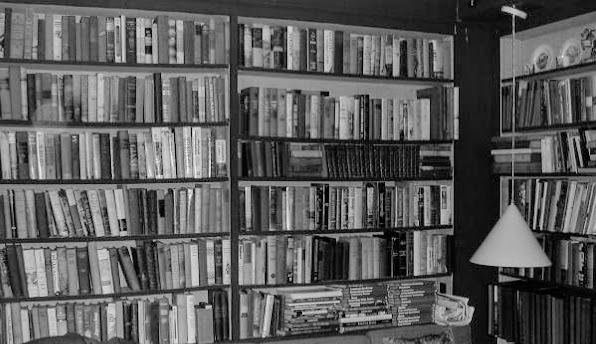 I never met my great uncle Warren, but indirectly he had a significant influence on my life. Uncle Warren owned and operated a farm in Huntley, Illinois, not far from Elgin. My grandmother's sister, Marguerite, lived with Warren as a common law wife. And his farm is where my dad and grandmother stayed after her divorce from my grandfather in 1924. That farm is also where my dad found the arrowheads that I mentioned in story 71.
Uncle Warren's father served under General Grant as a Union officer during the Civil War, and he fought at the Battle of Shiloh. After that battle, the victorious Union officers cut down a tree on the battlefield and had canes made out of it for each officer. The canes are topped with a silver handle that was inscribed with the date of the battle and the officer's initials. I still have that cane. It is next to my desk and sits in an empty powder casing that I recovered from the deck of our ship after we fired it while supporting some Marines in Viet Nam.
The main thing about Uncle Warren that influenced me, however, was his love of reading. Aunt Marguerite often told me of how she and Warren would spend each night reading by the light of a kerosene lantern. Often, she said, he would read aloud to her.
When Uncle Warren died, he left the farm to Aunt Marguerite, who used the money to buy the house that my mother and dad were living in during my final years at Notre Dame. It was that house in which we had several Thanksgiving parties for the Notre Dame sailing team, and it was where my dad was living at the time he died.
Marguerite also inherited Uncle Warren's library, which was quite impressive, particularly for an unschooled farmer. It consisted of almost 1,000 books. Eventually they became mine, and for many years I shipped them from one house to another as my life progressed. Over time I had to donate many of them to libraries. The ones that I still have with me are either of sentimental value from having read them with my dad, or they are rare enough to be somewhat valuable. All of them are now well over 100 years old. I think that in some strange way those old books are what has influenced me to do so much reading. As a child I vowed to read every one of them before I died. If I am going to keep that vow I'll have to live another 75 years or so!
NOTE: This is one of the stories from my new book
The Chronicles of Lorenzo - Volume 1
You may download a free copy of it at
https://lorenzohagerty.com/freebooks/
I have placed this book directly into the Public Domain.