Bandwidth
He did it again! Eliot Peper is a master of creeping his way into your brain cells with stories that carry a premonition sign of a society galloping into its dystopian future and human entities running wild with seemingly no one to save them.
Having recent events flooding the world media in mind, Bandwidth (An Analog Novel Book 1) comes as another shocking reminder of the realities we live in, both virtual and the real-time ones, and the hidden battles fought for our souls, money and lives. 
Bandwidth is a prophecy of a digital feed era which lures us into its techno-thriller net with an immense potential of manipulating everything and everyone. The only way of survival might be in trusting no one and questioning every authority. 
Please click on the original post to read the whole review.
Bernard Jan
www.bernardjan.com
Join my mailing list, subscribe to blog Muse!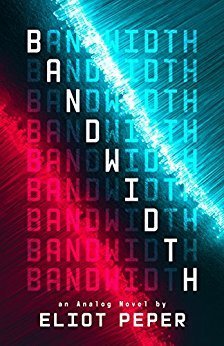 Cover photo source: Goodreads