The most important thing we learn at school is the fact that the most important things can't be learned at school. ― Haruki Murakami.
One of the quote in What I Talk About When I Talk About Running by Haruki Murakami I think it's worthy to be the opening of this post. Because, I will talk about Haruki Murakami who learns about life from the metaphor of his running activities.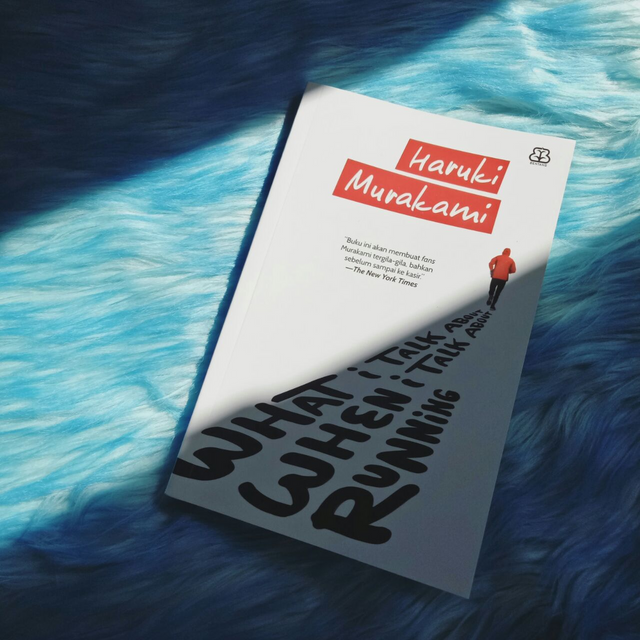 ---
---
---
To deal with something unhealthy, a person needs to be as healthy as possible. That's my motto. In other words, an unhealthy soul requires a healthy body. ― Haruki Murakami.
Haruki Murakami not only inspired me in terms of writing, but also he inspired me and certainly many people in terms of healthy living with exercise run.
It's no secret that often writing work is called very unhealthy because writers work abnormally because of the new creativity demands arise at night, so the authors are lazy to exercise during the day because they feel tired. Unusual working time makes the writer unhealthy.
Haruki Murakami through the book What I Talk About When I Talk About Running provides a lot of motivation for writers to be able to live healthy.
For this reason, Haruki invites writers to change unhealthy habits with running activities.
For myself, running activities have been proven to work to improve my writing work. I find it easier to write the inspiration that I have received in my head, to be the real writing. So running is not only great for health, but it is also worth the expense of good ideas gliding in our writing.
---
---
---
Exerting yourself to the fullest within your individual limits: that's the essence of running, and a metaphor for life—-and for me, for writing as well." ― Haruki Murakami.
Writing is likened to running that requires us to remove all the energy from the boundaries that have been locked up our ability in the mindset.
So, as long as we are young, we should not lose to Haruki's healthy lifestyle. I am sure in Steemit many young writers are ready to shake the world with his great work someday. In fact, Haruki said that if we are young and talented, then we are like having wings. We can achieve dreams as high as anything.
If you're young and talented, it's like you have wings. ― Haruki Murakami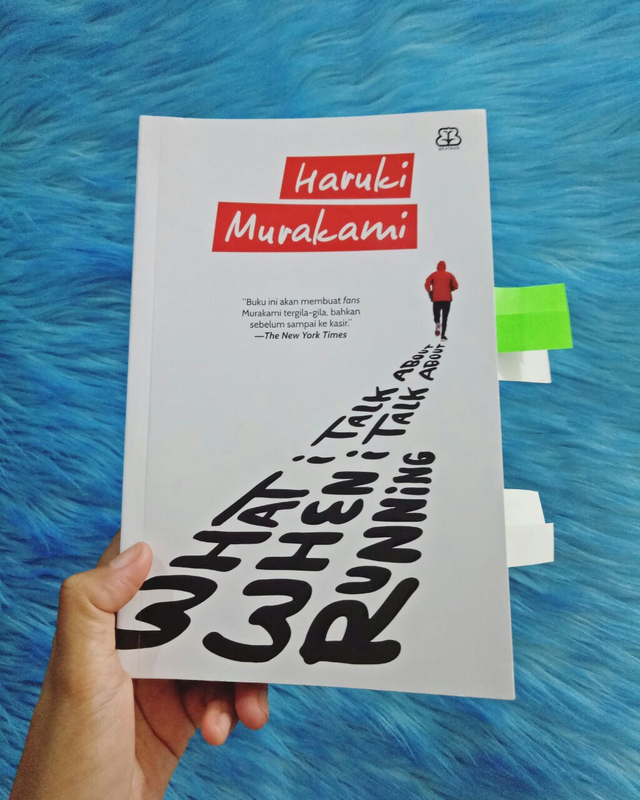 I also believe that Steemit can be a bridge for writers to have more readers and become an international writer someday, because it has easy access for readers to find writing.
While Steemit is still there, then do not waste it. This is great for displaying writings, especially with the presence of SteemPress (@steempress-io) which became a new life for the bloggers in Steemit.
This could be a good reason to keep posted on Steemit. Because, we must always polish the reason to continue to Steemit and run because there are so many reasons that can stop us.
Indeed, a lot of reasons that make us will stop posted, let alone the price of Steem is down dramatically. Just as many reasons can make it stop running.
If I used being busy as a excuse not to run, I'd never run again. I have only a few reasons to keep on running, and a truckload of them to quit. ― Haruki Murakami.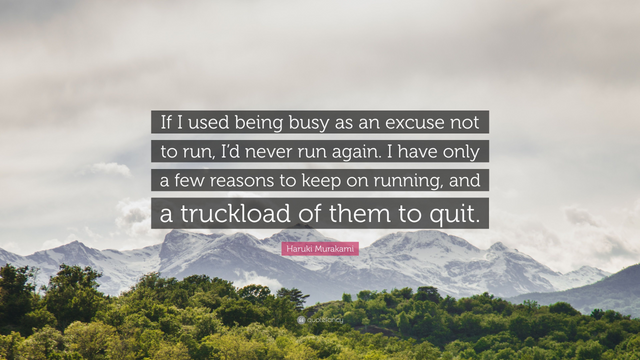 Source
So let's learn how to be a healty Steemian and writer from a world-class writer: Haruki Murakami.
---
---
---
---
---
BAHASA: Belajar Menjadi Steemian dan Penulis yang Sehat dari Haruki Murakami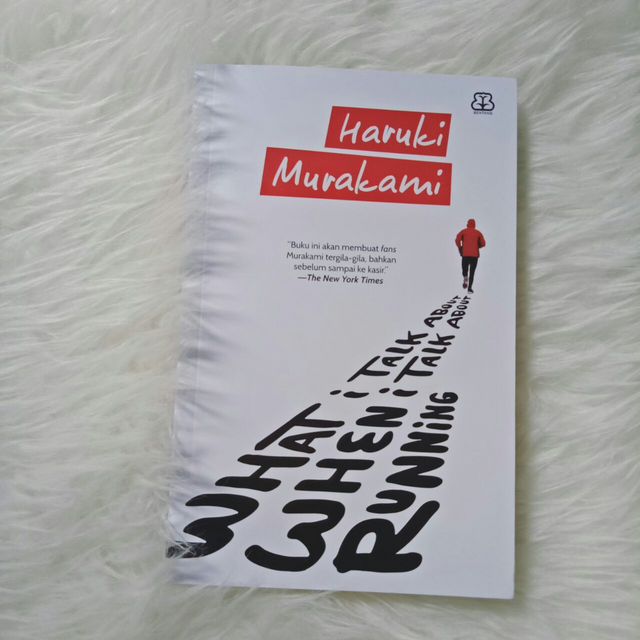 Hal terpenting yang kita pelajari di sekolah adalah fakta bahwa hal-hal yang paling penting tidak dapat dipelajari di sekolah. ― Haruki Murakami.
Salah satu kutipan dalam buku What I Talk About When I Talk About Running karya Haruki Murakami, saya pikir itu layak untuk menjadi pembuka posting ini. Karena, saya akan berbicara tentang Haruki Murakami yang belajar tentang kehidupan dari metafora kegiatan larinya.
Untuk menghadapi sesuatu yang tidak sehat, seseorang harus sesehat mungkin. Itu motto saya. Dengan kata lain, jiwa yang tidak sehat membutuhkan tubuh yang sehat. ― Haruki Murakami.
Haruki Murakami bukan saja menginspirasi saya dalam hal menulis, tetapi juga dia menginspirasi saya dan tentunya banyak orang dalam hal hidup sehat dengan berolahraga lari.
Bukan rahasia umum lagi bahwa seringkali pekerjaan menulis disebut sangat tidak sehat karena para penulis bekerja tidak normal karena tuntutan kreativitas yang baru muncul di malam hari, sehingga para penulis malas berolahraga di siang hari karena merasa kelelahan. Waktu bekerja yang tidak normal membuat penulis menjadi tidak sehat.
Haruki Murakami melalui buku What I Talk About When I Talk About Running memberikan banyak motivasi bagi penulis untuk bisa hidup sehat.
Untuk itulah, Haruki mengajak para penulis untuk mengubah kebiasaan tidak sehat dengan kegiatan berlari.
Bagi saya sendiri, kegiatan berlari telah terbukti bekerja untuk memperlancar pekerjaan menulis saya. Saya lebih mudah menuliskan inspirasi yang sudah saya terima di kepala saya, menjadi tulisan yang nyata. Jadi, berlari bukan hanya bagus untuk kesehatan, tetapi juga sangat berharga memperlancar ide-ide bagus meluncur dalam tulisan kita.
Mengerahkan diri Anda sepenuhnya dalam batas-batas individual Anda: itulah inti dari berlari, dan metafora untuk kehidupan — dan bagi saya, untuk menulis juga. ― Haruki Murakami.
Menulis diibaratkan sebagai berlari yang mengharuskan kita untuk mengeluarkan seluruh tenaga dari batasan-batasan yang selama ini mengurung kemampuan kita dalam pola pikir.
Maka, selama kita masih muda, kita tidak boleh kalah dari gaya hidup sehat Haruki. Saya yakin di Steemit banyak penulis muda yang siap mengguncang dunia dengan karya hebatnya suatu hari nanti. Bahkan, Haruki berkata bahwa jika kita masih muda dan berbakat, maka kita seperti memiliki sayap. Kita bisa meraih impian setinggi apa pun.
Saya juga percaya bahwa Steemit bisa menjadi jembatan bagi para penulis untuk memiliki lebih banyak pembaca dan bisa menjadi penulis internasional suatu hari nanti, karena telah mudahnya akses bagi pembaca untuk menemukan tulisan.
Selagi Steemit masih ada, maka jangan sia-siakan. Ini bagus untuk menampilkan tulisan-tulisan, apalagi dengan hadirnya SteemPress (@steempress-io) yang menjadi nyawa baru bagi para blogger di Steemit.
Hal ini bisa menjadi alasan bagus untuk terus memposting di Steemit. Sebab, kita harus selalu memoles alasan untuk terus ber-Steemit dan berlari karena di luar sana banyak sekali alasan yang mampu menghentikan kita.
Memang, banyak sekali alasan yang membuat kita akan berhenti memposting, apalagi harga Steem sedang turun drastis. Sama seperti banyak alasan yang bisa membuat berhenti berlari.
Jika aku terbiasa menggunakan sibuk sebagai alasan untuk tidak berlari, aku tidak akan pernah berlari lagi. Aku hanya punya sedikit alasan untuk berlari, tetapi punya segudang alasan untuk berhenti. Semua yang perlu kulakukan adalah hanyalah memoles yang sedikit itu dengan baik.
Jadi, marilah kita belajar untuk menjadi Steemian dan penulis yang sehat dari seorang penulis kelas dunia: Haruki Murakami.
---
---
---
**Original Book Photography by Anggrek Lestari: Using the Smartphone camera**.
---
---
---
**Keep Steeming and Reading**

**My Patner in Steem: @bahagia-arbi**
---
---