https://mightythorjrs.wordpress.com/2018/01/17/book-haul-spotlight-the-last-celt-a-bio-bibliography-of-robert-ervin-howard-by-glenn-lord/
I have been adding many new books to my collection recently. My interest in reading has shifted to older books and authors. So I thought instead of just a simple book haul post I would do more of a spotlight/introduction post as well. So in the post below you will not only find the usual book haul photo's, but book and author info as well. I hope you will take the time to look it over and maybe take a chance at checking out books and authors that you may have forgot about or discover in these post!
I found these books at my favorite local used book store. My all time favorite author is Robert E. Howard. Can't wait to read about the man himself. Excited to add both of these editions to my collection.
Today we have:
The Last Celt: A Bio-Bibliography of Robert Ervin Howard
by Glenn Lord – Donald M. Grant, Publisher, Inc. in 1976 HC
and
The Last Celt: A Bio-Bibliography of Robert Ervin Howard
by Glenn Lord – 1977 TPB published by Berkley Publishing Corporation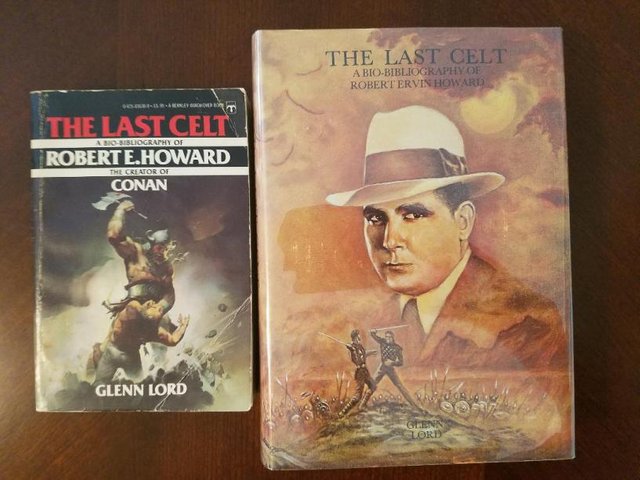 The Last Celt: A Bio-Bibliography of Robert Ervin Howard
by Glenn Lord
Contents
"Introduction" by E. Hoffmann Price
"Foreword" by Glenn Lord
Autobiography
"The Wandering Years"
"An Autobiography"
"A Touch of Trivia"
"Letter: Robert E. Howard to Farnsworth Wright"
"On Reading – And Writing"
Biography
"Facts of Biography"
"A Biographical Sketch of Robert E. Howard"
by Alvin Earl Perry
Letter to Alvin Earl Perry, ca. early 1935,
"The first character I ever created . . ." (excerpt only)
"Robert Ervin Howard: A Memoriam"
by H.P. Lovecraft
"Lone Star Fictioneer" by Glenn Lord
"A Memory of R.E. Howard" by E. Hoffmann Price
"The Last Celt" by Harold Preece
Bibliography
"The Bibliography" by Glenn Lord
Books
Fiction
Verse
Articles
Letters
Index by Periodicals
Translations
Unpublished Fiction
Unpublished Verse
Unpublished Articles
Series Index
Lost Manuscripts
Unborn Books
Comics
Television Adaptations
The Junto
About the Author
Miscellanea
"The Hand of Nergal"
"The Battle That Ended the Century" by H.P. Lovecraft
"Pictures in the Fire"
"The Hall of the Dead"
The Robert E. Howard Memorial Collection
"Iron Shadows in the Moon"
(first page of original typescript)
Letters
"The Golden Caliph"
"R.E.H., as Mythical Dane"
Cartoon from the Junto
"Map of the Hyborian Age"
A Robert E. Howard Photograph Album
A Gent From Bear Creek
Magazine Covers
Obituaries
Glenn Lord was an American literary agent, editor, and publisher of the prose and poetry of fellow Texan Robert E. Howard, and the first and most important researcher and scholar of Howard's life and writings.