In this age, only pet names are safe.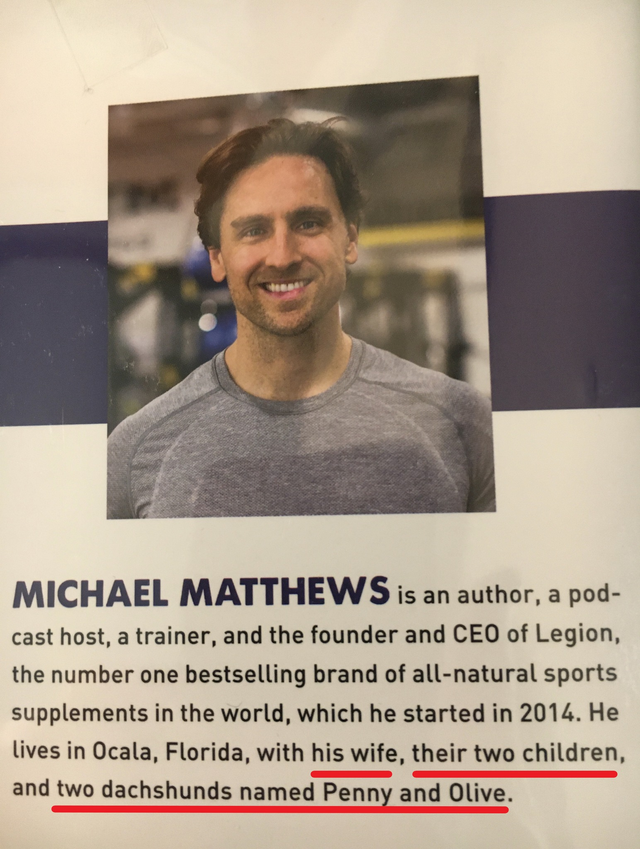 I checked out a book from the local library yesterday – a strength training book entitled Muscle for Life, by Michael Matthews. The inside back jacket of the book has a photo of the author, plus a short blurb about his life and background.
What struck me as odd about his biographical information is that it includes the names of his "two dachshunds" – Penny and Olive – but omits the names of his wife and "their two children." Why?
Maybe the publisher or editor thought the dogs' names were cute and the kids' names weren't. By Googling 'Michael Matthews,' I found out a bit more: "He married his teenage sweetheart Sarah, with whom he has a son named Lenox." "Sarah" is a good, strong, biblical name. "Lenox" is unusual, but it's a cool name. (Or maybe I just think it's cool because I used to work with Shakespeare & Company, in Lenox, Mass.) I haven't learned the name of their second child.
Maybe his family members' names are omitted for security reasons – to shield them from publicity or danger. But I'm just guessing here. I don't really know. Nor have I done a study of how often the names of authors' family members are included in book jacket bios.