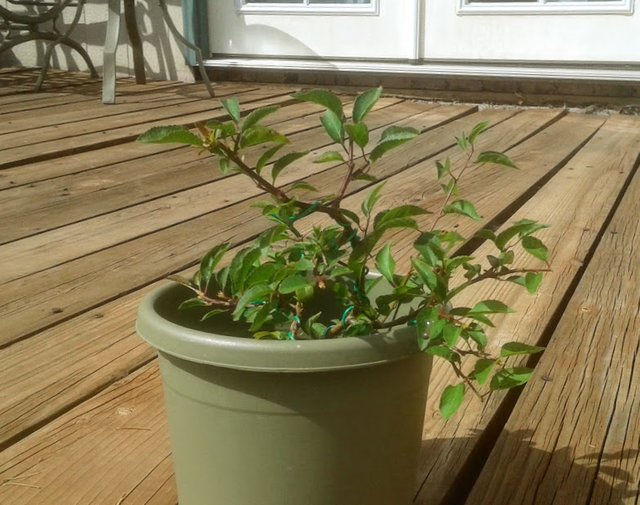 A bonsai tree in training. This one is a young cherry tree.
You might noticed I've got it all wired up to enhance the curvature of the branches. Normally branches on Cherry trees grow long and straight from the branch tips. Pinching the tips encourages backbuds to form.
Another thing I did differently with this tree is to bury it shallow in an over-sized pot. Usually I put my youngest trees in the cheapest pots, and that is definitely the case here. To ensure a shallow root spread, I only filled this pot half with soil. The shade of the high pot also seems to help it retain moisture and keep the roots and branches cooler and less stressed on hot days.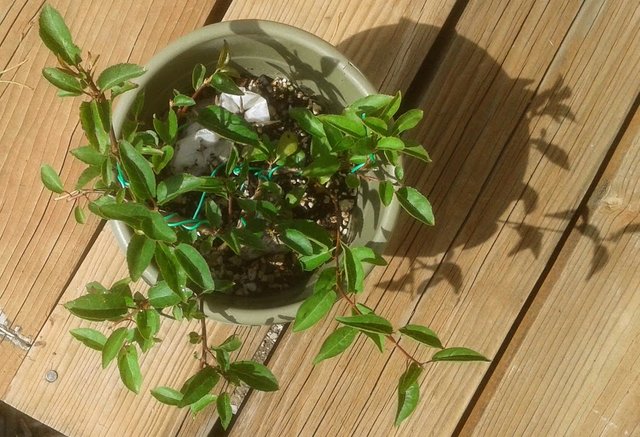 Historical Details of this Tree:
ID: 0031
Nickname: Unnamed Tree
Type: #Cherry
Age: 2 years
Grown: cutting from branch
Last repotting: April, 2019
Wired: June 16, 2019
Past articles featuring this tree: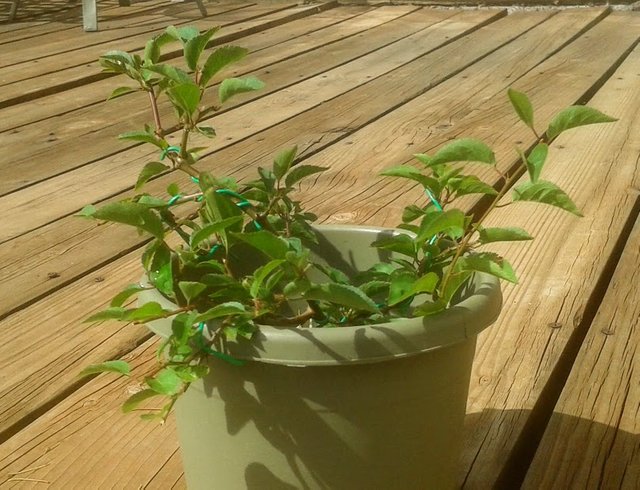 Contest
Unfortunately this tree does not have a name. I like to give each tree a unique nickname. It helps me to identify a tree on sight.
Sometimes a good name will evoke a memory from its past origins, its dominant traits, or relate to its intended future potential. Sometimes a humorous name is the perfect way to make it recognizable enough to differentiate it from the others.
Let me know if you have a good nickname in mind for this tree, and I'll be sure to give a small reward in the comments below for the best response.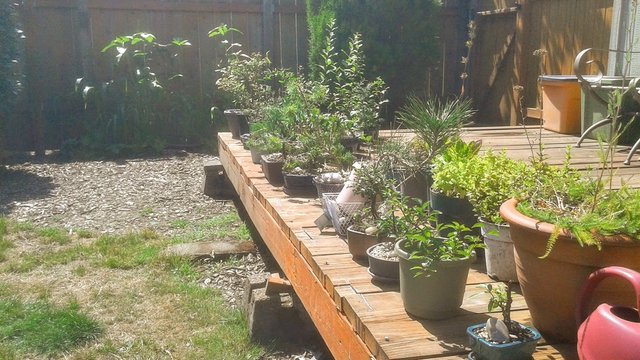 Be sure to follow my work this week. I'm in the process of sharing the whole host of bonsai trees in my collection. There is over thirty trees I am growing. That means you can enjoy more than a month of fresh content from @creativetruth's back porch.
Share the goodness with me.

---
Photos in this post are all #originalworks by @creativetruth, unless stated otherwise.
Find me on discord and chat with other tree growers, bonsai enthusiasts, and gardeners. We have quite a few accredited experts filling out our ranks, and a helpful Spanish-speaking community.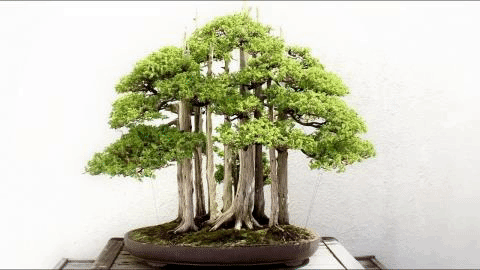 #teambonsai
No memberships. Love trees. Make friends. Grow together.
---