Best Cities to Become a Boating Family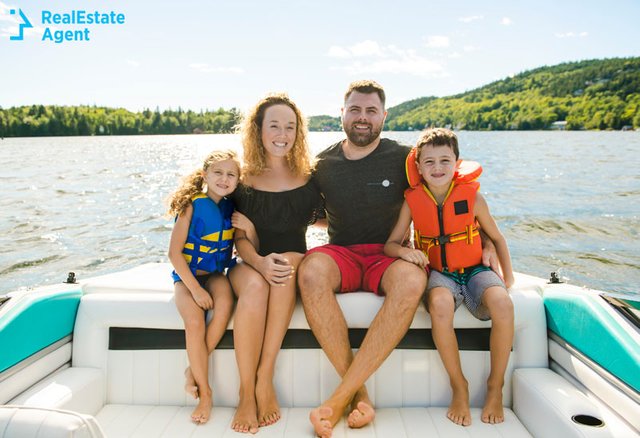 Is it your dream to retire and buy a boat? Or not even that: no retiring; just buying a boat and becoming a boating family – sailing away on the weekend, sharing some quality time with the young ones, exploring new places and, who knows, even competing from time to time to earn a big trophy back to your shelf?
If so, this article is for you, as we'll list some of America's best cities to become a boating family. To be considered one of the best places to go boating, a few things are required: infrastructure (boat clubs, availability of real estate with docks and boat lifts, if possible) a boating tradition/community, and, of course, an ocean or a lot of lakes so you can sail.
So get your life jacket ready because this ship is about to sail!
Jacksonville, Florida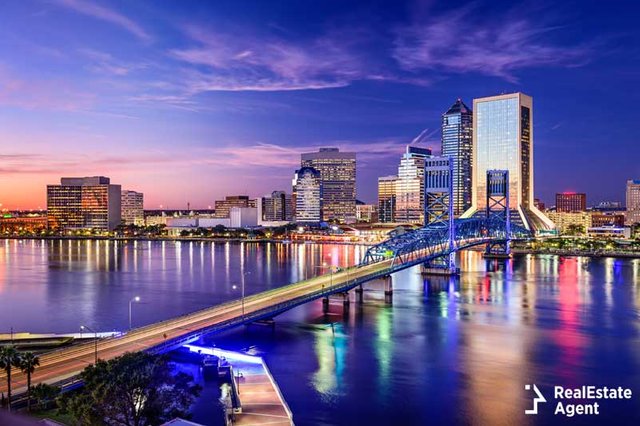 Fort Lauderdale Real Estate Agents are probably mad to see Jacksonville representing the state here and not them. It messes up their pitch of being "the Venice of America" due to its more than 300 miles of inland waterways and the famous Fort Lauderdale International Boat Show. It's the best place to go boating in South Florida, and that says a lot as it is. Yes, because Realtors in Naples and several other Florida cities will also be mad at us – we can't please everyone; especially in Florida! When we decided to make a list of the best cities to become a boating family, our team at RealEstateAgent.com even considered marking the Sunshine State as hors concours – that is; out of the competition because it's by far the most incredible place for boating families. But, in the end, we tried our best to have just one single Floridian city on the list, and it was Jacksonville.
Why Jacksonville?
Jacksonville has about 17% of its real estate listings marked as waterfront residences and a superb average high temperature of 60+ degrees throughout the year. Yes, that's 12 months of good winds. And Jacksonville is not "only" the clean waters of the Atlantic Ocean, but also the St. Johns River, which allows the many uses of boats: fishing, cruising, sailing…
And when it comes to the boating community – something really important especially if you are just becoming a boating family – Jacksonville excels. The Jacksonville University sailing team is amongst the best in the country, constantly competing throughout the world, and the city has first-class marinas, boat supply stores and ample dockage with the Metropolitan Park Marina – where a bunch of waterfront festivals happen throughout the year and you can take the boat out for a ride.
Have we mentioned that the median price of a waterfront home there is around $287,000 dollars? And that it's one of the cities with the best housing markets of the country? Yes, sorry Naples, Fort Lauderdale, Pensacola, Tampa, and so many others, but Jacksonville Real Estate Agents have the bragging rights of being the Florida representative here on our best cities to become a boating family list.
Seattle, Washington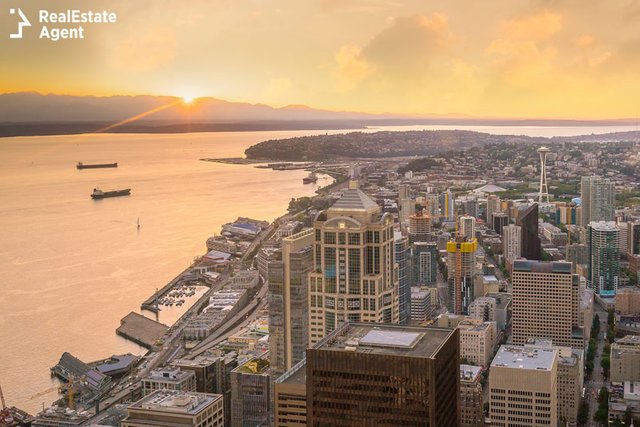 From the most southern part to the most northern part of our list: our next best place to go boating is Seattle. While a completely different boating experience than the one found in Jacksonville, Seattle is as (or more) enthusiastic about its boat lifestyle. And that says a lot because everybody knows that the weather in Seattle is far from ideal when compared to Florida. Whether as a mean to feed themselves (great fresh seafood) or to transport themselves - around since the 1850s, the ferry boat system to transport cars and people has become an icon of the area - Seattleites live for the water. In fact, Seattle is one of the cities in America with the highest number of houseboats!
Seattle Real Estate Agents can confirm that vocation for boating because most of Microsoft, Amazon and Starbucks executives buy waterfront houses by boating communities like Lake Union and Lake Washington even though it will mean some commuting hours added to their clocks. The city is surrounded by waterways with breathtaking views to the Olympic and Cascade mountains, forest islands and peninsulas, and hundreds of miles of protected salt water.
It's only fitting since this amazing city was already featured at our Best cities to live in the US, but there you go, Seattle is also one of the best cities to become a boating family.
Annapolis, Maryland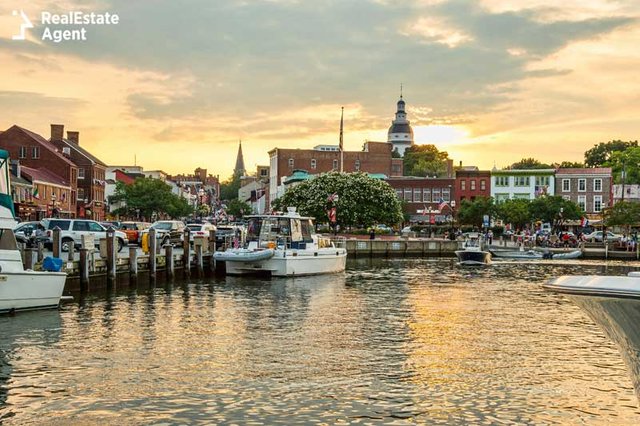 Well, Annapolis is the self-proclaimed "Sailing Capital of the World" but is it, really? Bold statement on their part, huh?
It can't be argued that it is a fantastic city for people that are considering buying a boat and becoming a boating family. They have not one but two huge boat shows every year, and the city loves boating so much they have a place called "Ego Alley", where boaters park their boat and boast (try saying that 3 times fast!). And the Seven River and the Chesapeake Bay are lovely places to sail. However, it's important to consider that Annapolis is one of the worst cities for natural disasters, and its poison of choice (well, not so much choice, but you got it…) is flooding. For that reason, because on top of the costs of buying a boat you will have to deal with a lot of flood insurance, we're including Annapolis on the list but without much fanfare. We'll let Realtors in Annapolis convince you and they have a great argument in the amazing seafood and the 49 marinas throughout the city.
Boston, Massachusetts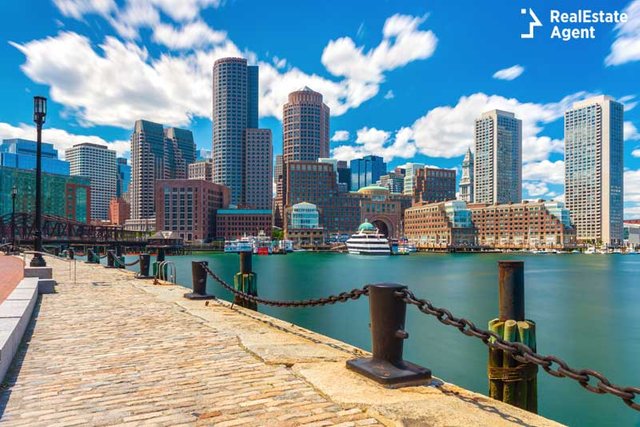 Are you surprised Boston is in the list?
Boston has a lot of waterfront activity, including 40 miles of pedestrian path and bike-routes along the Harborwalk. But boaters also have fun in the water in the 6+ months of perfect boating weather. The Charles River is the main place in Boston when it comes to the boat life. It's there where the "Head of the Charles Regatta", a rowing event, takes places for decades always attracting a big crowd.
The water is so important to Boston, that there is a "Seaport District". And has in Harbor Island a national park only accessible by boat. So, although the portion of listings on the Waterfront is not that big (4.5%) and the number of registered boats is not that big when compared with the other cities in the list (135,750 boats), because Boston is such a good overall city, with a lot of cultural options, excellent educational system, a strong economy, and a lovely setting especially during fall, we decided to include it as one of the best places to go boating. No need to say thanks, Boston Real Estate Agents!
San Diego, California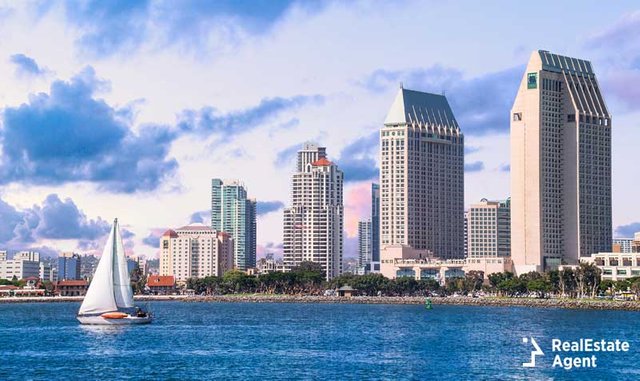 Surprised there wasn't another western city besides Seattle? Well, here we are with San Diego. With amazing weather all year long and the possibility of a lot of one-day boat trips (even to Mexico!), San Diego had to be on our best cities to become a boating family. The whole lifestyle of the city is connected with the water – whether surfing or boating.
Boat amenities are great with 30 marinas – ranging from small sized 8 slips to 634; accommodating more than 7,000 boats! Wow. Not to mention the surrounding communities. The cost of living in San Diego as in most of California is expensive - 30+% above the national average, but Agents in San Diego can't complain about the "tide"; a lot of people running from Los Angeles to San Diego, and one of the reasons is exactly the "boat life" the city provides.
So that's our best cities to become a boating family. We hope you've enjoyed it and it made you untie the knots on your mind regarding where to move. Contact one of our real estate agents and happy sailing!
Boca Raton, Florida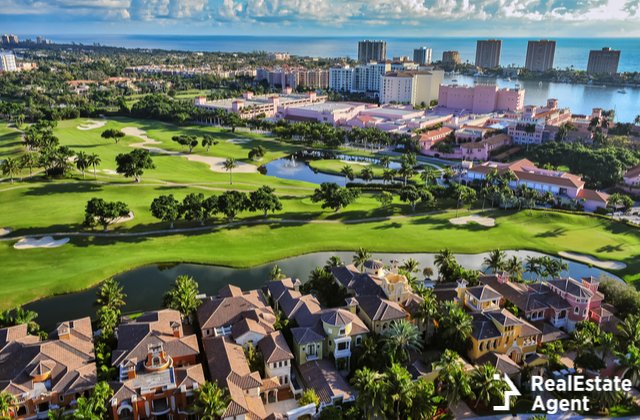 Because of it's top waterfront communities, Boca Raton is a worthy city to mention and it could be the best option if you are looking for a good place for boating. With a year-round climate Boca Raton is the ideal tropical destination for people who love being in close proximity of sunny beaches and beautiful waterfront. Boca Raton is a well placed city right by the Atlantic coastline that makes it a desired destination for beachside and water sport enthusiasts. Also in the heart of the city you can find natural surroundings with interconnected lakes and this placed the city amongst the top end places with some of the most exclusive and luxurious waterfront communities. Here you can find yachting communities with custom build estates and mansions with private sand beaches and deep water docking. Also in order to find the best waterfront property to suit your boating hobbies make sure you get in touch with the top ranked realtors in Boca Raton.
Because of its Intracoastal Waterways and easy access to the water, Boca Raton is the ideal place to become a boating family. Also because of it's gated communities and natural surroundings it is one of the safest places in Florida to be with your family. Yachting Communities such as The Sanctuary and Boca Marina Yacht Club are well known for their waterfront properties with docking stations that hold the yachts and boats of their wealthy residents.
But for any family who is interested in boating, Bel Marra is the most desirable neighborhood for watersports and boating activities. An intercoastal Waterway community located in East Boca Raton, this neighborhood consists of long streets that lead into the waterway providing it's homeowners with backyard docks for boats, yachts and all kinds of water sports.