Every year I get a couple of games for Christmas from various family members. Last year I got Quest for El Dorado, and if you've read my board game posts, you know that turned out to be a great gift.
This year I got the Choose Your Own Adventure Game, Welcome to the Dungeon, and a trivia game.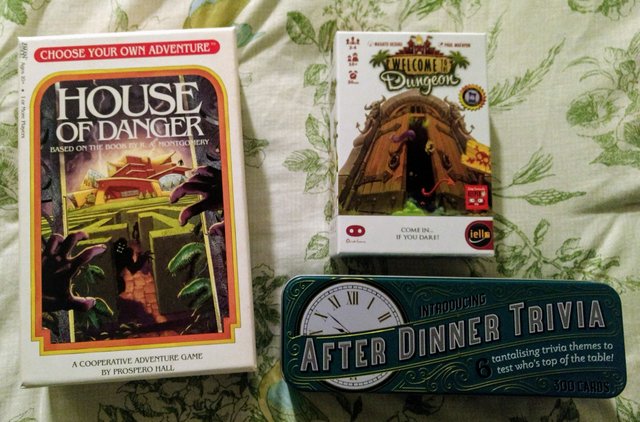 The trivia game looks to be a generic trivia game, in the spirit of Trivial Pursuit, with different categories. It's the kind of game I could drop in with a group of friends who aren't board gamers.
Welcome to the Dungeon I have played before. I've even posted about it before, but didn't own it. It's been on my wish list for about 10 months now. I look forward to bringing this one to the table on some night when we're waiting on a member of our group who is running late. It's a quick filler game that's pretty easy to teach.
The Choose Your Own Adventure game I'm the least familiar with. I loved these books as a kid, so when I heard it existed I was intrigued. From what I've read it's also possible to play it with kids, so I might give it a shot with my 8 and 10 year olds. I'm still holding out hope that they might be interested in RPGs some day, so this could be an introduction to some of those concepts.
Thanks for reading. Did you get any games for Christmas?