The BNC Token - A Best Practice, 'Build it First' Approach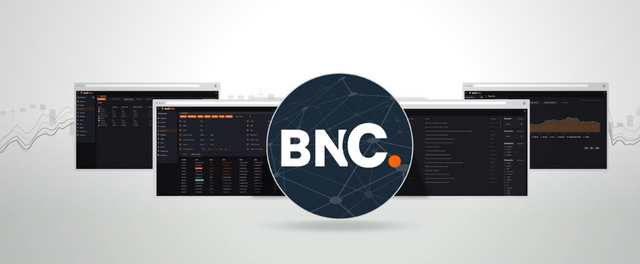 As the crypto asset sector moves towards a new era of professionalism following the ICO bubble of 2017, companies seeking to raise capital for new token projects are working harder to ensure investor confidence, token utility, and industry credibility.
During the ICO boom projects raked in huge sums of money in exchange for tokens that proposed to offer utility within yet-to-be-built applications and token ecosystems. In those days the typical ICO token investment proposal could have best been characterized as an 'interesting but difficult to build project that is likely to face major operational challenges and lack investor protections.'
Were these newly created entities trust-worthy fiduciaries? Investing in unproven teams building unproven tech solutions in a space with minimal consumer or enterprise use appears speculative indeed. Fast forward two years and the majority of existing ICO projects are down more than 90% from their all-time highs and it is unlikely they will ever recover to previous levels.
A maturing industry
The unregulated nature of the ICO model allowed too many projects to get away with a cavalier approach to development builds, public communications, legal risks, and financial stability. Then, once it became clear to the market that most blockchain projects would not deliver market-ready solutions, the ICO model broke.
The market has moved on since this period and token-based projects have had to work harder to raise seed capital and gain credibility. Alternative fundraising avenues like venture capital have emerged as more reliable sources for blockchain project funding because of the extra layers around due diligence and investor protections this capital is secured with.
Build first
Brave New Coin was operating with a different philosophy than most new projects during the ICO craze. Fundamental to that philosophy is the belief that startup companies should raise equity (not token) capital first, and build the bulk of their product before they even consider tokenization. Their product release should then follow quickly after tokenization, giving investors near-immediate utility, instead of making them wait for years.
This is why it is only now that we conducting an IEO - tied in with the launch of 'BNC Pro' - the cryptocurrency management platform that integrates a user's portfolio and trading data with a customizable suite of institutional-grade data, analysis, and research features. The platform is free to use - with access to premium features unlocked via the BNC utility token. Thus the BNC token will have utility within a couple of weeks of the IEO closing.
Further to that, the BNC Pro business model is adaptive and designed to evolve to meet user demand for new BNC Pro features. Rather than statements like this being empty marketing 'puff', Brave New Coin is actually using token use analytics to shine a light on the aspects of the platform that are most attractive to users.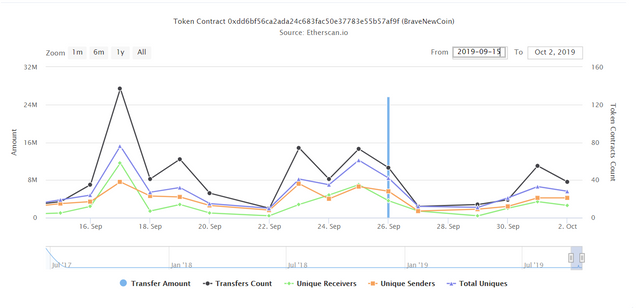 Source: https://etherscan.io/token/0xdd6bf56ca2ada24c683fac50e37783e55b57af9f#tokenAnalytics
Since BNC Pro's Beta launch in mid-September, users have been able to use BNC tokens to pay for premium services within the platform. These purchases are reflected on the Ethereum blockchain and users can track individual transactions back to TX hashes. This system helps the token issuance team view user purchasing activity, and act on these analytics for strategic decision-making about product development. Put simply, the more that people use the BNC token, the better the BNC Pro application becomes.
Smarter incentives / better product
Smart drops are a form of public token distribution designed to increase user growth and product understanding through participation. The BNC Pro team will use the Smart Drop model to reward active platform users with BNC tokens and gain insights around what features users want to see on the platform in the future.
From the BNC Pro user's perspective, participating in a BNC Smartdrop would look something like the following. Users signal their intention to participate in an airdrop by signing up with their BNC Pro wallet account. Following this, users enter a qualifying period where they complete tasks such as feature testing, community outreach, or writing blog posts. If it is determined that a user has met the task-based requirements, they are allocated airdropped tokens during a release event.
This creates an ongoing channel of communication and 'skin in the game' reporting. The smart drop model drives faster innovation cycles with a constant loop of suggestions and fixes being driven by incentives.
The BNC token is available via the BNC IEO on the Liquid Exchange from November 4. Sign-up now to participate.