Ensuring Transparency and Accessibility of Data Supply Chain- decoding our partnership with Bluzelle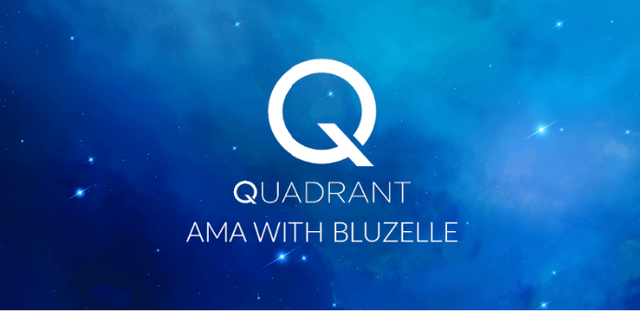 It has been another busy week for Quadrant. As always, your thoughts and feedback are central to our success. So yesterday (Thursday 19 July) we hosted two live AMAs in our community, in which members were able to ask questions to our team and partners. This post focuses on one of those conversations: yesterday's AMA with our partner Bluzelle. As always, members of the community asked great questions. There was a lot of interest in the synergies between Bluzelle and Quadrant, the release of our MainNet, and of course the "surprise" we revealed for BLZ token holders, who are now able to claim a 20% bonus for their contribution to our Public Token Sale. (To check your eligibility, please consult this guide.)
As background to the conversation that follows, a short synopsis of our partnership with Bluzelle can be found here. Additionally, we also successfully integrated with Bluzelle's Lovelace testnet. We are very excited about this partnership and the synergies it offers, some of which are detailed below.
A final AMA before of the conclusion of our ICO will take place on Tuesday 24 July 20:00PM SGT (GMT+8) with our partners Effect.AI. An invitation link will shortly be available through our social media channels and our official Telegram group.
Discussion Summary
Q: Hey Mike, to start the ball rolling, would you like to introduce Quadrant further, perhaps specifically on the smart data contracts?
A: To add to the above, Quadrant Protocol is all about ensuring the data supply chain is transparent and accessible so that innovation can thrive.
Our usage of data smart contracts is (1) to enable data providers to make available their data products (2) enable data consumers an aggregation mechanism to collect disparate data sources and (3) to make transparent the data supply chain when companies aggregate and make new data products
Q: How does Bluzelle and Quadrant partnership work and help each other?
A: Quadrant Protocol is data storage agnostic. From our years of transacting data, we understand that the storage mechanism selected by the producers of data varies by use case. For users of Quadrant they will be able to select and work with the distributed database solution of Bluzelle.Quadrant Protocol's users can utilize Bluzelle's Lovelace as a storage solution after stamping their data into Quadrant.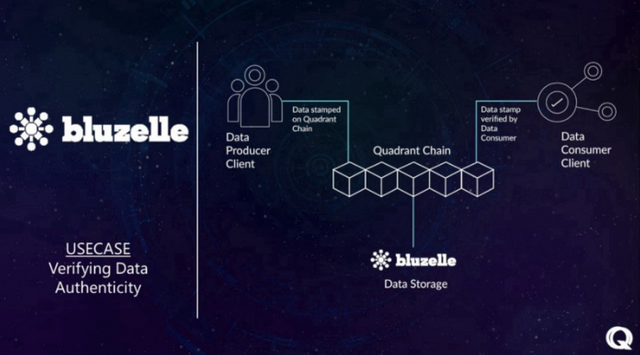 Q: (related to the previous answer) What does it mean by data storage agnostic?
A: It means some companies may use a file system like AWS S3 to storage data files, while others will use database solutions. Our system works with both.
Videos for example, shouldn't be stored in a database, while key/value pairs are better for a database.
Q: Who will purchase the data? How big is the market to purchase data now?
A: Over 70% of corporations already purchase external data accoring to IDC in 2015. That number has only risen in recent years, in both the % of companies who purchase and the volumes and value of what they are purchasing. Already over $100 billion, data is set to continue to steeply rise as more AI and data driven companies emerge.
Q: Hi Mike, can you share more about what types of companies can work with Quadrant?
A: We have a three main groups that work with Quadrant's protocol. (1) Data suppliers, companies who are creating data products (2) Data consumers, data hungry companies that need external data for their product, solution or internal processes (3) AI and mirco-service companies who want to build solutions on top of the protocol
Q: Hi can you explain about your partnership with effect.ai? What kind of use case you guys are trying to solve?
A: One of the issue faced by those trying to consume data is the preparation required to make the data suitable prior to consumption. Effect.ai has a great solution for one of the issues we have in Singapore and SE Asia, a lot of the data sets aren't in a state that is required by our customers or just simply not available.
The first part of our cooperation is to support our partnership with IMDA (Singapore government) to make location analytics and data available for Singapore AI / analytic companies.
For this project, we are working together to commercialize AI / Micro-services on top of the platform. We have KPIs we must hit with them.
We will be creating Singapore specific data sets using effect.ai service.
Then we will expand the co-operation from there. Many areas to work on together.
Q: Interesting! Looking forward to see more on the project integration and real time use cases built on top!
A: Yes, that is the key for us as well as Bluzelle — to push for real world adoption of our projects. This is what is needed now in the ecosystem. Viable businesses that are making a difference!
Q: As seen from the WP (page 17), Quadrant will be helping with the regulatory compliance. In this age of increasing concern on data privacy and GDPR, how will Quadrant play a part in securing user privacy? And how can Bluzelle assist in this journey?
A: A key element of GDPR is to understand what data is being collected and where it is going to. For those transacting on Quadrant, the data supply chain becomes more transpartent. Enabling companies to understand more the usage of their data products
Bluzelle can assist in this journey by helping create that paper trial of access. Understanding when data was accessed and by whom.
Q: Are there any plans to move in your own Blockchain? Ethereum lately seems vulnerable enough and the cost issue for the gas fee is becoming really sensitive.
A: We operate our own sidechain that works independently of the mainnet.
Our users are protected from the negative aspects of the Ethereum mainnet. We have released an ERC20 token for the ICO, but have a gateway to our chain for users.
Q: Great way to give identity to data. What are the next steps after this?
A: Next steps will be release our mainnet and onboarding our first users. We will start with the data verification which is the backbone of the system. From here we will be developing the data smart contract protocol which includes the commercial integration with Bluzelle.
Q: Any clients so far, except IMDA?
Yes, DataStreamX has been operating a data marketplace and transaction platform for some time now and we will migrate over the clients to the protocol.
Q: Will quadrant support other data marketplaces too?
A: Yes, we have already signed with a couple and will release those in due time. Data marketplaces are a good supplier. Companies who are collecting / aggregating data sources are all potential users.
The data economy is very interlinked. A supplier can be a buyer, and a buyer somebody else's supplier.
Quadrant works on mapping all these players together.
Q: It was noted that Elons can take data products to find linkages and then create mega Constellations, would a graph database then be more suitable for the semantic representation of these data?
A: Yes, a graph database could be suitable to show how different parties all are interconnected.
Q: I see a partnership with Reuters and Factset, are they going to be data providers or consumers?
A: These companies are providers.
Q: I see a lot of blockchain based data exchanges popping up….will they be your competitors or partners?
A: These all could be partners. No one solution has all the data the end consumer needs all the time.
Q: Do you have any consumers partners?
A: Yes, via DataStreamX we already have revenue generating partners. These companies are the entire reason Quadrant came to be. To solve their issues with data authenticity and provenance.
Q: Are you planning any educational actions as many projects do to empower the big data community? What's the biggest challenges according to your interaction with big data and AI professionals the industry is facing?
A: Yes, we will continue roadshow post-ICO to educate and onboard users to the protocol. As part of our private sale we onboarded a global group of token purchases who will continue to support our local communities. We started this even last week in HK with our partners Genesis Block, speaking at their blockchain education center.
For the challenges, many companies have an issue getting access to large volumes of authentic data. There is a saying in machine learning…. garbage in, garbage out… We help these companies get access to authentic sources.
Q: As an individual, can I stamp my information as well? Like stamping my passport to authenticate my identity?
A: Yes, you could. We actually also see the use case of companies stamping their own internal data for security purposes. Keep a public record so that if something is altered they have can verify it and set off alarms.
Q: What are the difference between quadrant and a typical notary service?
A: The stamping for us is only the first step. Things have to be notarized first. But the power of Quadrant will be the mapping of disparate data sources which will come with our data smart contracts.
Q: Do you have plans of using quadrant as a forerunner of providing data for top security issues particularly to security agencies like the FBI, CIA , etc.?
A: Wow, that is an interesting question! The data that will be in Quadrant is commercial data that can be bought by anyone. Quadrant is a protocol to enable transparency in the supply chain, but it will be up to the data vendors themselves who will have access to purchase their data.
Q: Maybe a more casual question out of the project here…we know both you and Bluzelle's founders are from Canada, why do you come to Singapore and how do you like it so far?
A: For us, we launched DataStreamX in Singapore in 2014 due to the drive for data adoption and smart cities initatives. Singapore is a very good busines environment, both for tech companies and even more so now for crypto companies.