Hi Battle fans,
Today I bring to your attention this post.
It is quite epic in length, I must warn you.
Post is by: @jpederson96
He starts with ==========
Re Edit:
Thanks to @GrumpyCat, the censorship has ended.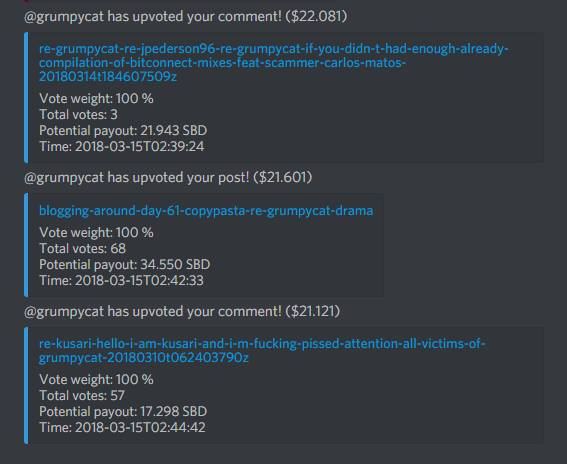 So How did All This Start?
@jpederson96 contines ============
Michael announced in the #Alliance Discord that he would be creating a companion account to sneaky-ninja that would fight against @grumpycat theft. Obviously theft caught my attention so I DMed him asking about it and he basically said flagging + self voting = theft. I said the link was weak. After a bit, I mentioned in the server that I wanted to debate him over bid bots and he agreed.
Now, I will stop here. I hope I have posted enough for you to check out the original post here.
https://steemit.com/blog/@jpederson96/blogging-around-day-61-copypasta-re-grumpycat-drama
It doesn't have a lot of love so check it out.
3 days ago by jpederson96 (59)$29.50
votes 79
Comments 9
View 78
Thanks for your support