Crypto Enthusiast and Tech Pioneer JOHN MCAFEE - Hacked on Twitter? (I think he's TROLLING!) 🕵️
Yesterday evening , tech pioneer and crypto enthusiast John McAfee appeared to have been hacked on Twitter, as he tweeted to promote lesser-known crypto-currencies. Over the past couple of weeks, we've seen an increase of interest in his social media posts due to a pre christmas project where McAfee manipulated markets by promoting a different alt-coin every day. McAfee came to prominence in the 1980s when he founded a company that released the first commercial anti-virus software - McAfee VirusScan - and helped spark a multi-billion dollar industry. Although that business has since been sold to Intel, he still develops cyber-security products of his own. In recent times, he has come to be seen by some as a crypto-currency guru.
McAfee's pre-Xmas "coin of the day" picks often pre-empted a spike in the value of the selected assets. Many people began to code bots to analyse his tweets and buy his recommendations as they recognised his effects on the markets, but he openly expressed that he did not support this action and that he recommended these coins as long-term investments.

In general over the past few weeks, McAfee has appeared overly defensive and argumentative on the social media platform, and a significant rise was seen in his following as he influenced the altcoin markets. The man has many haters as well as devout followers, and seems to react harshly to twitter "trolls" and bot creators.
After all the attention, McAfee declared last Tuesday that he would slow down his recommendations to once a week, with the next one due out on 1 January. But then, yesterday, his Twitter account began firing off picks in rapid succession. The coins that were promoted were Siacoin (SC), Ripple (XRP), Next (NXT) and Basic Attention Token (BAT). However, strange activity
The tweets were deleted soon after they had their effects on the markets. SC and BAT seemed to be pumped and dumped, while the tweets had minimal effects on XRT and NXT, which showed their stability within the market in comparison to the lesser known coins that were promoted. McAfee tweeted to let us all know that he had been hacked and that twitter were notified, but he also expressed that he believed his mobile phone had likely been compromised. He later told the BBC that he had activated two factor authentication for his twitter account, but added that he believed the hacker had intercepted the authentication code.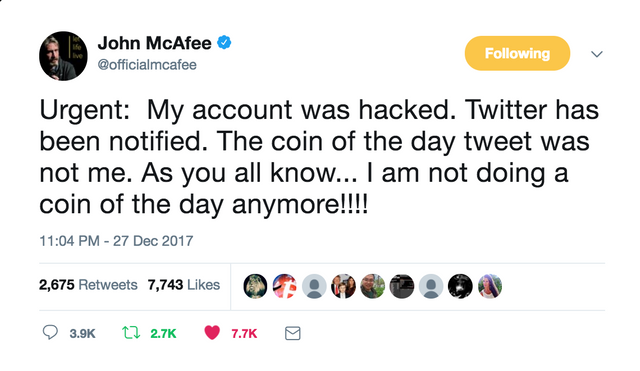 Earlier this week, some followers were suspicious (myself included) that McAfee may be simply promoting coins after being paid by various companies, in particular, when he promoted ReddCoin, which many believe to be an obvious scam. Reddcoin developers have not updated their technology in many months, indicating that it is an inactive project. Regardless of McAfee's reccomendation, ReddCoin's price has now been reduced below what it was prior to his little "pump & dump" act.
Upon the "hack" of McAfee's twitter account many threads & follower comments were posted expressing their suspicion that McAfee was simply "trolling" bots that followed his account, causing them to lose money by investing in unknown or inactive projects. For this reason, many followers now believe that McAfee is a total SCAM himself.
What are your thoughts? Are you a McAfee follower? Share in the comments!