Morning motivation!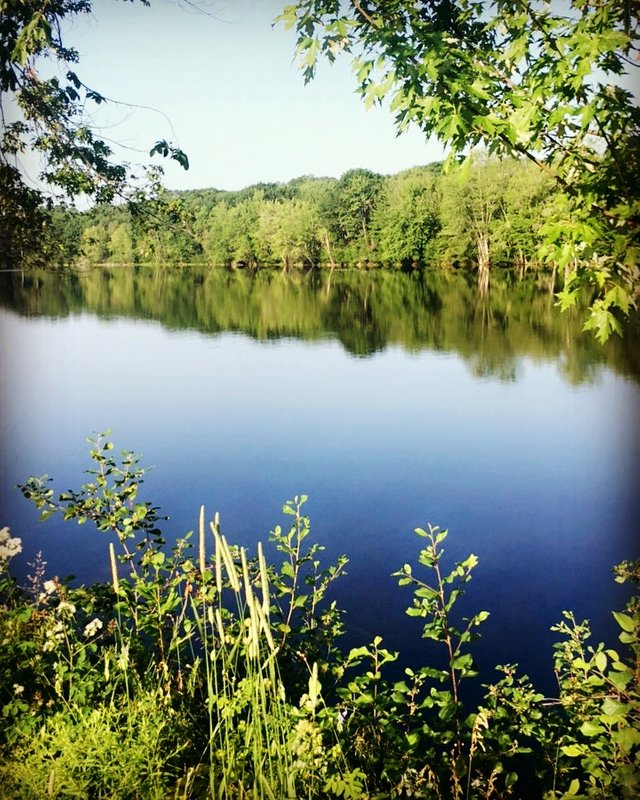 I took this on my walk with Tom this morning and I almost had to sit down because of how beautiful it was (and not because I tripped over the large rock in front of me because I was only looking at the water, I swear). Now that it's late July, the heat is slowly starting to take over the majority of the day and my poor furry pup can only handle so much outdoor time because of it (also, me...ew humidity). So, I forced myself to be a morning person this morning...as in like 6:45AM early. We took a long leisurely walk and enjoyed the slightly brisk morning. We were only attacked by like half the amount of black flies as usual, which are rampant in these parts of Maine during this time of year. So, win for us!
I always forget how much I love being a morning person until I experience the calming silence the beginning of a day has. This beautiful body of water is right near me and I see it every single day, but the stillness and calm is possess in the morning always takes my breathe away.
I'm working hard on becoming a better morning person and forcing myself to get up before 7am. The struggle is most definitely real, but I know it's worth it. The productivity a morning has is so alluring to me. Knowing I get to see this beautiful site in nature is helpful, but it doesn't always work.
How do you get motivated to get your butt out of bed in the morning? What do you get excited about getting up for?
Since I'm such a quote person, I'll leave you with one of my favorites:
"No matter how you feel, get up, dress up, show up and never give up."
Cheers, to making the most of the morning!