Why the night is dark? How it can be? This post will help you to know about it. See this pic.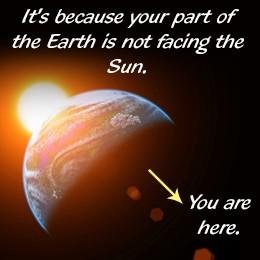 That pic tells you that the part of the earth is not facing the sun.
At the moment the part of the earth where we stand in the dark at night, the other hemisphere is actually being light during the day because it is facing the sun.
When the part of the Earth where we stand back light because of facing the sun, then the other hemisphere will experience the dark night. But because the Earth surrounds the sun with a slope angle of about 23.50 degrees, at certain times the end of the Earth will always face the sun so it will experience the day continuously for 24 hours. The event is known as Midnight Sun.
Ok that's it guys, thanks for reading and i hope this post will improve our basic knowledge. See you on the next posts.