Today's one of those days when I'm inspired to write about what I did. My day started early. I had registered for a walk/run event and my dear sister who's an experienced half marathoner came with me as support so I didn't have to go by myself. 
This event was organized by a highly reputed oncosurgeon to sponsor a hospital for breast cancer research. Performing surgeries day in and day out, the numbers gradually increasing over time, this concerned oncosurgeon longed to construct a research foundation that would not only attend to people with the cancer but also have its own research wing to affect the future of this terrifying disease. A hospital where the underprivileged women would be attended to and treated free of cost! 
This research foundation has been her life's ambition for a long time now. Recently, due to some generous donations of land and money from a few philanthropists with experience with the auto immune disease, the brilliant idea start finally taking life. To raise money to construct the building, this 'Give a brick run' was organized, where the money collected from the registrants would be used to buy bricks for building the hospital...
On the road, we ran into a number of friends and friends of friends all out to show their support for this cause. My sister took off because she wanted to run. I half jogged/half walked at a much slower pace with a dear old friend and her friend. 
Completed the 5 kms enjoyably, and got the medal!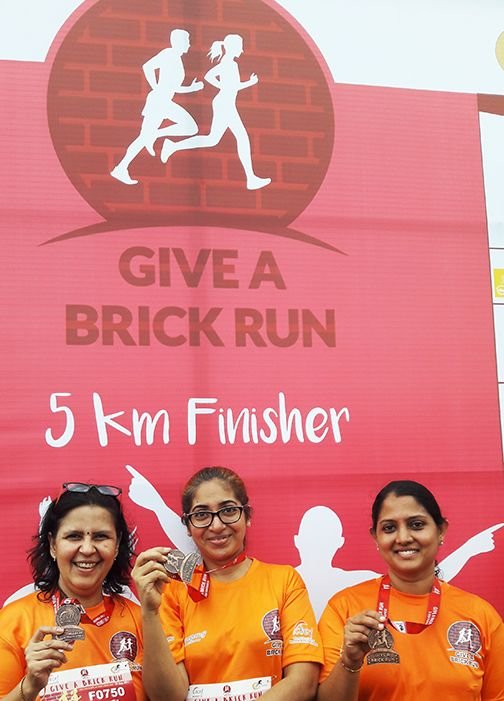 Proud finisher photo:- My friends and me (in the center).
Had breakfast, did a little Zumba and finally, started back home to take rest and to contemplate how I got here in the first place...
Video:- Venue after the 5K and 2K events. The 10K runners were still out on the road.