What I Am Watching This Week: Hell's Kitchen Season 12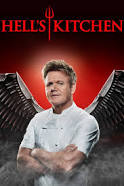 I love watching the journey these dedicated chefs take in this competition to work with one of the top chef's in the world. The passion of everyone in this show motivates me to seek greater perfection in my own career. Some viewers might not be able to see past the yelling, but passions run high when people are that dedicated to their craft.
Without spoiling anything, I was rooting for Season 12 contestants Scott and Melanie even though they weren't the most consistent chefs in the brigade. I felt that a lot of the "good chefs" like Anton and Jason didn't have the communication or people skills to be HEAD chef.
That being said, I definitely think the winner deserved it. He/she really came into their own in consistency, communication and leadership. I would not have guessed half way through that the Season 12 winner would get a black jacket (final 5 or 6), let alone win.
If you are interested you can watch it on Hulu