Hello friends I @rudrakshpareek came back with new neo marketing blog. Let's start.
In this blog we are talking about NEO COINS data analysis. I will try to tell you all the current changes or performance of NEO COINS so, those who are interested to know about NEO then continue LET'S START.
I want to tell you that I am not telling you according to personal knowledge. I am telling you as per technical knowledge, what are the conditions of the market. Let start about the topic.
First we will see chat analysis NEO COINS as you can see it bellow.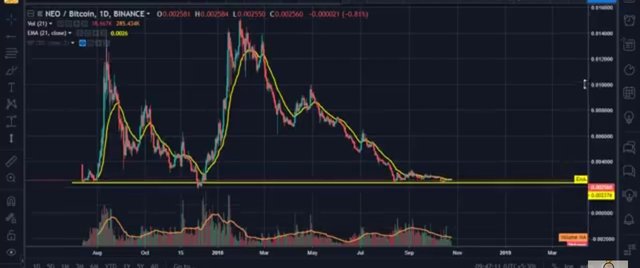 As we can see in the image market has made double bottom here. As we know that double bottom is bullish signal. We have to thought that market can get down more than it, if BITCOIN starts bull run. Yes it is possible that market can goes more down then it. Things that I am seeing as per technical analysis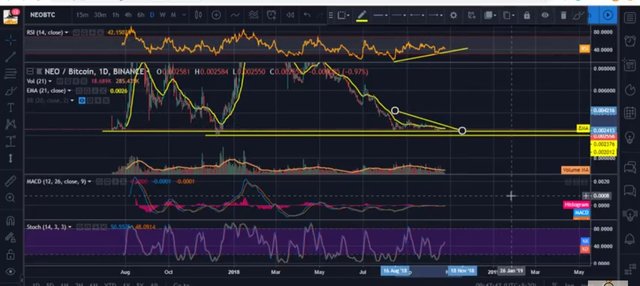 market so moving down.
If we see MACD it has given recently cross-over We can see bullish here. Their are lot is signs of bullish signals.
According to me you are having chance to earn 10% to 25% profit daily, but I believe in long turm investment.
It means that buying in long turm and selling after a long turm this way is very profitable. If I talk about NEO COINS I have not seen a big classical difference or way to invest for a long turm. But, yes their is a little diversion. Till now NEO COINS are not over sold. When any coins in market over sold, our problems to trade will increase.
According to me if you buy NEO for a long time trading it is not good or not useful.
Their is one expectation according to me that we can earn a big profit in NEO COINS between January to February. Their are lot of chance of profitable marketing in January to February in NEO COINS.
I want to tell you that here I am not giving anyone only personal investment advice. Only telling you on the basis of technical analysis.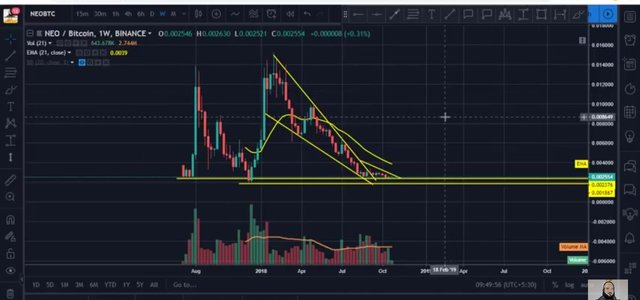 We can see their that market has already made double bottom here. Does their may be chance of huge profit.
     Thanks To Giving Time To My Blog
                            If You Life It
                                  Please
         UPVOTE | COMMENT| RESTEAM