Man is the Dream of the Dolphin
My good friend @bradleyarrow challenged me to join the contest created by @thekittygirl who was celebrating her Dolphin status... As I respect both of them, Bradley from out CTP tribe and TheKittyGirl from @Shadowspub #PYPT, I had to respond... I'm a bit late, but this is more for respect than for reward... :)
So, here I am... #likeadolphin soon... :)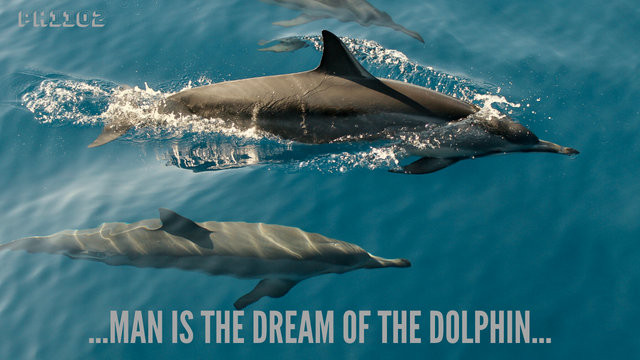 created on canva.com
Since I have joined STEEM for about a year ago, or a bit more, I'm listening about these minnows, dolphins, orcas, whales and other sea creatures... And for all of those creatures, dolphins look the best... I had 3 encounters with dolphins in my life, one for real, and two.... well, you will see... :)
Okay, it was more than once in real-life... But, I had very strong emotions when I was watching a "Dolphin show" in one aquarium/water park here in Spain... That symbiosis between people and dolphins was surreal... It's incredible what those animals are possible to do, to understand, and to enjoy doing it... They know how to make fun!
The second encounter was from the movie The Hitchhiker's Guide to the Galaxy where dolphins were the most intelligent creatures on the world and left it by flying into the sky before the Earth exploded... lol...
And the third, and the most important impact on my life was from the song of the group ENIGMA. When that song (and album The Cross of Changes) was released, I had 15 years and you know how it looks to be in that age... :) I had the CD and the song that you can play if you scroll down, was somewhere in the middle... But the whole album was perfectly made... The songs were just floating from one to another... I have never seen anything similar then...
And somehow, the song "The Dream of the Dolphin" was the last that I would hear before I fell asleep... and if I didn't, I would play it again, and again... And today, when I remember those times, that was the best years of my life...
Thank you dolphins to be the important figures of my life... And I hope that I would soon be #likeadolphin...
In every color there's the light.
In every stone sleeps a crystal.
Remember the Shaman, when he used to say
"Man is the dream of the dolphin".
Source: LyricFind
Songwriters: David Fairstein / M.C. Curly
The Dream Of The Dolphin lyrics © Sony/ATV Music Publishing LLC
I think that contest is already closed, but you can check it here
~ph~
---

.:. .:. .:. .:. .:. .:. .:. .:. .:. .:. .:. .:. .:. .:. .:. .:. .:. .:. .:. .:. .:. .:. .:. .:. .:.

Don't forget to follow, resteem and browse my steempage to stay connected with all the great stuff!

You can find me on ClickTrackProfit .:. Twitter .:. LBRY

.:. .:. .:. .:. .:. .:. .:. .:. .:. .:. .:. .:. .:. .:. .:. .:. .:. .:. .:. .:. .:. .:. .:. .:. .:.