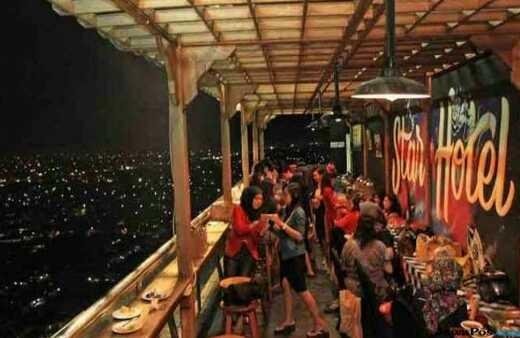 When you are in Semarang City. Don't miss the view of Semarang city from above. The view can be obtained if you are at Sky Pool Star Hotel. From a height of 97 meters visitors can enjoy the beach and hills around the city of Semarang. Can enjoy 180 degree views of Sky Pool Star Hotel. Carrying the concept of 'Never Ending Barbeque', the restaurant which is equipped with a swimming pool is one of the favorite hangout locations.
"At first, I was just curious to work on swimming in the pool, which is said to be the highest in Indonesia. It turned out that there was also a restaurant and it was cool to enjoy the atmosphere of the night, "said his love, one of the visitors.
The 30th floor is a strategic location for visitors who want to enjoy the sparkling atmosphere of the city of Semarang. Starting from the center of the city of Simpang Lima, the magnificent Grand Mosque of Central Java to the atmosphere of the harbor.
Design
who adopt a European style a little in line with the concept of 'Never Ending Barbeque'. Visitors can enjoy the atmosphere of the night, while enjoying the various offerings offered.
"The concept is that we make it more relaxed, so we enter all segments. Starting from young people to families. We also hold barbeques every day because this menu is enough to enter all segments, "said PR Executive Star Hotel, Ratih Sotyaningtyas, as conveyed by Jawa Pos Radar Semarang.
In addition to personal, this restaurant is also rented for various other purposes. Like birthdays and other events. "Capacity of up to 250 people. But if you come in groups with more than 80 people, you have to book first,
from me orahmat thank you.