Beautiful Lakh Bangles - Jaipur Bangles - Love it
Rajasthan is famous for its traditional Jewelry since innumerable years. When talking about Rajasthan, Jaipur is always the centre of attraction. From centuries, this royal land has been flourished with precious stones and jewelry. Jaipur is renowned for its exclusive designs and splendid jewelry. Jewelry is a form of embellishment sported almost on all body parts.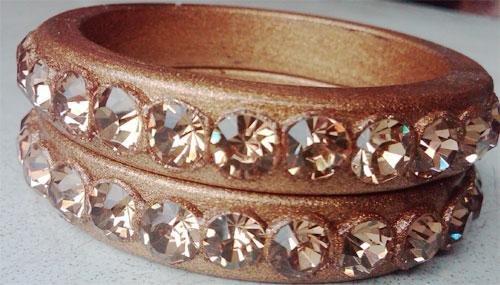 Depending on the culture and times Jewelry may be appreciated as a status symbol, for its material properties, its patterns, or for meaningful symbols. Jewelry may be made from a wide range of materials, but gemstones, precious metals, beads and shells have been widely used which are available in various designs and styles. You can get a great combination of cultures like Mughals, British, Muslims and many others, in Jaipur jewelry whether it is silver, gold, diamond or any other with natural stones and precious & semi-precious gemstones. One should keep in mind that while buying metal or classic tribal jewelry from roadside, you can always bargain and always take a receipt mentioning the name of the shop, price, gram and carat, from the shopkeeper


Jaipur is famed for its variety and designs of Jewelry. This pink city will offer you the best of the royal jewelry. There are many types of ornaments which you will find exclusively in Jaipur like Judamani (Hairclip), Baajuband (Armlet), Tagdi (Waist-Belt) and Bodla (ornament to decorate forehead). Jewelry made of Basra pearl makes is a popular choice in Jaipur. There are different kinds of jewelry work, out of which Meenakari and Kundan work are the most famous.