This senorita needs a margarita..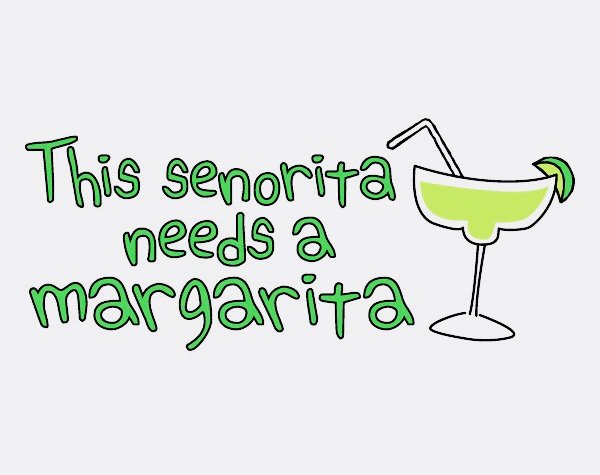 As we live in Louisiana there aren't many restaurants that we enjoy. This might be our own fault, since we are very picky when it comes to what we eat. That being said besides eating at home most of the time and the occasional Chinese buffet, we enjoy from time to time some Mexican food. There aren't many authentic Mexican restaurants in Baton Rouge and the ones that are authentic are very few and that is where we go to eat caldo de res( that is beef soup) or menudo ( beef stomach soup with a red chili pepper base), the last being my personal favorite. Besides those two kind of soups that we find almost exclusively at authentic Mexican shops, we eat also the occasional fajitas. I have hunted most tex mex restaurants in the area and I can honestly say that I have more or less an idea what their menus look like. Same old same old fajitas, tex mex burritos and the rest of the crap that they proudly call Mexican. There is nothing Mexican on those menus, but you gotta roll with what you have. As for me I prefer shrimp fajita with all the fixings and to drown it all down and make sure that all tastes acceptable, I turn to a margarita, usually the house one on the rocks with a rim of salt on the glass. I don't go for the fancy stuff, as I have worked in a Mexican restaurant for a couple of years and know exactly what they put in the margaritas. So having that experience I always go with the house kind and drown whatever doubts I have about the food in that particular glass.
Needless to say, today was fajita night, and our choice was a small, but new restaurant called Don Jose's.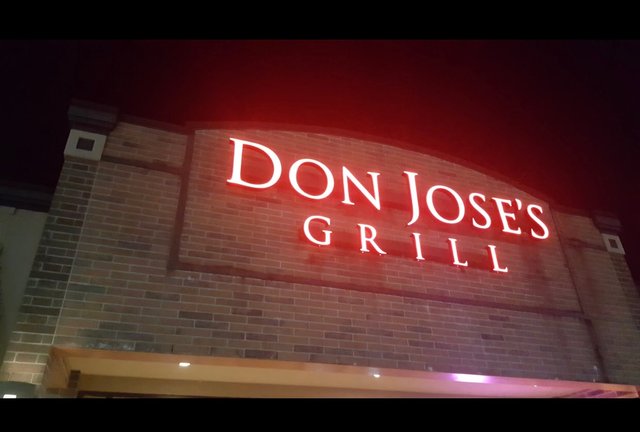 Fajitas be it beef or shrimp (fyi never go with the chicken) are also an american lie. From my research no respectable Mexican eats fajitas, since they have their own special kinds of meat, much better than that. As I worked for a couple of years in a tex mex kind of restaurant, I know that all we call fajitas and the way it is presented to the customers is in fact a lie. Let me explain. The meat is usually, if not always, cooked half through ahead, except for the shrimp. Before they serve it, it is heated up and gets a final sear on the hot plate. The vegetables surprisingly, for some people, are also pre cooked in the morning and left to be reheated later, in a big metal pot. As some of you that have tasted fajitas may know, it is served sizzling on a hot plate. Here comes the trick. When the fajita order is set, they take that hot plate and start heating it over a gas stove burner. In the mean time the meat is being reheated, as well as the vegetables and while the server heats up some tortillas and the set up with the fixings are being plated, they start to assemble the sizzling fajita plates. The vegetables are the first to go in that hot plate and the meat comes on top. As the meat is in fact not cooked on that plate they have to give it an original feel. So after all is plated they usually sprinkle some butter mixed with garlic salt. That butter, in contact with the hot plate that has been on the stove for 4 to 5 minutes, creates the illusion that all has been cooked together and the smoke and sizzling sound usually sells the plate! That being said you can also understand why I choose shrimp. Besides having a different taste it is always fresh, as precooked shrimp can have a chewy taste and most of the patrons would not accept that. If you don't trust your taste regarding the chewiness, you should know that overcooked shrimp has a tendency to curl itself and change color to a more pinkish kind, that normal.
Well although I have learned these tricks first hand, I still indulge in the usual fajitas. They are good and even though the vegetables are pre cooked the whole combination has a taste that I crave for sometimes. Today was one of those days and besides ordering my regular menu, I had the opportunity to try out some other stuff, as it was the last day of restaurant week. Restaurant week is also a little scam to attract customers. The restaurants that get involved usually offer a three course menu for a small price. In my case I was $20 and as it might not seem small I considered it a bargain since you get an appetizer and also a dessert. My usual fajita shrimp costs around $15 and if I wanted to add an appetizer and a desert to that my bill would jump to almost $30, to say the least. So although I knew it was more than I could handle, I went along and ordered off the restaurant week menu. Since my experience in buying and selling food can speak for itself, if I want to make the best out of the deal, I always order the seafood or steak. So for an appetizer I went with the chipotle shrimp and cheese dip. It all sounded good since they mentioned the shrimp was grilled, instead of fried and I tend to pick the grilled ones. The breading of anything, even if it makes the food taste better, it gives it a sense of fast food and I really don't want that in my dinner. By the time the appetizer came, I went along and ordered a margarita on the rocks with salt. Since I was not sure about the menu, I decided to go ahead and order a large one, make sure all will be acceptable. Not in my wildest dreams did I imagine what large meant in Jose's case. Well large is a 30oz to say at least fish bowl that could easily hold 4 or 5 of those little pet-shop fish with room for them to do some backflips! When the margarita came I knew that the food will have some issues. There is no way in hell someone is willing to drown you in a fish bowl, without not knowing something was fishy about the food!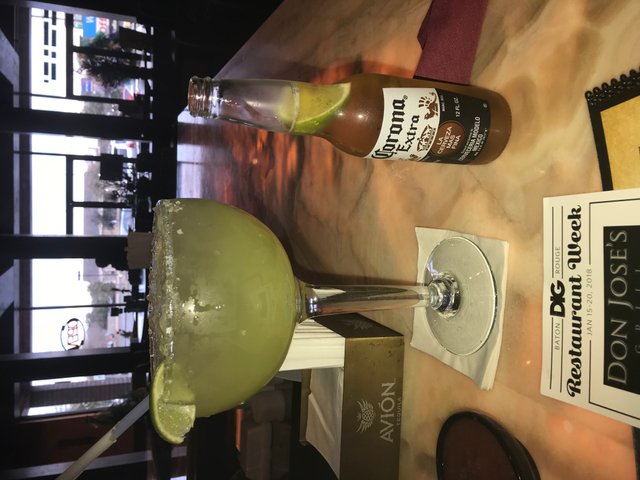 The first course came and I was almost not surprised. They were 4 little shrimps on a stick barely grilled ( better then overcooked though) all splattered with some chipotle sauce and a little cup of queso on the side.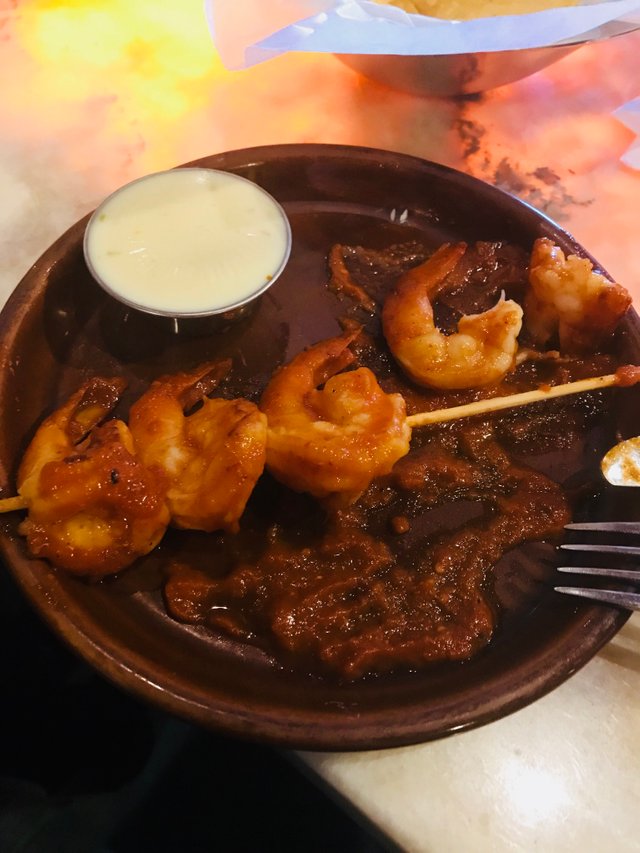 I did eat the shrimp as you can imagine. The taste was ok, even though the chipotle sauce was better on the side or even left in the kitchen then on my plate. Nevertheless, it was an appetizer and I kind of destroyed the shrimp. DC decided to opt out, since food covered in any kind of sauce is never his favorite, to say the least.
Finally the main course arrived and by the looks of it was nothing that I did not expect. A plate less sizzling as they don't seem to know the trick with the butter and a plate of fixings on the side(rice, beans, guacamole, salad and some pico de galo and 3 tortilla to roll your fajitas in). I know how they came up with the 3 tortillas for a full plate fajitas. Tortillas are cheap they get a full box thats 15 packs of tortillas x 20 tortillas strips at the price of around $10. The average order of fajitas require more then 4 tortillas, that is if you are like me and enjoy rolling your own taco fajitas. Well if they give you 3 for free or included in the price of the meal you are more the likely to ask for more. So another 3 of them is priced between $1 and $2. As I worked in the industry, I was very much aware of that trick and the customers knew that also, so in order to get better tips I always doubled the tortillas order from the start..hehe. This way my tip was almost always over $10 and the customers felt like they were handed a freebie. Unfortunately the waitress wasn't aware of this trick and went with the regular size of tortillas. She was tipped well, but I never went for the second order of tortillas. The fajita was blunt and the vegetables were more grilled onions then anything else.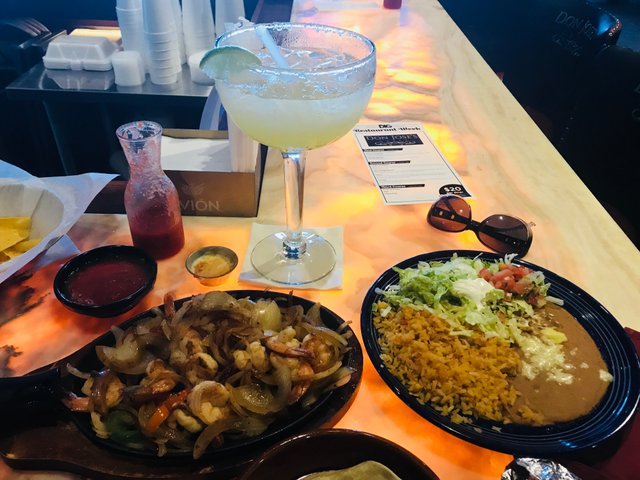 The margarita helped and I managed to conquer the shrimp entirely but some onions and fixings had to be surrendered. By the time I was done I merely drank a quarter of the fish bowl and was already feeling the buzz.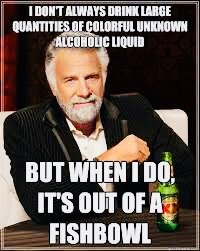 I decided to take a brake and went for a smoke. I still had the third item on the menu to conquer and by that time, I knew that restaurant week with it's three course meal was not meant for me. After a well expected smoke break, I decided that it was time to order the last item so I can get the hell out of there as soon as possible. I have the no brains required tendency to let the calories do their magic on my body while I take a full on nap after dinner! From the three options that they had I went with the most "refreshing" one. I picked the fried ice cream. For those of you that do not know there is nothing fried about it. It is simply a ball of vanilla ice cream ( the cheapest they can find) covered in corn flakes. The fried part is this. After it is being kept in the freezer already rolled up in corn flakes they throw it in the deep fryer. It is the same fryer where they usually fry everything in. And when I said it is being thrown, there I mean about 10 seconds, just to get a small amount of heat on it. I have had fried ice cream in Romania and I can assure you that it is hot almost to the middle and there are no corn flakes in sight. It is more like a dough like crust fried to perfect crispness as the ice cream remains perfectly frozen inside. Nevertheless I ordered the ice cream just to have my list of three courses completed! It was all that I expected.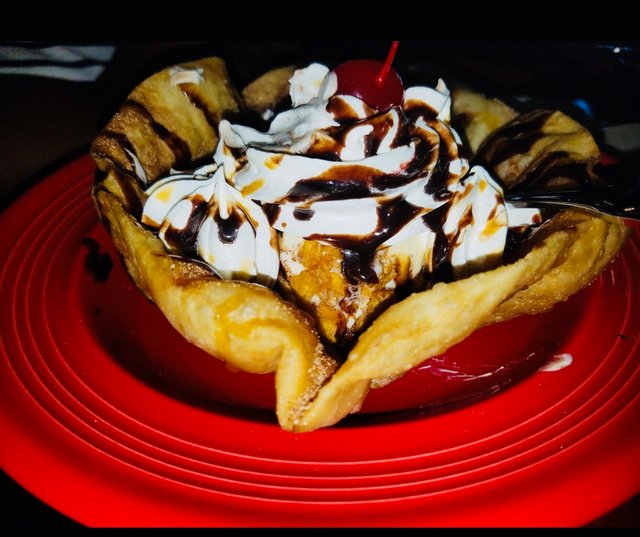 I was glad though that the ball of frozen ice cream was small and with some help I knocked it out.
Over all dinner was nice and although all was not perfect, it was good enough and probably will be going back, if not the fajitas, the bowl of margarita convinced me to give them another shot. They also have the most awesome salsa I ever had!
As the meal was done I was sure that I had to give up on drowning in my fish bowl. I decided to take it to go and indulge in it while I am writing this blog, just to stay in the same fiesta spirit! That is about it for todays blog.. I wish you buenas noches for now..adios my steemian amigos!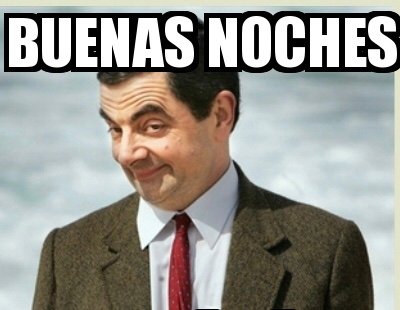 Keep in touch,
@lidac


CLICK HERE TO JOIN THE STEEMIT BLOGGERS ON DISCORD