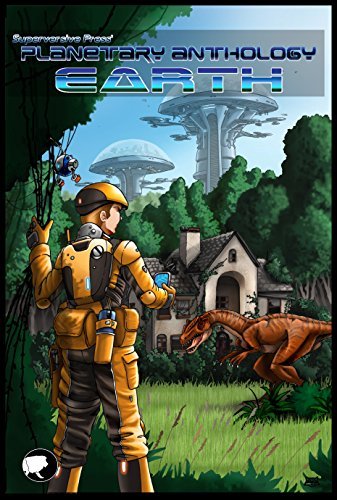 Fam, when it rains, it pours, I gotta tell ya. I swear I didn't plan it like this, to be publishing stories on my own in serials on steemit, and to have Cirsova #8 come out this week, and then further to have the Planetary: Earth anthology come out, but here we are and hopefully the avalanche won't be stopping any time soon!
But yes! The Planetary: Earth anthology from Superversive Press is available today in kindle and paperback! From the Amazon page:
18 tales of explorers, lost worlds, strange and wondrous creatures, gods & goddesses of old, miraculous inventions, >aliens, bots and post humans, brought together in this anthology of discovery and daring.
Come explore the legends and chronicles of planet Earth and the space beyond in the fourth volume in the Planetary series.
My story for this one is a good ol' lost world style story, with explorers, dinosaurs, guns, high speed chases, danger, alien creatures, and some old fashioned two-fisted action! But if that don't whet your whistle then maybe one of the other 18 stories will!
Here's the link! Go nuts! And be sure to leave a review after you finish and let us know what you think! Or drop me a line on twitter, gab, minds, tumblr, the blog, or here on the steemit if you just wanna let me know what you thought of my story!
I'd also like to thank Jon Del Arroz for giving it a beta-read for me and letting me know what he thought. Y'all should go check out his website, and buy one of his books while you're there on Amazon like For Steam & Country, The Gravity of the Game, or The Stars Entwined! I know it'd make his day and mine!