Agenda 2030 in 11 years. The "God of Chaos" asteroid due to hit in 2029 according to NASA. The name of the asteroid takes the biscuit yet ignorance reigns supreme.
I found this little gem of a story yesterday and put it on Twitter and realised it was a waste of time because nobody sees it (even if I'm not shadowbanned nobody really sees it). I've not posted for a while because to be honest I am struggling with life and being surrounded by brainwashed ignorant people who think everything that is happening is an accident or random chance. Even the Epstein thing which should have been enough to wake up even the biggest believers in government and authority doesn't seem to have had much of an effect and I find myself being constantly disappointed when I try to speak to people about how the world really works because they simply cannot or will not acknowledge it. How much more fucked up can the world get before sufficient numbers of people come to their senses?
I'm starting to think that even if a video surfaced showing all the big global leaders like Trump, Merkel, Macron, Johnson etc sacrifcing a baby at an alter people would still find a way of ignoring or explaining it away. The amount of evidence that is out there to show how sick the world is and how sick the people are who run it is ridiculous, yet thanks to the controlled media and search engines and those who control what we see, hear and think, most remain ignorant and those that might start to feel something (perhaps a tiny fraction of the righteous anger that flows through my body) are quickly put back to sleep when they check their news feed or Facebook or attempt to get past level 300 on Candy Crush.
It's so bloody frustrating banging my head against a brick wall of ignorance.
Anyway, now that my rant is out of the way (I feel slighly better after writing those paragraphs) here's the story I was talking about.
https://www.foxnews.com/science/1110-foot-asteroid-to-pass-near-earth-in-2029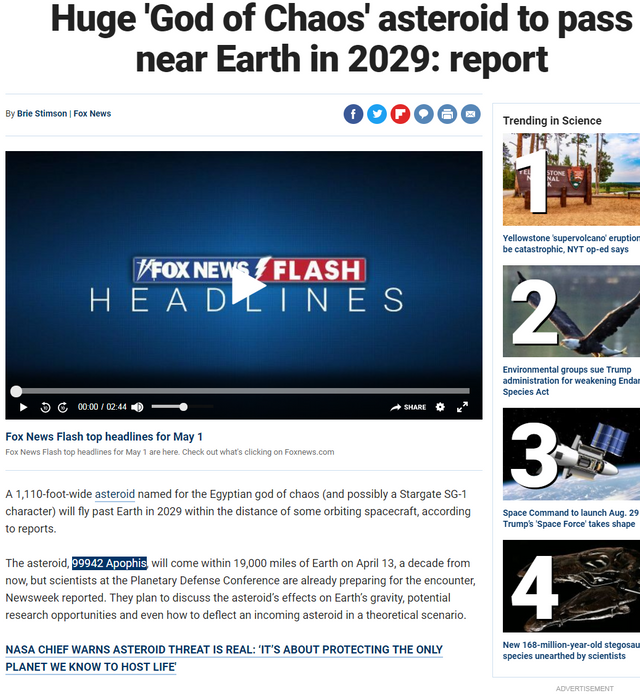 Did you notice the name of the asteroid. 99942 Apophis and when it is due to arrive?
9+9+9+4+2 = 33
Agenda 2030 in 11 years and '99942 Apophis' due in 10.
The word 'Apophis' means.

It adds insult to injury that all this is coming from NASA (Never A Straight Answer).
They mock us continuously while laughing at how ignorant and brainwashed people are not to notice what has been and is happening under their noses and they love their numerology and symbolism too.
Will humanity raise their consciousness sufficiently before it is too late? Only time will tell but the way I see things right now based on the people around me, I don't have a great deal of confidence.
Thanks for reading
Stay safe
Jim