A Daily Dose" transitioning and resuming activities on YouTube.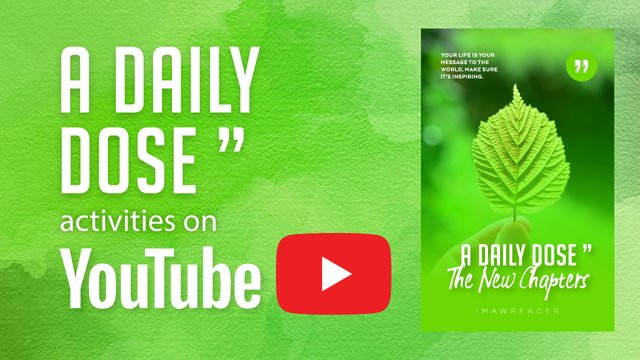 For a few days, I took a break in updating A Daily Dose" blog because I have completed sharing the contents of A Daily Dose: The New Chapters from Wattpad. The chapters in that book were first published from the A Daily Dose blog a long time ago, but they were edited versions, so I thought to share them this past few months.
The move was also to help me find the drive and passion for writing that kind of style for A Daily Dose" again. There was one day that I felt I couldn't write it anymore because I feel happy. That's when I asked myself, does this mean I won't be able to write in that format again? I felt lost and deprived of that thought. And the next thing I knew, I wasn't writing anymore - for months.
That's where A Daily Dose: The New Chapters came in. It crossed my mind before, but I disagreed with the thought of sharing it on the platform. And probably, that is because I was hesitant to re-share revised versions of the chapters. In the end, I decided to publish them anyways. During that time, there were no activities on YouTube as well. I don't have any new content, so I decided to resume when there are new stories.
And today, I want to take this chance to clarify that matter. For the few days that the publishing of contents in A Daily Dose" has stopped, this is what I would like to call transition. It's a preparation to welcome new stories ahead. I know it might be pretty overdue, but I still want to write a post on something like this.
In the coming days, maybe tomorrow, you will get to read new freshly written content from A Daily Dose". The day after tomorrow then, activities on YouTube will resume too because I'll be spending some time editing new videos. And as of now, the video format is simple, and I don't know yet how to improve it since I haven't learned any new video editing skills.
I am uncertain how far it would get me in doing this, and I can't say for sure, but I want to say it's what I like doing right now. Who knows, I might find more people who would appreciate my work. That's what I was looking for, for almost years now. Someone who would start a conversation and talk about them. I would feel so much appreciated that way.
That's it for today. And if you want to show support, please follow any of these social media links below and subscribe to the YouTube Channel. Thank you!
© imawreader | A Daily Dose"

Read A Daily Dose" - The New Chapters on Wattpad:
Follow A Daily Dose" on these following Social Media Platforms:

Like on Facebook: @ADailyDoseOfficial
Follow on Twitter: @ADailyDoseTweet
Subscribe on Youtube: @ADailyDoseOfficial

Follow imawreader on these following Social Media Platforms:

Like imawreader on Facebook: @imawreader
Follow imawreader on Twitter: @imawreader
Follow on Wattpad: @imawreader

Watch the recent Daily Dose from Youtube: