My Steemit Vacation - A Rest of Mind and Soul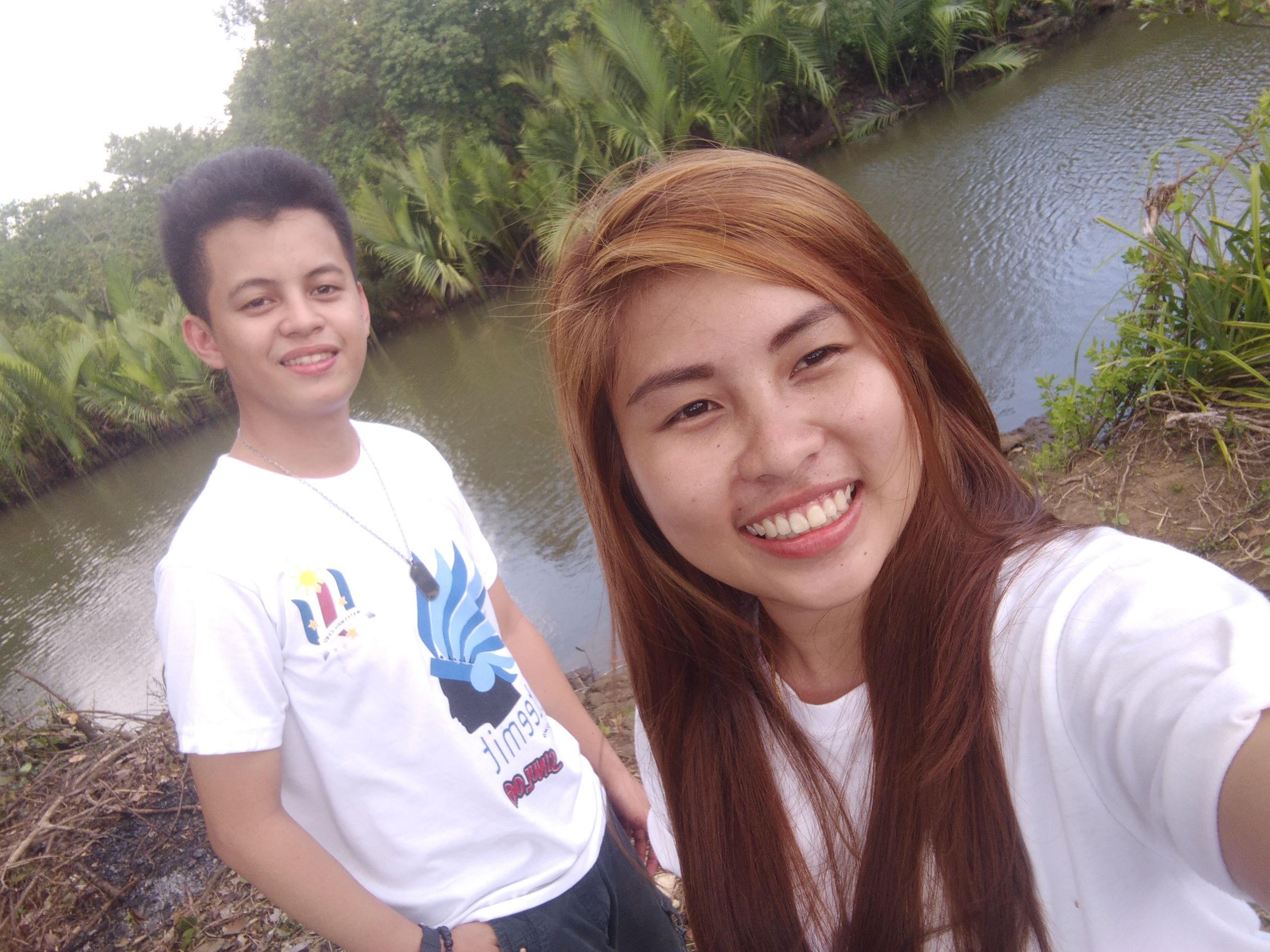 Hi again fellow steemians, I am back from an almost two months vacation from steemit due to some very important reasons which I will be sharing to you throughout this blog. Although it's not some vacation that involves going to the beach where you sit or lie on the sand tanning yourself to relax. Some of my friends which are also steemians were asking if I am already quitting on steemit because I haven't made a blog for a period of time. You can verify this by viewing my last blog before this which was dated last two months ago. But my answer was that I am just on a vacation and I am not quitting steemit because it's the reason why I can relax myself and decide to go on a vacation for almost two months. So here are my best pictures that describes my vacation on steemit:
THESIS MAKING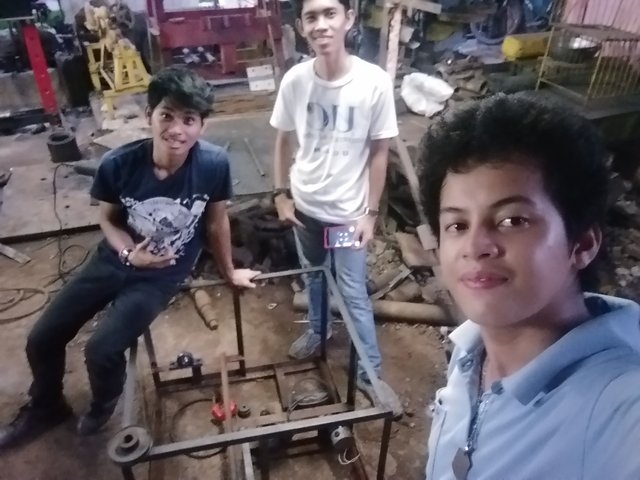 This was taken while we are still in the machine wherein we fabricate our design into actual project and use whatever machine and equipment fit to the work. You might wonder why we are in the shop, since our design project was a little complicated that we are required by the shop owner to personally assist the personnel making our design so that there will be no mistake in making it according to the design we have. For the complete detail of our project just click this
link
and see the post of my co researcher for this project which was also a steemian.
COLLEGE DAYS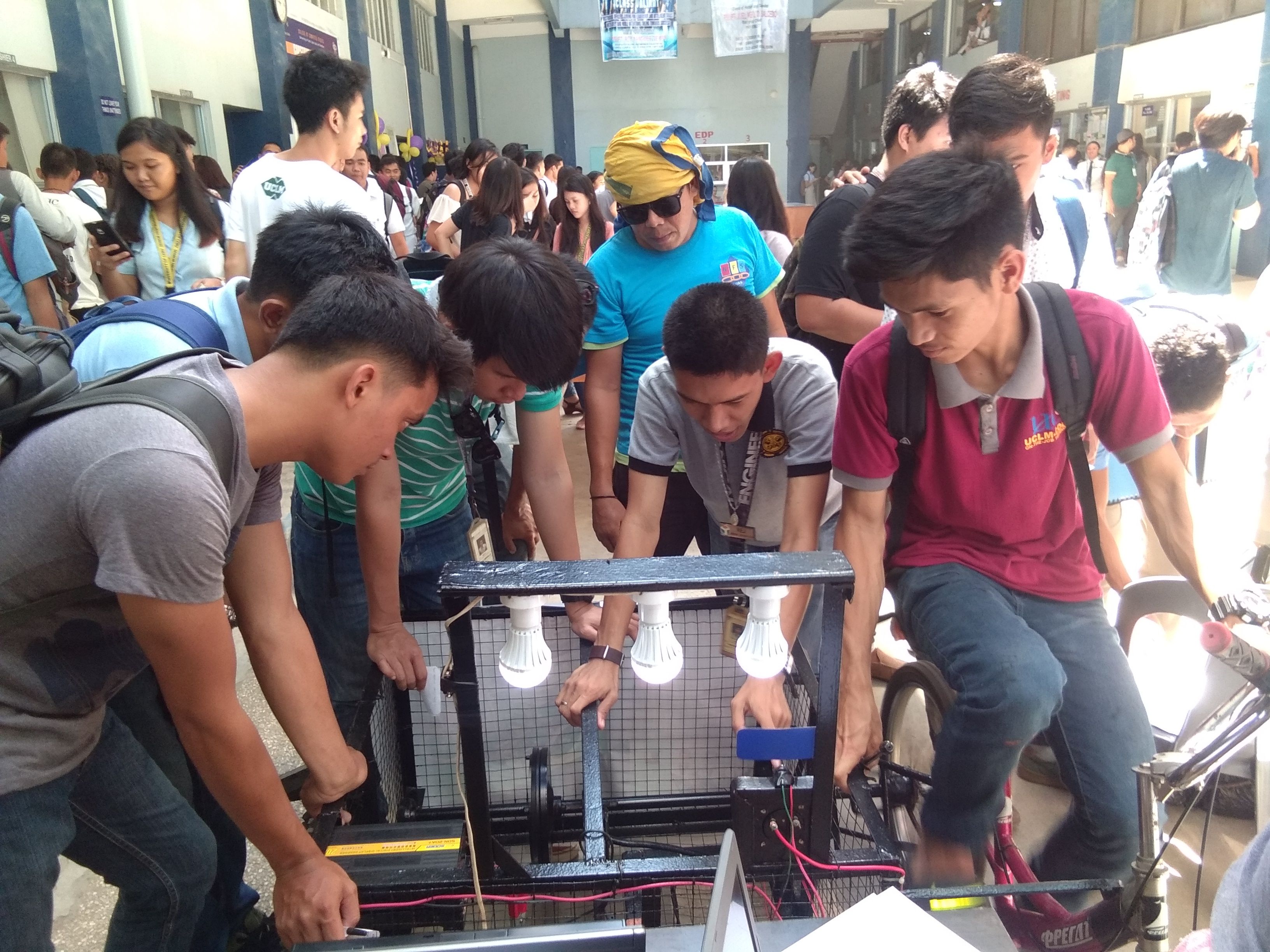 Our project design was required to be presented in public and explain to those who are interested on how our project design works and where it is really needed. That photo was taken during our COLLEGE DAYS on the mid of February this year. We presented it to more than 15, 000 students on our school. The duration of the presentation was form 8:00 AM to 5:00 PM. We are obliged to entertain those students who come to our project design and answer their questions up until they are already satisfied and completely understands our project design.
THE THESIS DEFEND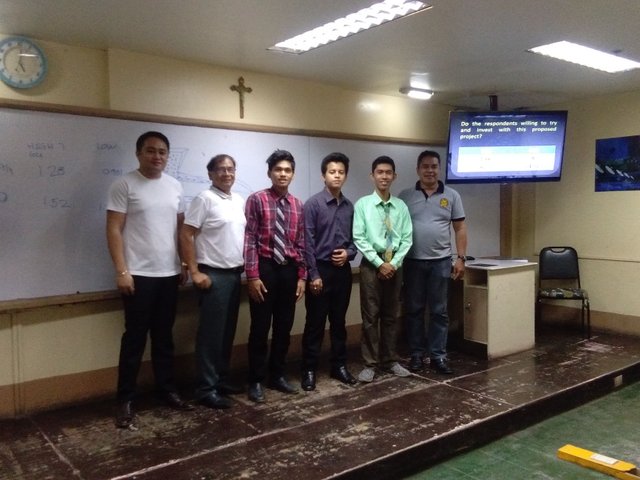 @ergiegonzaga(darkblue), @rejzons(green), @robertamorin(red stripes) and the rest where our panelists.
That photo was taken after we had the thesis defend wherein we would explain to the panelist the value of our project design. And discuss to them what are the advantage of our design to the existing designs nowadays. And you might ask, how did it goes? It was a success, the panelist accepted our design and ask us to make some minor revisions on the documents which we have submitted to them that includes minor grammar revisions, and other changes that are suggested by the panelists.
Those were the two last events that made me stop using steemit because I need to focus on my school activities since at that time I was a graduating student and those were important requirements that are very needed in order to pass my last year on college.
GRADUATION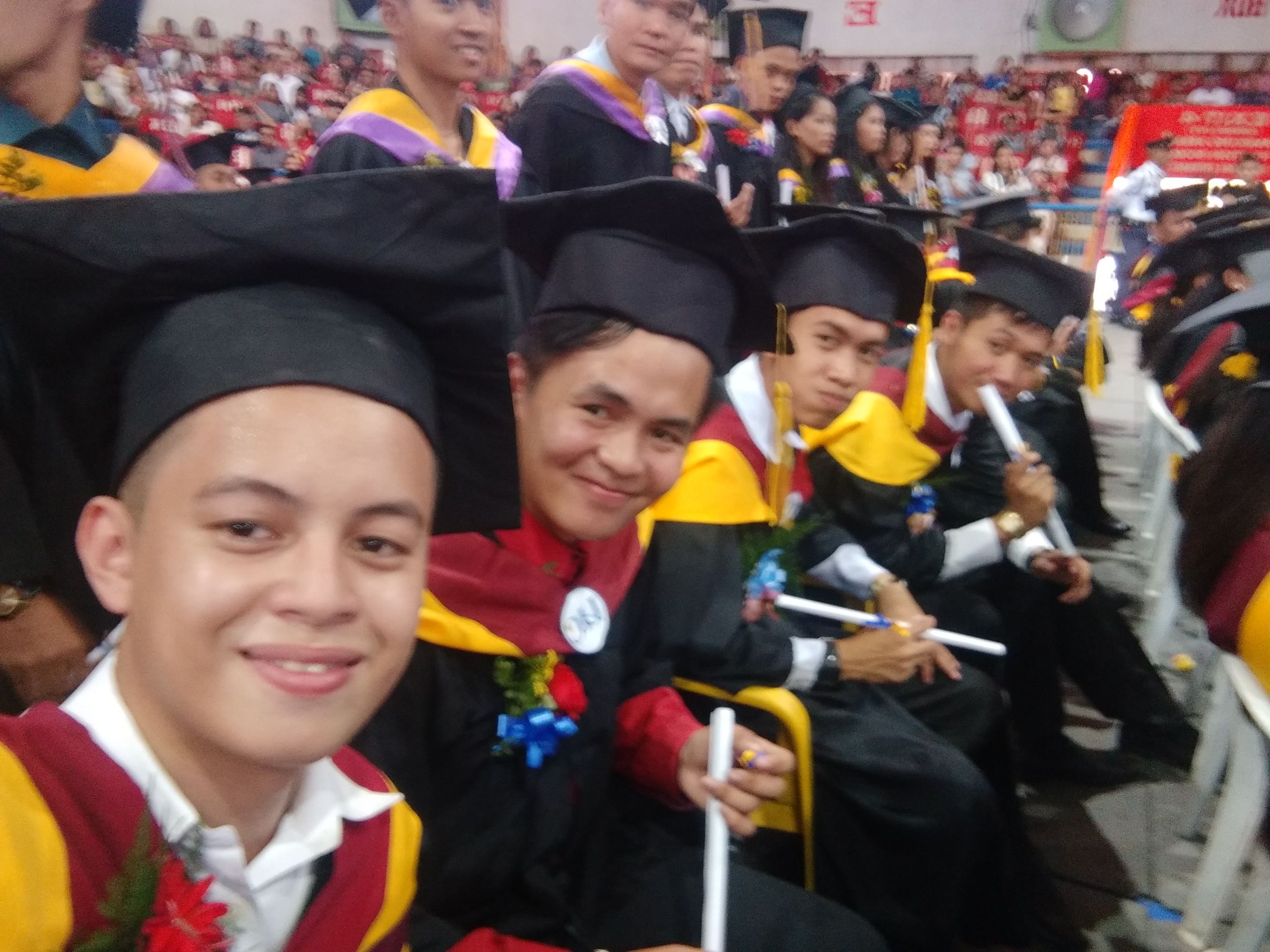 While waiting for the ceremony to start.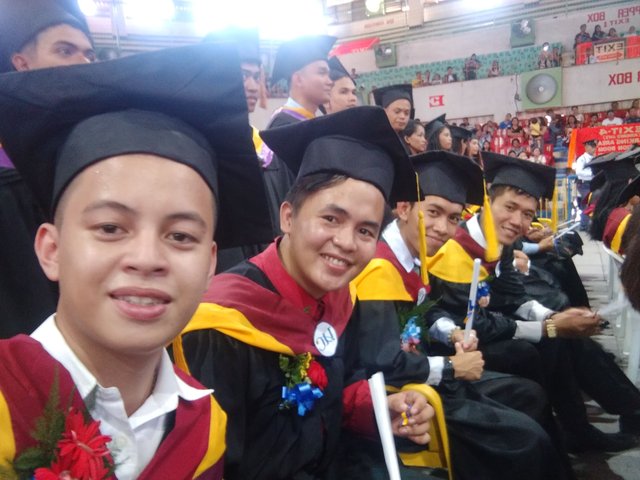 Graduation is the happiest ceremony that every student would like to experienced, particularly graduation from college and have the bachelor's degree you been struggling for almost 4 or 5 years. That photo was taken during our graduation ceremony. From left to right
@ergiegonzaga
,
@clintmarkcortes
,
@rezjons
, and
@jaysonbutalon
. Yes, we are steemians on the picture.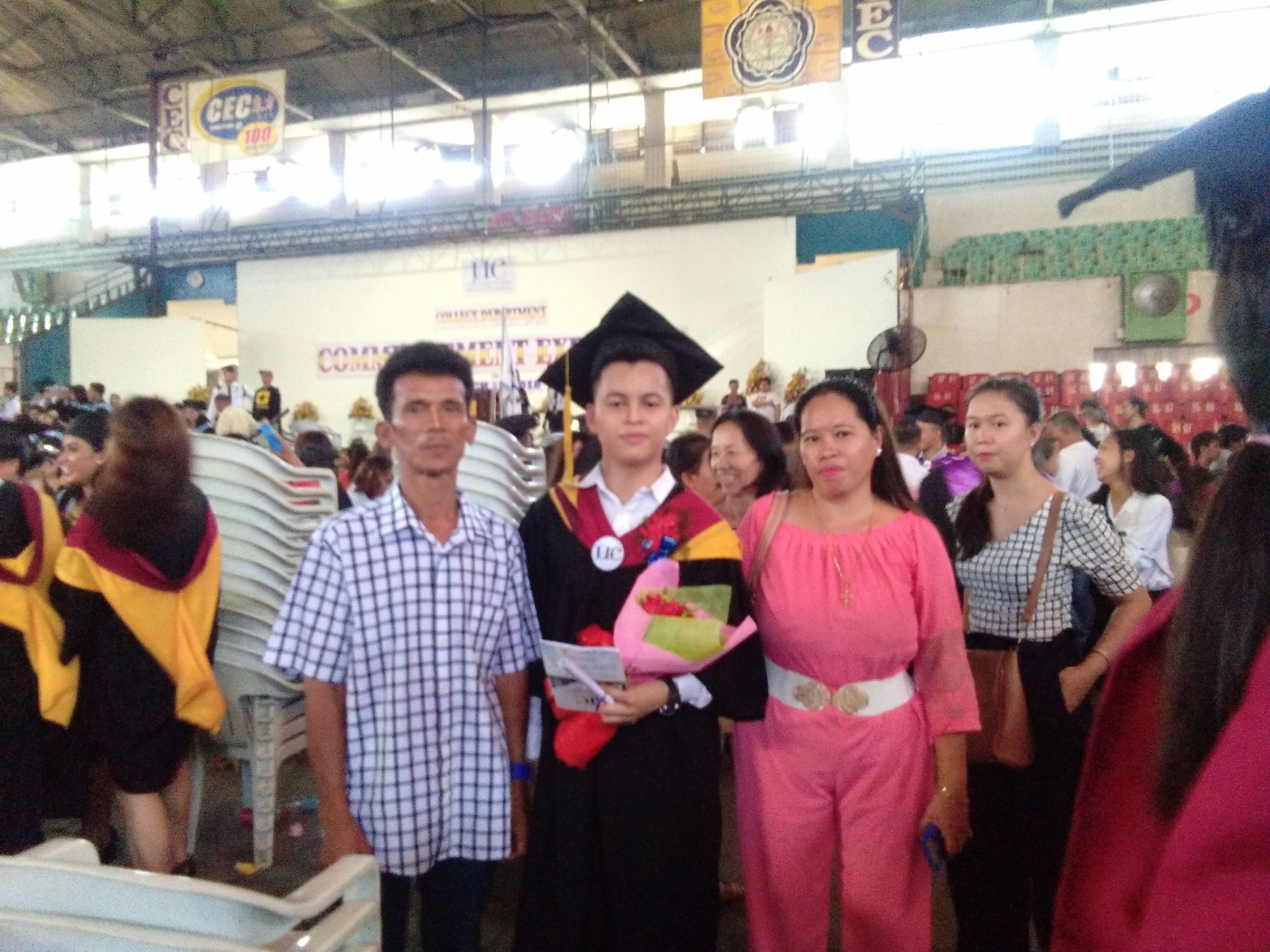 That photo was taken during graduation. And in that photo was my mother and father captured by my girlfriend
@shellamae
. I am very proud of my parents for striving hard to send me to school and finish my college and earn the degree I have now.
MY MASBATE ESCAPADE
After five years of schooling, who would don't wanna relax and hava a vacation on a faraway place and experienced to be free from assignments project and harsh exams while in the school.
I was invited by the family of my girlfriend to go to their place so that I will be able to their relatives. Since it was vacation already, I decided to go and form Cebu city (currently residing), we take a bus with @shellamae that takes almost 5 hours travel to Hagnaya port and the get on a ship that takes also almost 7 hours travel to Masbate.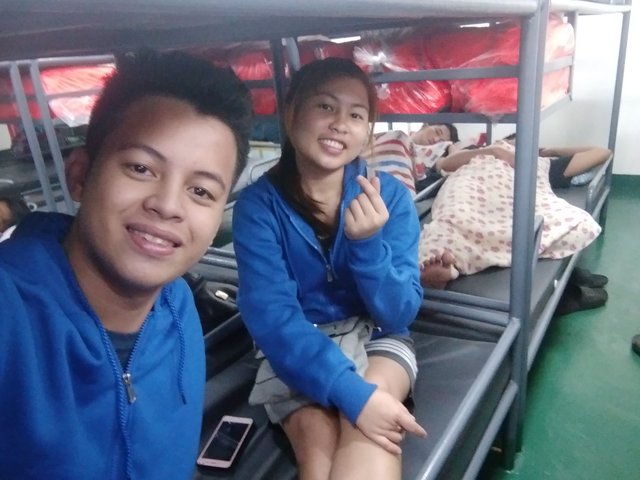 That photo was taken while we are already aboard the ship to sail to the Masbate. An archipelago on the top right side of Cebu. We are currently lying waiting for the ship to leave the port.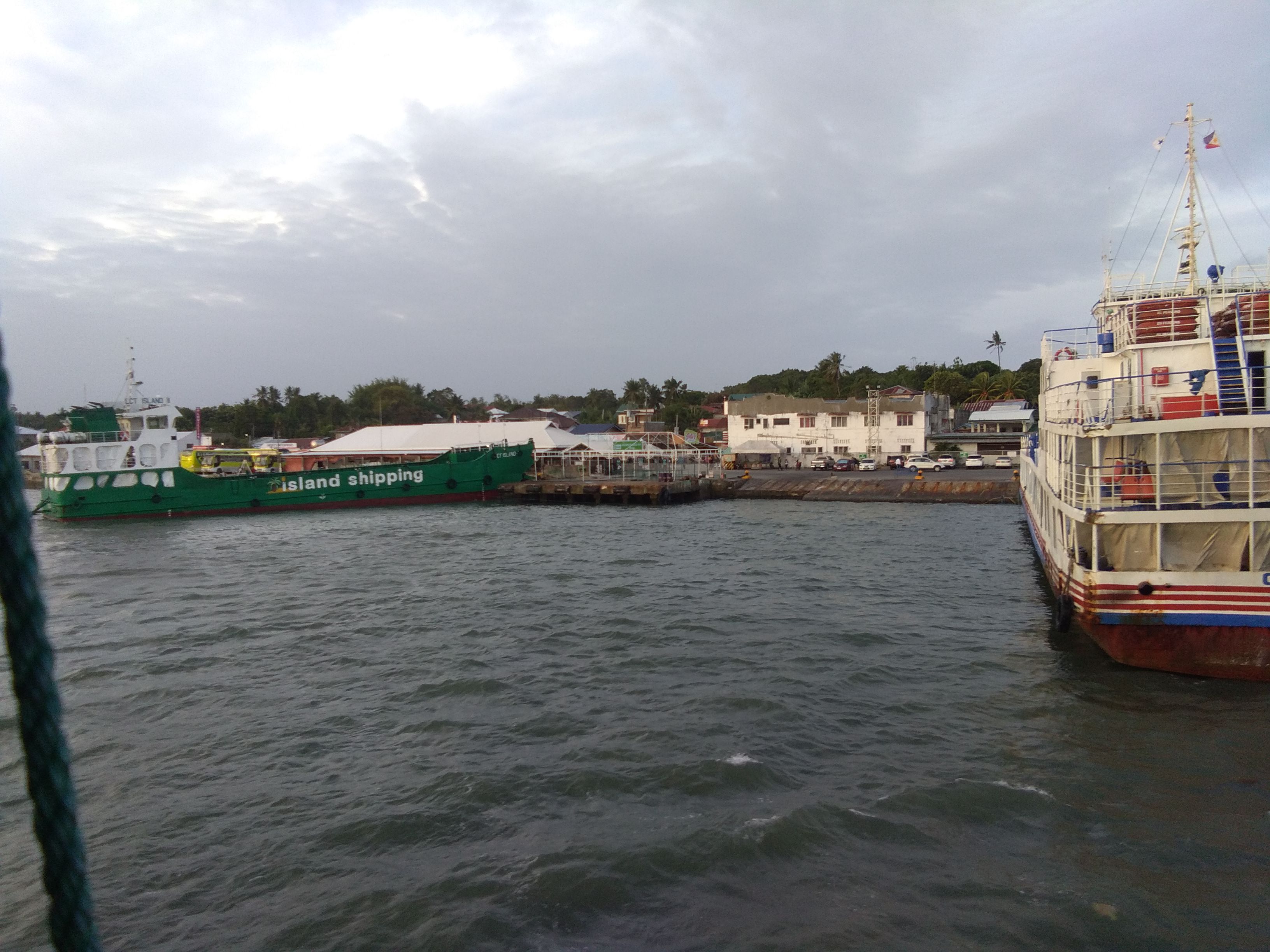 The ship leaving the port of Hagnaya.
AT MASBATE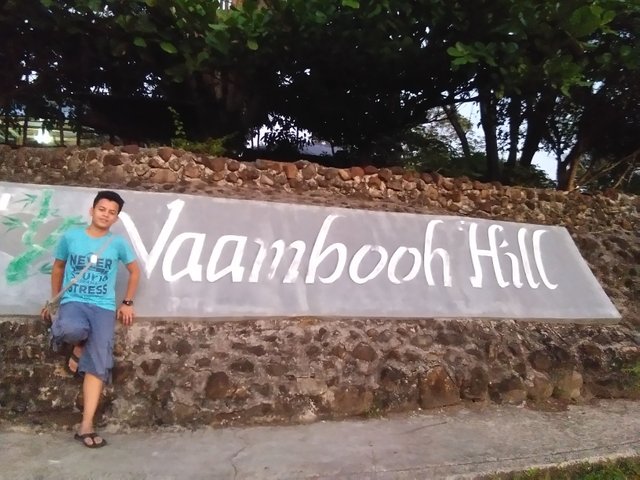 The next after I arrive at Masbate, I went to the Bamboo Hill, a mini zoo and a newly developed place for picnic for the family, can also be used as venue for family occasions.Below where the animals I have captured using my mobile phone: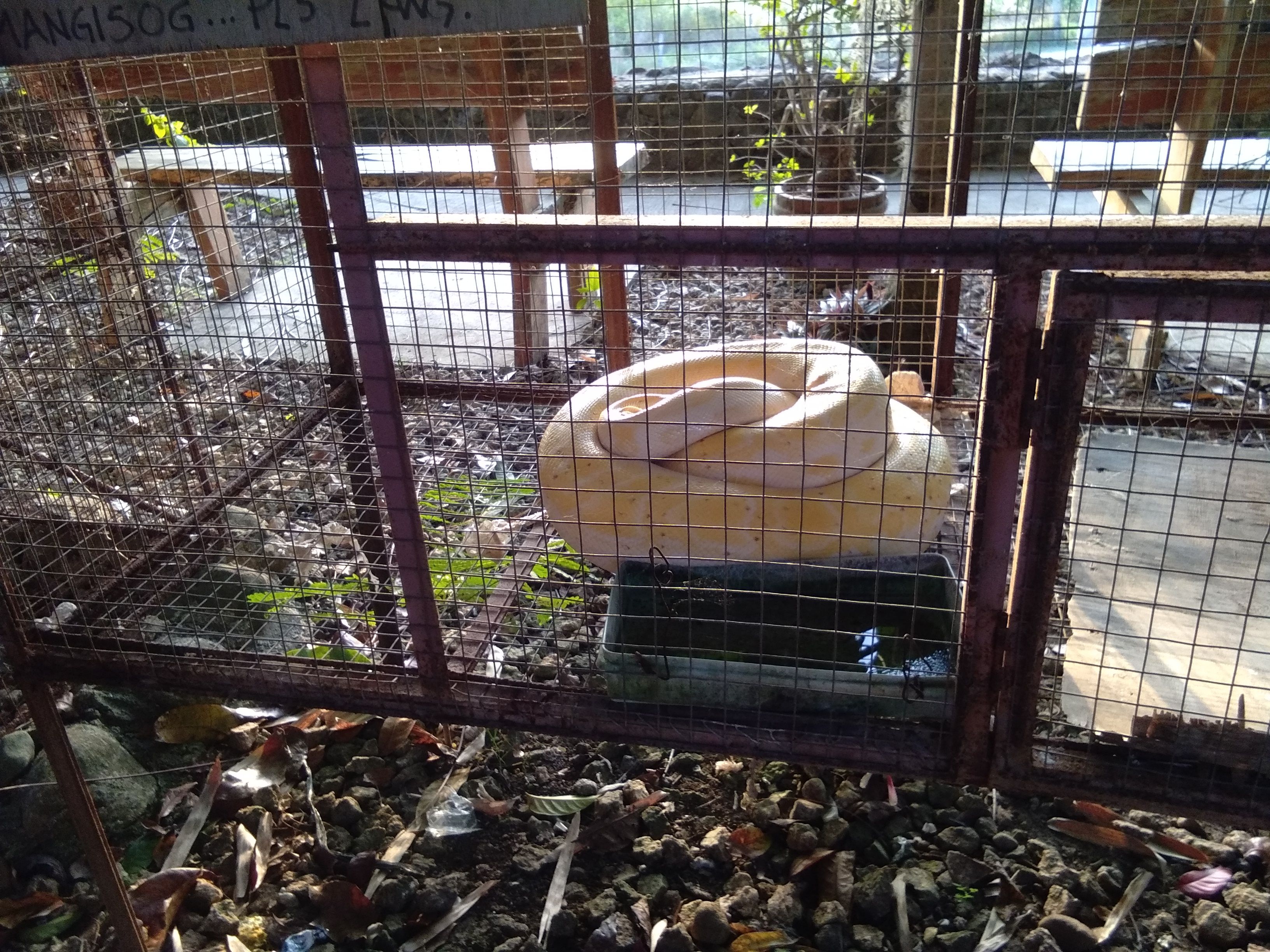 A yellow snake curling itself.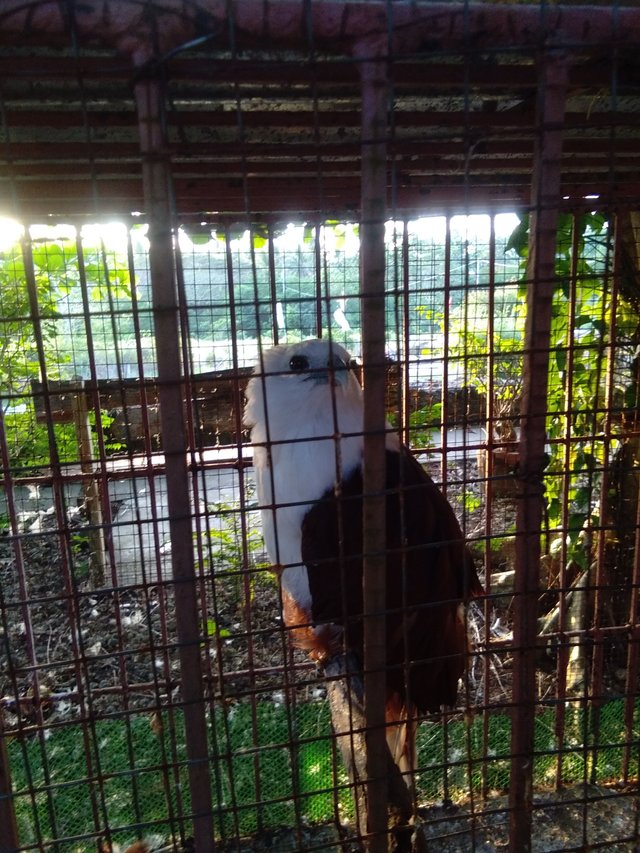 Baby Philippine eagle.
And the secenery of the place aside form the animals there.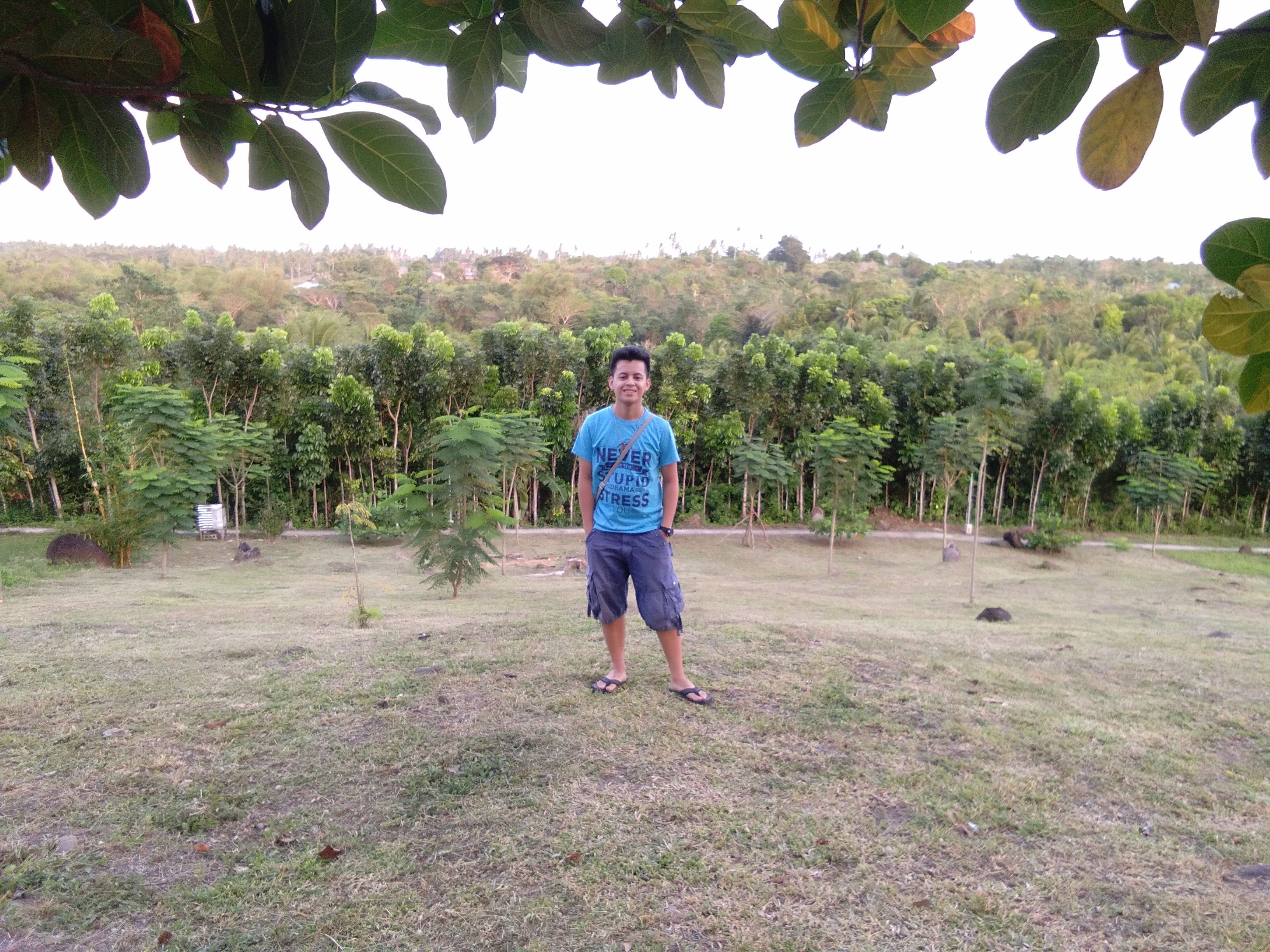 The place is still under development but what i can see there was a nice place and it was really good for family bonding due to the ambiance of the place and it's view.
Here are my best pictured captured by my mobile phone(VIVO Y56) while I was at Masbate: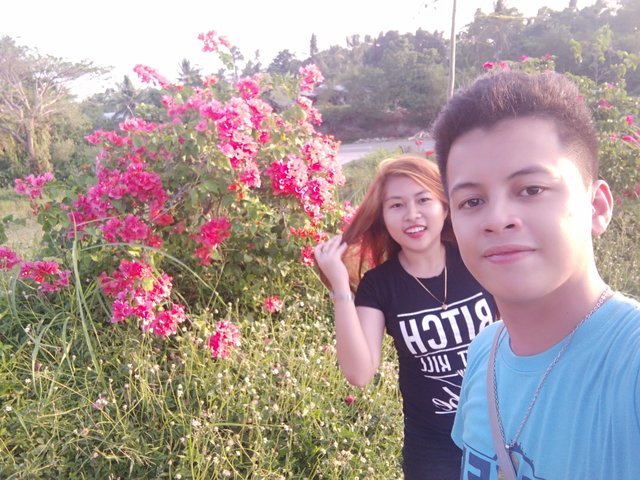 Me and my girlfriend
@shellamae
, taken with a newly bloomed while we are in the Bamboo hill.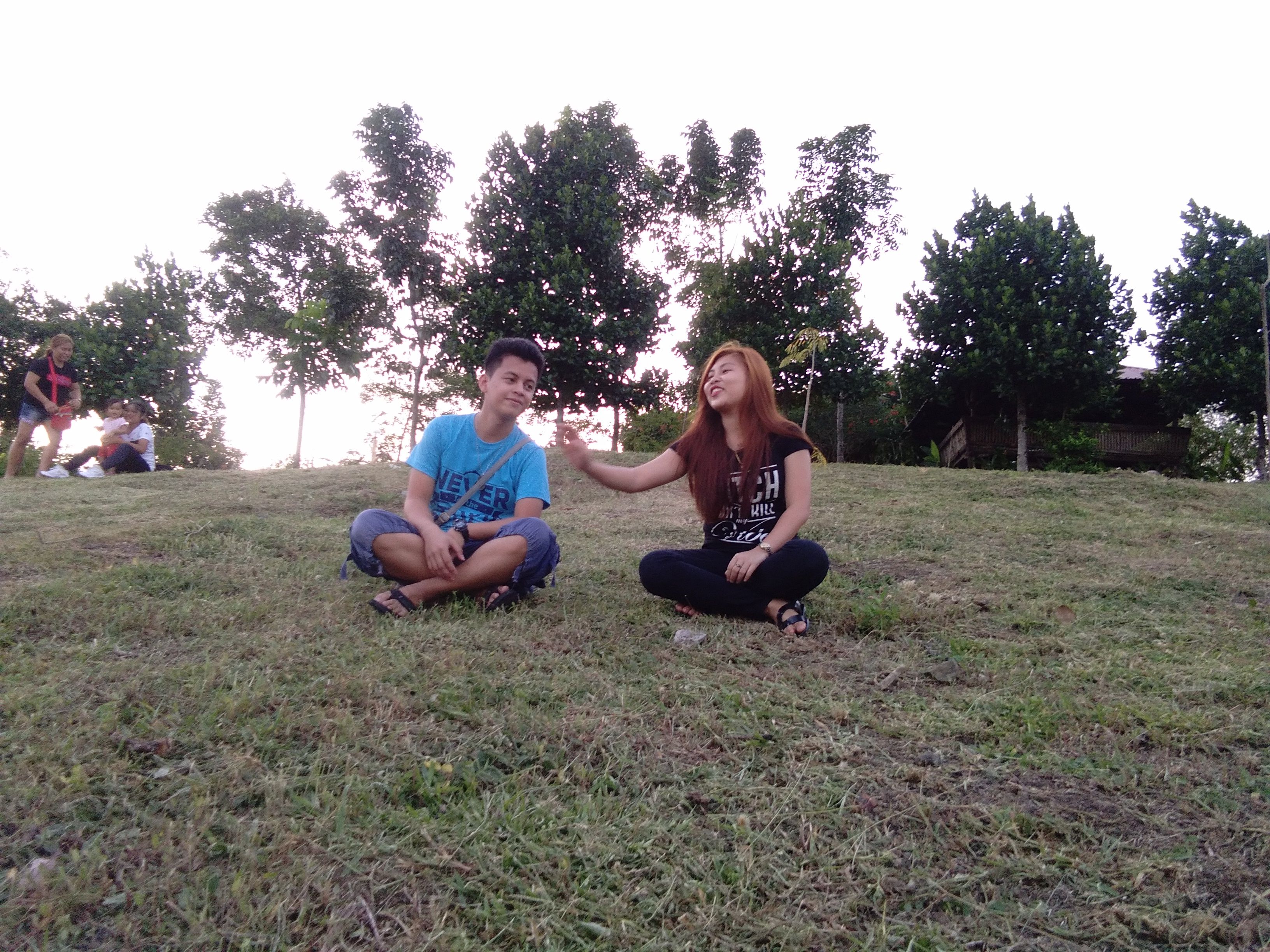 At the ground of the Bamboo Hill.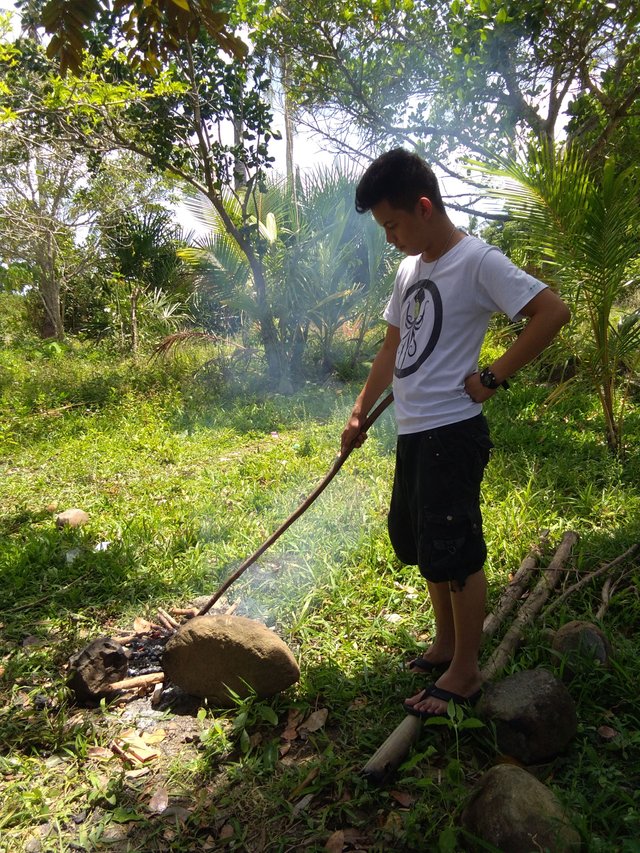 Photo credit:
@shellamae
Taken when I was roasting some fishes for our lunch.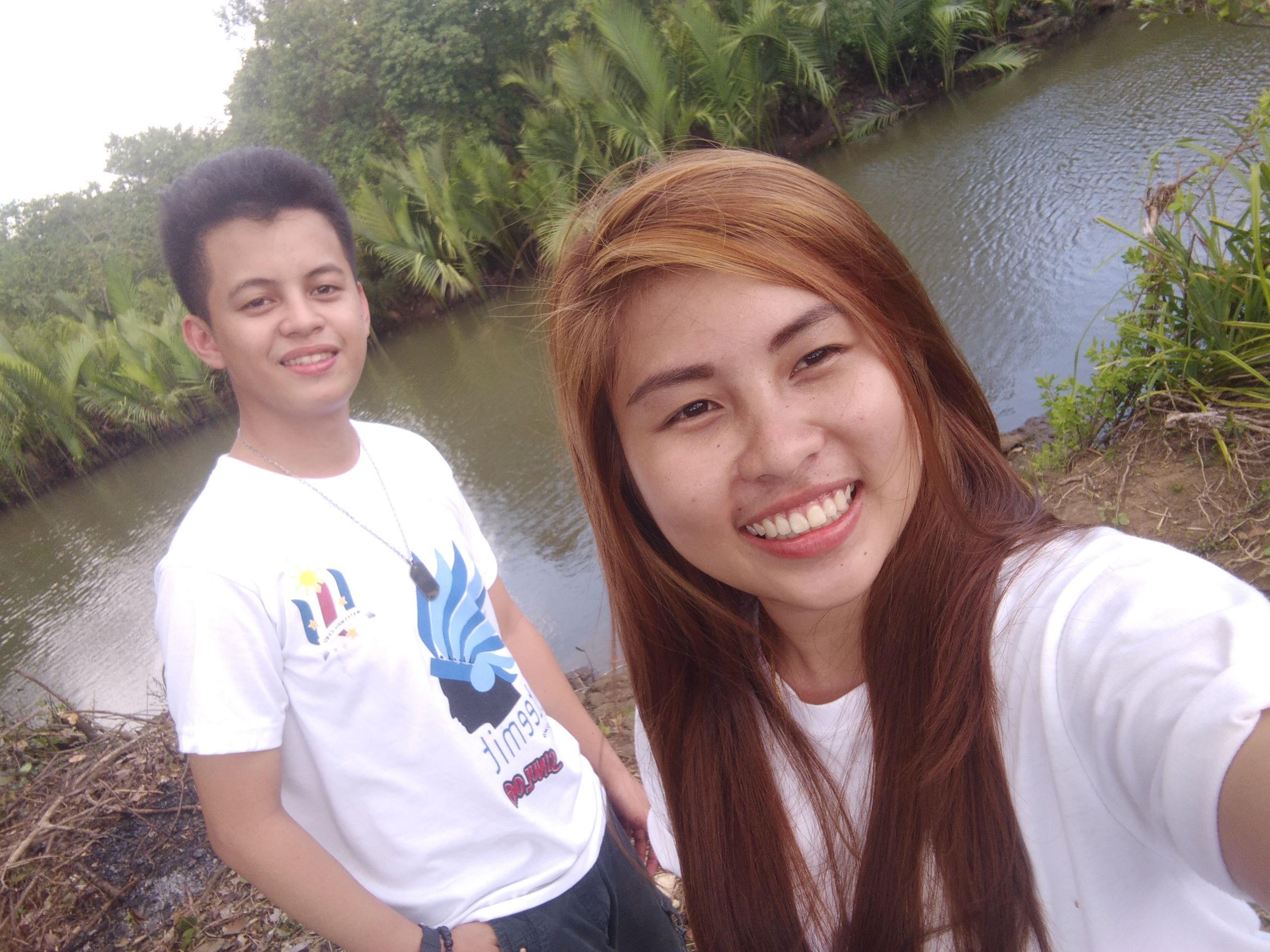 Me and my girlfriend at the riverside. It was taken at Easter Sunday, it was a tradition here in our country that every Easter Sunday, we should take a bath on a river or sea so that our sins will washed away also.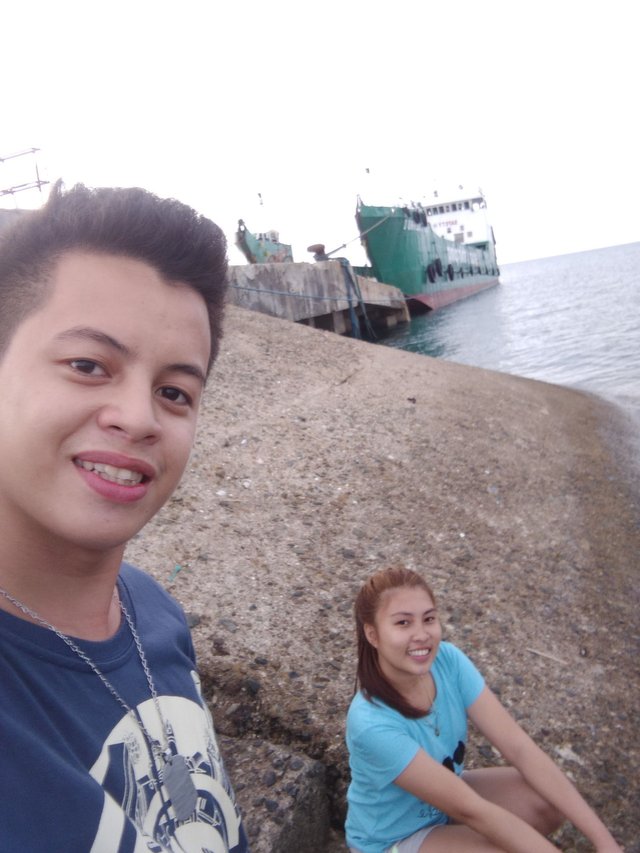 At the masbate port, with the ship background, the ship was waiting for the passengers to board the ship. There only two ship sailing from Cebu to Masbate and that ship was one of those two.
And at end of the day I have captured this very relaxing scenery that I think I would never experienced and see it in personal. This very beautiful sunset while we are sailing from Masbate to Cebu.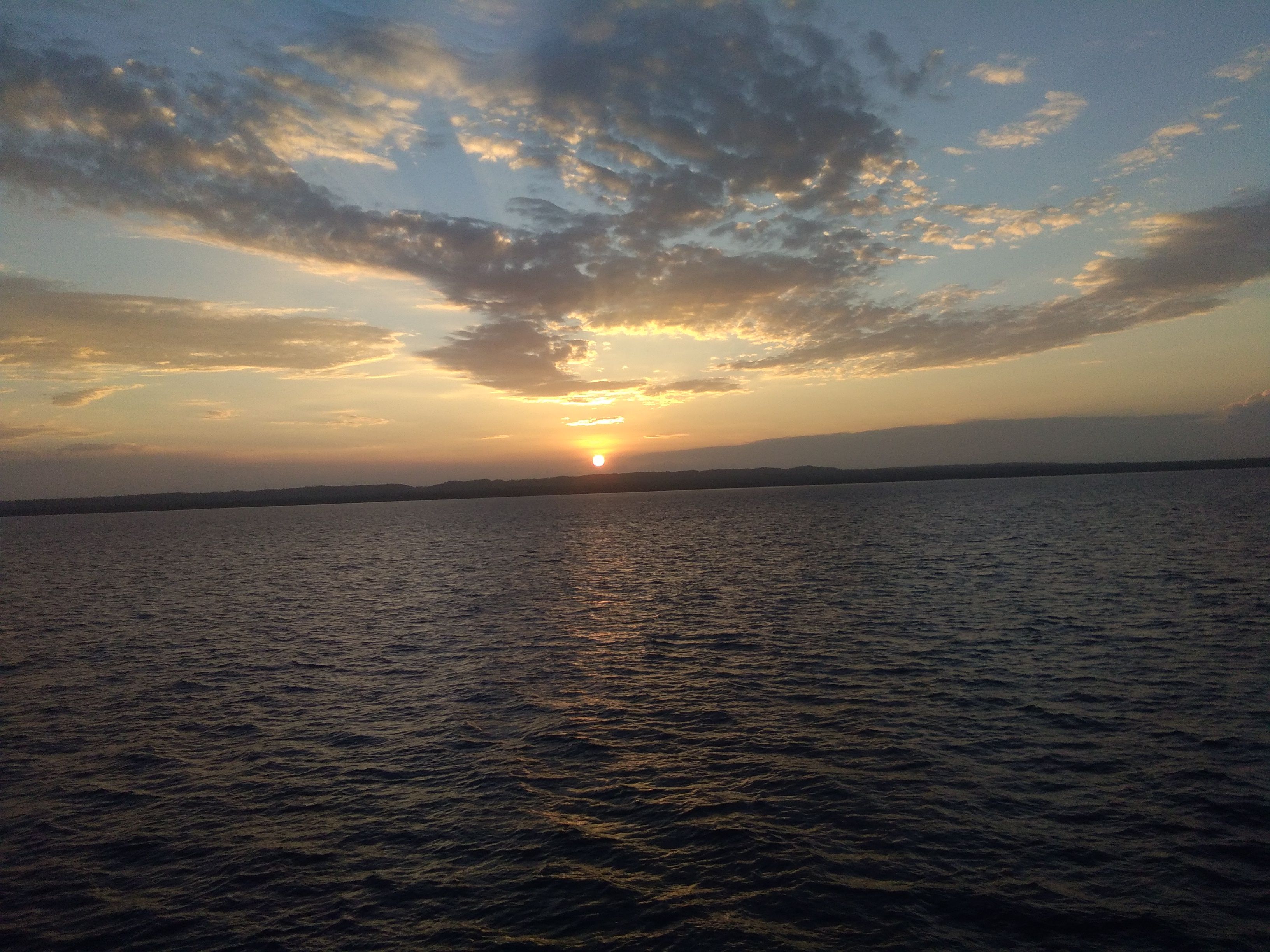 This was taken using my mobile phone while I am on the deck of the ship. My main goal was to see if we are already near the port of Cebu since it is already almost night inside the ship so i decide to go
out and see that kind of scenery. I immediately get my phone and captured this scenery which I have never imagined that I could capture it today.
MY REVIEW CLASS - A review for taking the licensure examination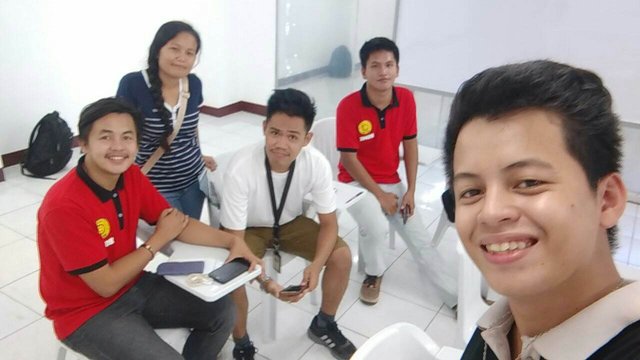 Now I am on the review class for the preparation for the Mechanical Licensure Examination this coming August 25-26 this year. Some my co reviewees whre also steemians: form left to right
@clintmarkcotes
,
@jhairahdignos
,
@mikekenlytungal
,
@spenz
,
@ergiegonzaga
(me) and my classmates that were not on the picture are
@jhayson
and
@jaderpogi
, and
@aribalcristian
.
Wish me luck for this coming board exam guys and also for my clasmmates.
Best regards,