Stress A Major Problem Everyone Face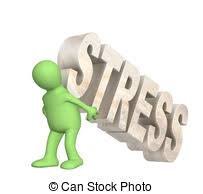 Stress as been something challenging most especially those that fall in the working class. Stress is a simply reaction to a stimulus be it Internal or external that might disturbs our physical body or mental brain equilibrium. It makes someone unstable emotionally.
Stress can occur in both children and adult
---
CAUSES OF STRESS IN A CHILD
Bulling: When children are bullied by others Sibling rivalry
No friends i.e. isolation
Lack of attention :– being ignored, boredom, Shouting and smacking
Lack of parental authority:- inconsistency with child's discipline
Criticism:-Not always telling children positive things about themselves, Parental expectation too high
Feeling controlled:- No room for self-expression, being too strict
Embarrassment about home live, parents, clothes, looks: - They want to keep fit and be like by others.
Quilt Feelings: When a child is made to feel guilty about something, it lies heavy in his heart, causing a lot of upset and turmoil in his life.
AT HOME
Problem at home includes:
Arguments by parents
Divorce
Too many responsibilities: too many household works to do.
Unhappy depressed parents
Traumatic incidence
Violence i.e. exertion of physical force so as to injure the child
Sexual Abuse
Grief: emotional distress caused by bereavement
CAUSE OF STRESS IN ADOLESCENT AND ADULT
Personal Factors:
Ill Health: ageing, undiagnosed ailment
Relationship Problems: divorce, separation
Social Factors:
Personal belief: Religion and Political belief
Occupation: Work Exhaustion/Work load, change job, JOB dissatisfaction, Office Politics, Conflicts with co-workers and boss
Discrimination: Racial and sexual discrimination
Financial Problems: Huge debt, fraud, insufficient pay.
Emotional Factor / Psychological Factors
They include:
Anger, Quilt, Worry, Impatience, Family death, Losing job, Depression, Isolation
Environmental Factors
This includes;
Toxin, Allergies,, Heat Cold, , Unsafe Neighborhood, Pollution, Noise, Uncomfortable living conditions
Physical Factors
Pain
Exercise
Exhaustion , Poor nutrition, Traumatic Factors, Arm robbery, Rape, Natural disasters e.g earthquake, Man-made disasters e.g , War
TOP 5 CAUSES OF STRESS:
According to Dr. Karl Albrecht, he identified Top 5 causes of stress
Which are:
Job Pressure:
Which includes co-worker tension, Bosses, work overload
Money:
This includes loss of job, reduced retirement benefits, medical expenses.
Health:
Which include health crisis, terminal or chronic illness.
Relationships:
Which include Divorce, death of spouse, argument with friends, loneliness
Poor Nutrition:
Inadequate nutrition, caffeine, processed foods, excessive caloric intake (Obesity)
Will like to talk on tips on how to manage day to day stress on my next post.
---
Thanks for stopping by to read.