BINANCE COIN AND CAKE ABOUT TO POP - BINANCE SMARTCHAIN BULLISH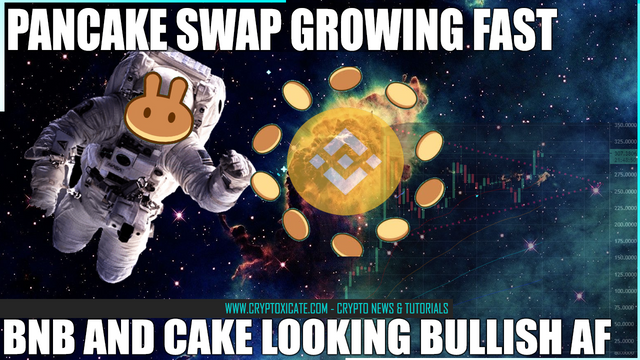 Always take in consideration non of this information is financial advice or official announcement from any specific project, I'm no financial advisor, trader or expert, this is just my personal opinion on certain project mention on this article, cryptocurrencies are extreme high risk assets and you must do you own research, never follow what I or other people say on internet


BINANCE COIN AND CAKE ABOUT TO POP - BINANCE SMARTCHAIN BULLISH
Its definitely crazy what Binance has accomplish with their Binance Smart Chain, I remember writing articles about it last year probably about this same time when I was still using UNISWAP going degen on some coins, some end up rug pulling lucky me never got hurt badly and there were more gains than losses some were massive gains for me and every time I look around what was new with BSC saw similar projects to what already existed in the ETH DEFI space and one of them was Pancake Swap but never really pay attention to it because at that time ETHEREUM and UNISWAP was the hot topic around and everyone was doing massive gains, even after sometime of Pancake been up came the UNI airdrop so that even got me more into UNISWAP until GAS fees went up like crazy, that's when I think Pancake Swap came into the scene, not to bash on Binance but their BSC IMO is even more successful than their exchange probably, at first it was like they were trying to be part of every aspect in the crypto space having NFT, DEX, DEFI, STAKING almost everything on BSC.
BNB skyrocket like very few coins, one day it came out of nowhere and remember a twit from CZ "remember I told $30 was a steal..." obviously he got info that none of us had regarding the BSC and could "potentially" ; I cant verify or confirm this, that BNB was going to explode topping out at a $348 per BNB coin in Feb 19 from about $45 in Jan 21 that's when the brake out happen, the rest is story now Pancake Swap token CAKE has the same similar pattern on their CAKE/BUSD pair as BNB and IMO both are about to skyrocket again but first I think there will be a final dip before MOON
As shown on this list from Nomics.com that IMO is one of the most transparent coin listing sites not like Coinmarketcap.com that is basically a billboard selling adds and placing coins in any order that they believe is best for them, and this is funny because Coinmarketcap owner is Binance same as for Pancake Swap and here I'm talking about how bullish the exchange and its token looks like but if you had read my post before you will already know I'm not a fanboy of anything I'm just looking opportunities to make more USD and BTC, those are my main goals, there are very few coins I hold LONGGGGG TERM and even though I consider this is not the market to accumulate crypto I might either pull the trigger for a trade or even buy some to hold ¯_(ツ)_/¯
Nomics - Top Global Decentralize Exchanges by Volume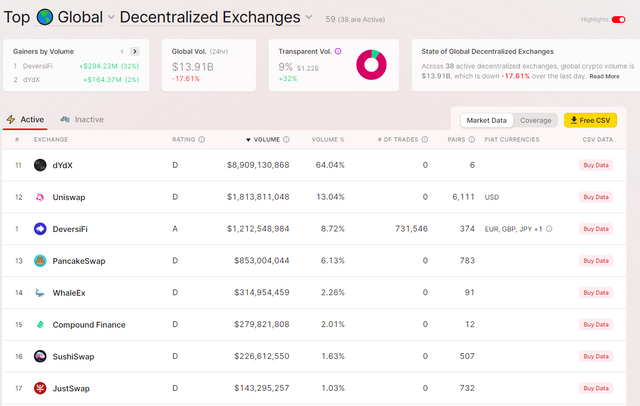 Don't mind the numbers on the left because they have some sort of reputation ranking, you had to index by volume and can see Pancake Swap at #4 or even if you go over Coingecko.com I appears as #3 over Sushiswap, this is the connections and the master minds behind Binance that sometimes even look like EVILCORP at the Mr Robot Tv show, Binance literally has taken over the crypto space in almost every single aspect and now they trying to do it at the Blockchain level putting out the projects under their umbrella as top contenders in the industry, BTW I'm not saying Binance Owns Pancake Swap, but IMO probably one of the most successful projects in the BSC.
Coingecko - Top Global Decentralize Exchanges by Volume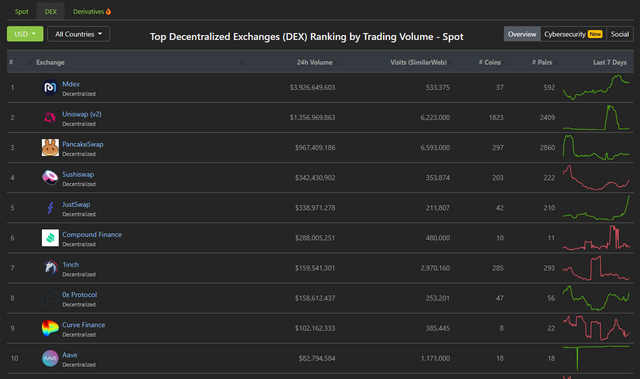 Now that I have put out my opinion of why I think CAKE and BNB are going to moon lets get into the charts and check out what this two coins are doing.
CAKE/BUSD 1D Chart


At first impression most ppl might think this is a double top and from now its going down although I don't think that's the case, after such run the price needs to calm down, it would depend on Bitcoin too, some are starting to call the top "Again" but I don't think we are there yet, close maybe but not there yet with Bitcoin Dominance still going down, alts going crazy up maybe at the middle of the year this market could run out gas but I don't think its the case right now, this is still trading so always be prepare to what may happen.
CAKE/BUSD 1D Chart


As shown on this chart here we see the momentum turning a bit bearish short term and we have our bottom at around $7.59 and the resistance at the top after that bottom at about $14.04, every strategy is different so as always this is just MY OPINION AND I COULD BE TOTALLY WRONG ALWAYS, we have our recent top at about $19.72 and price starting to decline, I would be buying spot first at around the previous support area at $14 it may even go a bit lower but its fine at that point the price will meet with the 20EMA and bounce from there if that's happens then this entire structure might turn into a weird cup and handle but that's very unlike for me because of how there is no U shape before this price action, what's awesome is that it two lower highs so the entire thing can turn into a ascending triangle while the price cools down to then keep moving up. Im bullish on this coin but as mention I'm not going to jump in before I have confirmation of what the price is going to do, for now let it drop and give signs that its still bullish like holding the bottom part of the triangle and not braking the 50EMA.
CAKE/BUSD 1D Chart


From a FIB perspective some of this levels consider with my buy area for the first bounce at the 0.382 level although coins don't shoot up from there usually, that's just the first bounce after a run, if the coin is bullish it might but I don't think cake will, buying at $14 and potentially selling the top at $19 would be then plan, the golden pocket 0.618 is also still close to that range of the bottom part of the triangle in case CAKE goes beartard and decides to drop hard to then continue going up also don't think that will happen neither.
BNB/USDT 1D Chart


The BNB chart looks a bit more mature and its very similar to what CAKE is doing, BNB just form a massive bull flag and has just brake out of it, now its up to the bulls to keep pushing up to new all time high, IMO BNB could go to $500 on this bull market easy
BNB/USDT 1D Chart


Yesterday when I saw my algo going back and forward with BNB I turn to the chart and check what was going on, after it broke $282 and realize the pattern bull flag with positive momentum turning on I thought this was the potential brake out and right after that BNB did a 12% for the brake out of the bull flag now encountering some resistance at $315 although its not the end of the world now price can gradually go up from there or shoot straight up, dont think its going to fail and even if it drops a bit lets say $290 this would be the third touch at resistance so most like the only way is up for BNB, this is just MY OPINION AND I COULD BE TOTALLY WRONG ALWAYS
This is just my analysis on this two coins that are turning the DEX and DEFI space upside down and its like binance is laughing at ETHEREUM show ETH how its done, they literally copy paste ETHERSCAN but it is what it is, you take what is good from other projects, tweak it and evolve, ETHEREUM unfortunately moves very slow when it comes to development and Binance took advantage of this, grow faster, develop faster, probably more aggressive marketing, way cheaper to transact on BSC and ETH, things that ETHEREUM lack and as always I'm an ETH holder but you cant denied progress, this opinion is based on what the price and product are doing for crypto so if you have any geeky info like onchain stuff I really don't do that just keep that in mind, I try to take as much from the chart not from other aspects, there are projects that really suck but the chart is amazing so love or hate it once again Binance is doing it, same as they did with their centralize service like exchange, staking, lending, mining, now they are doing it on the decentralize side of things with BSC and the products under their umbrella.


.
👇🏻Consider Supporting the channel by using my affiliate links👇🏻


CLICK HERE FOR CRYPTO LOAN: https://celsiusnetwork.app.link/10474294f5


CLICK HERE TO TRADE: https://www.binance.com/en/register?ref=LOEHBWXR
LINKS:
► Start Trading Altcoins: https://bit.ly/startaltcointrading
► Start Mining: http://bit.ly/2LPfJly
► Start Trading Stocks: https://ftx.com/#a=604743
More of my content
LBRY: https://lbry.tv/@cryptoxicate
Hive: https://peakd.com/@cryptoxicate/posts
Publish0x: https://www.publish0x.com/@CRYPTOXICATE
Youtube: http://bit.ly/CRYPTOXICATEYT
Website: https://Cryptoxicate.com
Music: https://bit.ly/GREATCREATORMUSIC

CLICK HERE TO RENT MINER: https://www.miningrigrentals.com/register?ref=44378
DISCLAIMER: The information Cryptoxicate.com or its media channels not limited to Twitter, Telegram, Discord, Instagram, Facebook, or any upcoming social media platform or internet search engine results is not financial advice. This information is for informational and entertainment purposes only. Any information provided are only and simple thoughts and opinions, you must not follow any of this thoughts and look for a professional financial advisor since we are not any type of advisors. Dont not get into crypto currencies since its a high risk investment if you do not have the proper guidance and any investment that you made is your own responsibility and no one else.
#bitcoinhalving #bitcoin #ethereum #cryptocurrency #blockchain #crypto #tron #nuls #hive #binance