For much of my early life, I did not eat green. Literally, I thought anything green would taste yucky. I didn't like broccoli, lettuce, cabbage, spinach, zucchini, and not even green apples (only red). I have since learned to love many more vegetables and fruits, especially the green ones, and I am trying very hard to "green" my diet, not only with organic products, but with fresher food in general. This has been made possible by my advancing culinary skills, since before the only thing I could handle in the kitchen came from a box!
Guacamole is especially green, and kind of looks like muck, so naturally my initial response was "yuck." But then, my sister came home from her travels with an authentic Mexican guacamole recipe, and I married a man in love with avocados.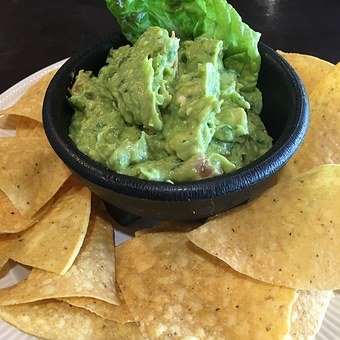 source
Guacamole comes from the Spanish "aguacate" meaning avocado, and "mole" meaning sauce. This recipes call fors the tomato's green cousin, tomatillos. Though many people use red tomatoes for added color in guacamole, my sister insists tomatillos do not lend such an overpowering tomato taste, and for me, they lead to a perfectly useful exercise in going completely green.
Here is the recipe, which is very customizable, and some useful tips, courtesy of my lovely sister Julie!
2 cups water
2 medium tomatillos, dehusked
1-2 jalepenos
3 cloves garlic
1 medium onion
3 ripe Hass avocados
juice of 1 small lime
salt and pepper to taste
cilantro for garnish
Bring water to a boil. Place tomatillos and jalepenos in boiling water, and simmer until tender and tomatillos have turned a darker green. Drain, and let cool. Pit, peel, and slice avocados.
Place tomatillos, jalapenos, and 2/3 of the avocados in a blender, and blend until combined. Add garlic and onion, and pulse until combined. Transfer to a medium bowl.
Dice remaining avocado, and stir into guacamole. Add lime juice, salt, pepper to taste. Garnish with cilantro. Serve with tortilla chips.
Tips ...
Make sure to select avocados that are ripe, but not overripe. A ripe avocado is mildly firm, which means it should yield to gentle pressure, but not be mushy. Hass avocados are the smaller bumby variety, which I can find for $1 each at my local grocery, though they are more expensive at the supermarket.
My sister says to select tomatillos that are not too big, nor too small, with the best size being close to the size of a mandarin orange. The cilantro is optional of course, and the first time I made this, I was without limes, and I omitted the juice without issue. You can also vary the amount of jalepenos depending on how spicy you want your dip to be.My sister recommended not blending all the avocados so that the dip does not become too runny. I really liked the chunky texture!
This recipe yields a good serving size, which I would estimate to be about 2 1/2 cups (though I didn't measure). You can always make more if you have a crowd. The recipe is easy to adjust; just add tomatillos and avocados unitl you reach your desired quantity and taste.