Mahabarata & Ramayana - Brahmastra
Tales of the Mahabharata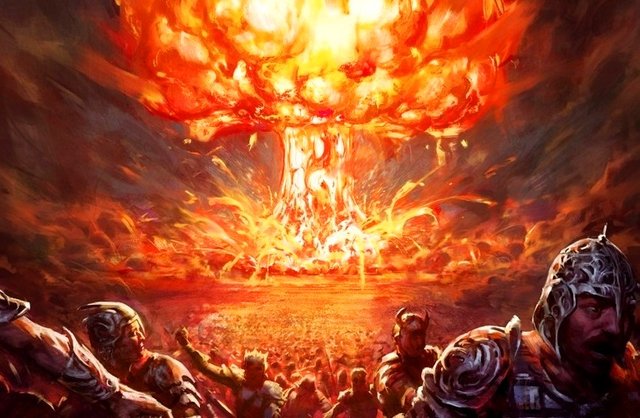 Source
The Brahmastra
In the Hindu books of the Mahabarata and the Ramayana there is a description of the flying strengths, metallic, in the shape of an egg or pearl, a board of the Blues, which was a particular category of hostile deities, attacking the world, having mass destruction weapons.
The Mahabharata accurately describes an event of this kind.
"A single project projected with all the power of the Universe... An incandescent column of smoke and flame as bright as 10,000 stories rose in all its splendor... it was an unknown weapon, an iron beam, a gigantic messenger of death that reduced an entire race to ashes".
"The corpses were so burned they were unrecognizable, their hair and nails were tired, the pottery broke for no apparent reason and the birds went white".
"The enemies fell like blades of grass destroyed by the flames, boiled the waters of the rivers and those who threw themselves in search of salvation died without remedy, the forests burned, horses and elephants ran desperate among the fire, smoke from the great fires , thousands of bodies have been seen charred by the terrible ray This terrible ray appears as the Weapon of Brahma".
The passage narrates a battle in which terrible explosions decimate entire armies, causing a multitude of soldiers, horses and elephants, swept like leaves, say Ganguli. Instead of mushroom clouds, the writer describes a perpendicular explosion that raises a plume of smoke that opens in the shape of an umbrella.
In addition, archaeologist Francis Taylor said that some texts found in nearby temples are prayers to be saved from the light that could ruin entire cities.
It is disconcerting to think that civilization could have nuclear technology before us. Radioactive ash provides credibility to these ancient texts that describe nuclear weapons.

References:
www.ancient.eu