Blocktrades.US exchange from Bitshares to STEEM, having an issue.
I've used Blocktrades.us website for exchange of digital currency, normally from SBD/STEEM to ETH. Today, I needed to exchange my BTS to STEEM but having an issue.
When I clicked on "Get a new Deposit Address", I've got this address 0xc30fbbc5e7575d2638e812d36390021d0c71efcd. I'm assuming a 'blocktrades' or similar for bitshares address.


I tried to use it anyway. Go to my bitshares wallet https://wallet.bitshares.org/?r=yehey-com#/account/yehey-com website so I can send BTS token for STEEM. I put the 0xc30fbbc5e7575d2638e812d36390021d0c71efcd address to my recipient, it says "unknown account". See the captured screen below.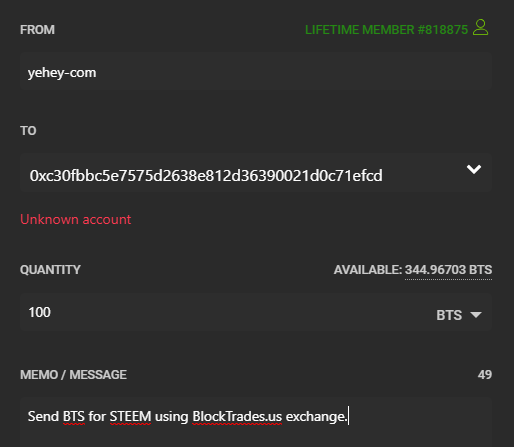 I cancel my transaction for now.
I guess, the "Get a new Deposit Address" for bitshares at Blocktrades.us is a website bug.
I submitted a Support Request for @blocktrades to check this issue. I hope they can resolve this issue very soon. I need 10 STEEM on my account so I can create a two steem accounts for a new project.
UPDATE. I tried using a different browser (EDGE), that's fixed it. It could be a browser cache in my google chrome.
Best regards,
@Yehey