Catch Lil Bubble at BlockShow Asia 2019
@tysler : Hi everyone, once again, I am proud to be an official media partner of Blockshow Asia 2019. Blockshow Asia returns to Marina Bay Sands, Singapore on the 14-15th November 2019. Check out their official website here: https://blockshow.com/
Press Release by Blockshow Asia 2019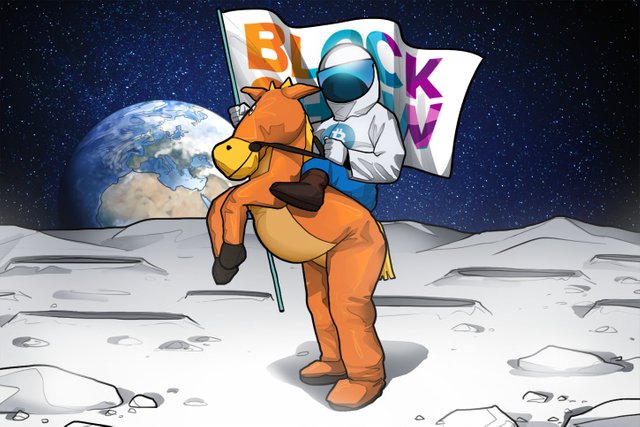 Credit: Blockshow Asia 2019
BlockShow Asia 2019 powered by Cointelegraph brings together experts, media and PR personnel, startups as well as investors. This year's BlockShow Asia is celebrated as a Festival of Decentralized Technology with elements of entertainment in the two-day long conference. BlockShow ropes in Lil Bubble, who shot to fame due to his parody of Lil Nas X's Old Town Road titled All Time Lows.
Lil Bubble's cheeky sense of humour is exhibited in his video All Time Lows, which has been viewed 421,200 times on Twitter and has 122,621 views on YouTube. It features a spaceman who has a Ledger wallet suspended from a chain around his neck and professes his desire to 'ride my alts down to all time lows'. The alts in question being altcoins. The spaceman also plays an acoustic guitar. The tongue-in-cheek video is a play on the eternal hope of altcoin investors that they are oversold and undervalued and thus would one day their valuations would reach the moon. The spacesuit thus is apt.
The fear of losing out is also a theme of the song as the Spaceman is seen sitting in a desolate spot and wondering how he ended up in that place. The social anxiety and herd mentality of the investor is described in the stanza, "FOMO buy the pump, Panic sell the dump." The emotional attachment and love for the underlying investment are evident as he says "buying all these sh*tcoins, you can keep your bitcoin. I am broke as hell but I will never sell." Lil Bubble has captured all the emotions felt by the average investor and brought them to life in his video.
The biting satire of Lil Bubble is refreshing and strangely reflective of the present times. Fans of his work can definitely catch him in Singapore and revel in his wit. Describing his upcoming visit to the lion city Lil Bubble says,
"I might not have made it to the moon, but I AM headed across the planet! Lil Bubble is going global baby. We did it! Super keen to drag these bags all the way to Singapore for BlockShow. I might even meet my idol Justin Sun!"
You do not need any space suits either, just a trip to Singapore will do! Promotional tickets for BlockShow Asia 2019 are available right now. Whether you are a bag holder or a slick trader, come and join us for the show!
Contacts
Website: https://blockshow.com
Email: [email protected]
Twitter: https://twitter.com/blockshowcom
Facebook: https://www.facebook.com/blockshowcom/
Telegram: https://t.me/Blockshow
YouTube: https://www.youtube.com/channel/UC2xsavNLSzXNA1H89ZGgQuw
-tysler, on behalf of the Blockshow Asia Team
Find me on:
Telegram: https://t.me/tysler
Gmail: tysler.steemit