EOS NAIROBI BLOCK PRODUCER CANDIDACY ANNOUNCEMENT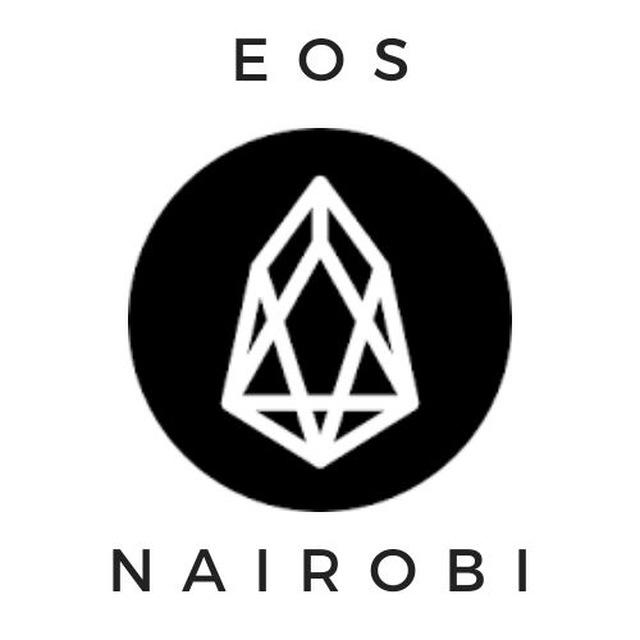 Based in Nairobi Kenya (East Africa), EOSNAIROBI is a strong and vibrant community made up of individuals with different backgrounds who believe that blockchain technology will drive the future. A future where tools of wealth creation are decentralized and accessible to many, a future of transparency and accountability, a future where individuals and groups can participate in making the world a better place on an incentivized platform.
In this post, we will give an introduction to our community, our technical specs, some of our amazing team members and our scaling plans for the future.
We will also highlight some of the achievements we have been able to manage since our community was born.
We will follow the guideline provided by EOSGO.
1. Public website URL and social media accounts
Our website URL: https://eosnairobi.io
Social media accounts:
Telegram: https://t.me/eosnairobi
Twitter: https://twitter.com/EosNairobi
YouTube interview with EOS GO :
2. ID information
A) Official block producer candidate name: EOS Nairobi
B) Location of company headquarters. Nairobi, Kenya
C) Expected location of servers. Nairobi, Kenya
D) Type of servers (cloud, bare metal, etc). Cloud (initial set up), Bare metal (after main launch)
E) Current employee list and pictures of at least 67% of staff.
The EOS NAIROBI Team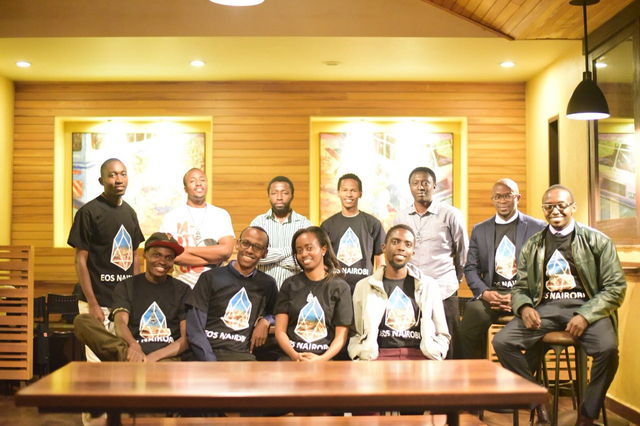 Daniel Kimotho
EOS Nairobi Community Lead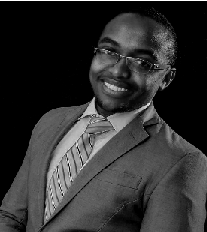 Daniel is a blockchain Researcher in Africa with the Institute for Blockchain Studies (New York), he is also a voice in the blockchain space in Africa having led many conversations around developing a strong blockchain developer community in Africa.
His life mission is to build tools of wealth creation and he is a strong advocate for using blockchain technology to decentralize the tools for wealth creation.
Daniel has been on the stage at the World Blockchain Summit, Speaking on how we can secure our share of the world on the blockchain and decentralize the tools of wealth creation.
Daniel is also the co-founder of First Nexus company, an innovative technology company that focuses on developing solutions for business that take advantage of data and emerging technologies.
George Mosomi
Head of Technology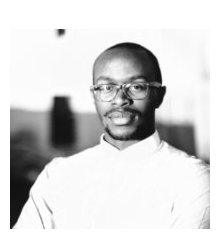 George is the co-founder at Capitally Blockchain, a London based consultancy firm that advises businesses on adoption of blockchain technology. He is a Renewable Energy Consultant for Aquatera Ltd, a globally recognized leader in the development of marine renewable energy. His roles involve strategic assessment and planning, environmental engineering and technical support for both onshore and offshore renewable energy engineering operations.
George has experience as an electrical design engineer for alternative energy projects in East and Central Africa under Renewables Hub Africa Ltd. He has also had the opportunity to work as an assistant electrical engineer at TMS Consulting Ltd, a leading electrical services consultancy in Nairobi, Kenya and Safaricom Ltd, the leading telecoms organization in East Africa. He has an MSc. Distinction in Renewable Energy from Heriot-Watt University and a BSc. Hon Electrical and Electronic Engineering from the University of Nairobi.
Felix Macharia
Head of operations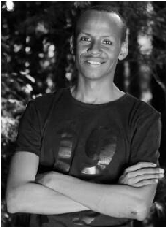 Felix has a background in scientific research and entrepreneurship. He is a co-founder at First Nexus Company, an innovative technology company that focuses on developing solutions for business that take advantage of data and emerging technologies. He is also an affiliate researcher for The Institute for Blockchain Studies (NewYork). Felix has held several operations positions in previous organizations including: Lighta Africa (Operations and Public Relations Manager, 2012-2014), Omnis Limited (Business Development Manager, 2015-date), Connect Wild Africa (Head of Research and
Strategy). He is passionate about the real-world use cases of blockchain technology and sees it as the greatest enabler of financial inclusion.
Peter Okwara
Lead Developer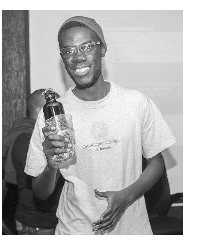 Peter has studied Electrical Engineering at the University of Nairobi. He is a talented software developer and a hardware developer. He is currently working with Fablab UoN to develop low cost devices for Maternal Health. He has great interest in the implementation of Dapps and smart contracts on EOS. He is passionate about using technology to solve African problems.
Roselyne Wanjiru
Researcher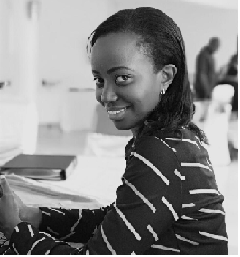 Roselyne is passionate about writing and doing research in blockchain technology and its applications in various industries, especially copyright management, education and health.
David Gitonga
Head of Media and Communication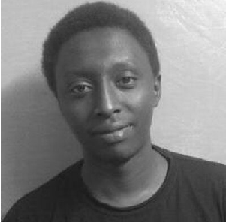 David has been one of the key members responsible for the growth of the blockchain space in Kenya.He runs several media and communication channels that purely cover blockchain communities, events, personalities and projects.
His work has put Nairobi on the map and has drawn the worlds attention to Africa.He is passionate about recording and sharing Africa's growth and transformation story because of blockchain technology.
Joshua Nyaga
Community Events Organizer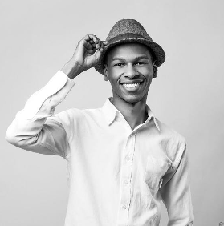 Joshua is a Bachelor of Arts graduate from the United States International University. He is an entrepreneur and is the proprietor of Kraken fisheries and FunGuy Mushrooms. He also has experience in Banking having worked as a clearing officer at Sidian Bank. Joshua believes Eos will foster a new generation of cryptocurrency ecosystems and works as a community organizer for EOS Nairobi.
Brian Kimotho
Content Development Lead (Art Team)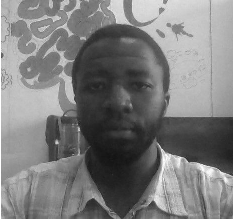 Brian Kimotho has a background in Information Technology. He's trained in embedded Microsystems Design and implementation. He also has experience as a local quality assurance head at a mobile internet company where he tested mobile and web applications for hidden bugs. His interests and hobbies include Blockchain technology, IOT, renewable energy, entrepreneurship and graphic design.Brian leads the art team and has designed and produced merchandise for the EOS Nairobi community.
3. Estimate of technical specifications and total expenditure for resources by June 3, 2018 - posted to Steem blockchain.
Testnets : Aurora, Jungle.
16-32 GB RAM
8 CORES
512GB SSD - 1 TB
Internet Transfer, 1GBps (locally), 100MBps (international).
Expected After June 3rd 2018:
Our plan is to scale up as the network network resources become more demanding.
We have the capacity to scale up to:
256 GB + RAM
32 + CORES
1-10 GBps Bandwidth (International Transfer)
20TB+ Storage
4. Estimated scaling plan for hardware after June 3, 2018 - posted to Steem blockchain.
Our block producer node Infrastructure is hosted in a tier 3 data center that ensures our equipment is safe and functioning in an ideal environmnet.Being the best data centre in the region, our team is confident that cooling, power backup and physical security are suitable to support the global network.
We have the capacity to collocate our backup nodes in two more data centres to cater for redundancy.
5. Community benefit project outline, only for projects expected to be public by June 3, 2018 - posted to Steem blockchain.
The Nairobi community has embraced education on the EOS blockchain as one of its key areas of focus. The community has put together developer classes on EOS for Dapp entrepreneurs.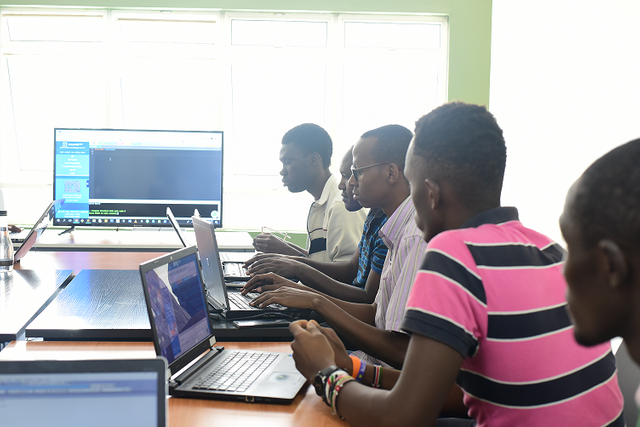 We have set up an incubator program for blockchain entrepreneurs with a Technology partner Techno Brain, a company operating in more than 20 countries worldwide.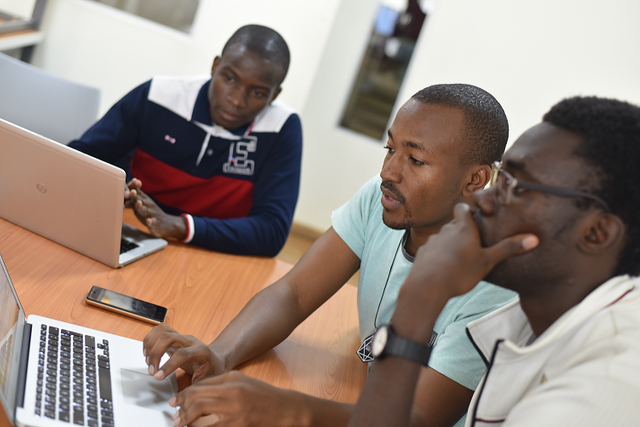 We have set up various Dapp teams that are being incubated within the community as they develop their solutions to leverage EOSIO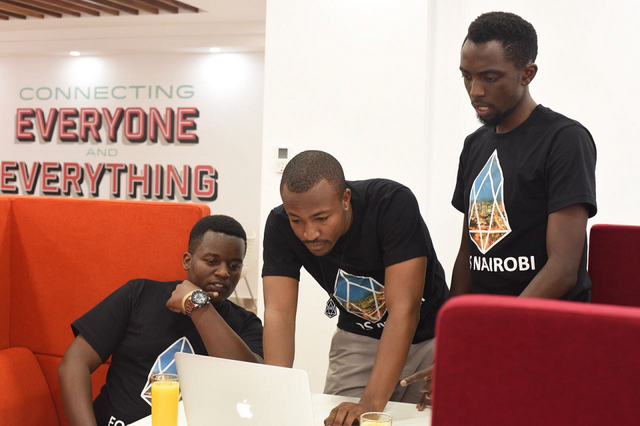 These Dapp teams have had the opportunity to make presentations before government officials and potential investors.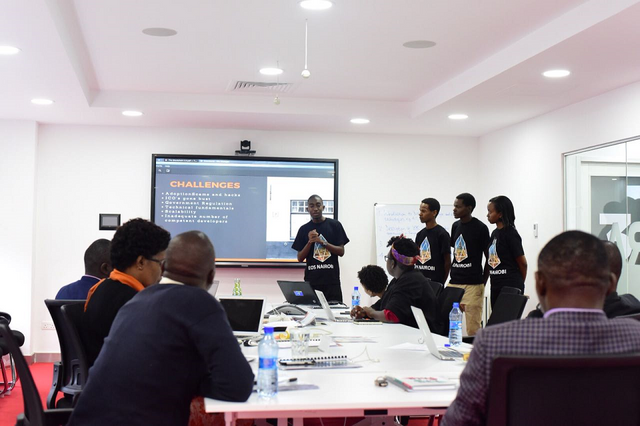 Our community has experienced exponential growth over the past few months, this has been due to the events and meetups we have been consistently hosting.
We host 4 developer sessions each week where we meet with developers and explore the technical aspects of EOSIO and hos to interact with the software.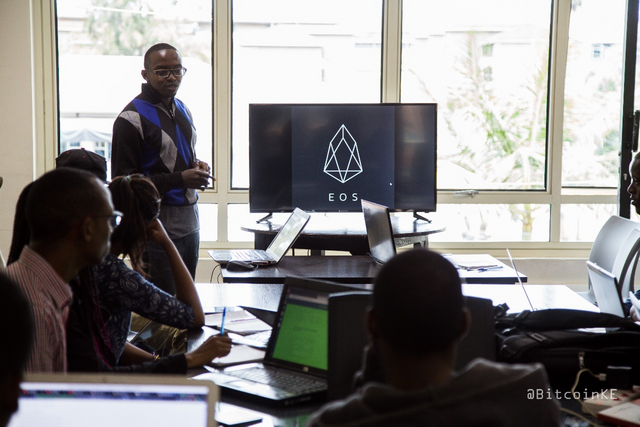 We also participate in a general meetup where we discuss opportunities and the progress that the teams have been making.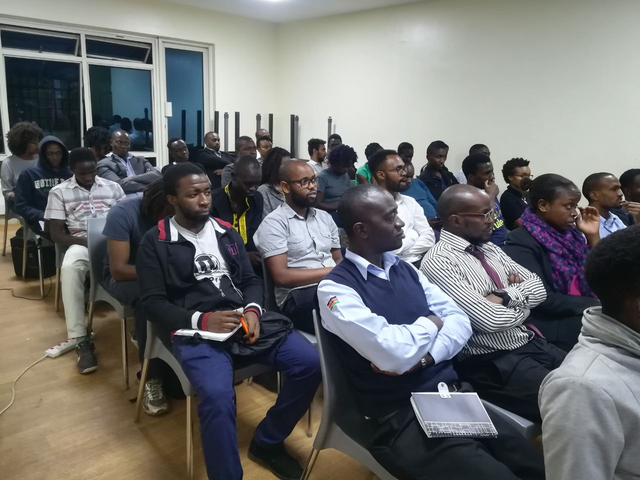 Video:
https://twitter.com/BitcoinKE/status/967657137446031360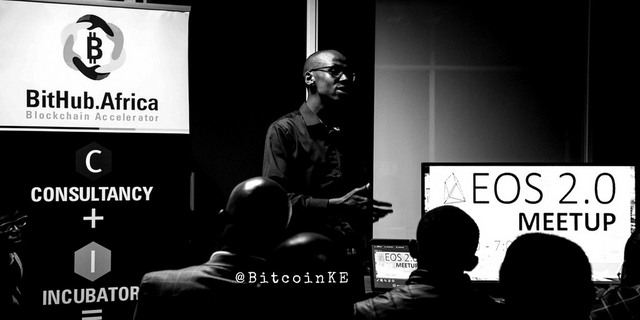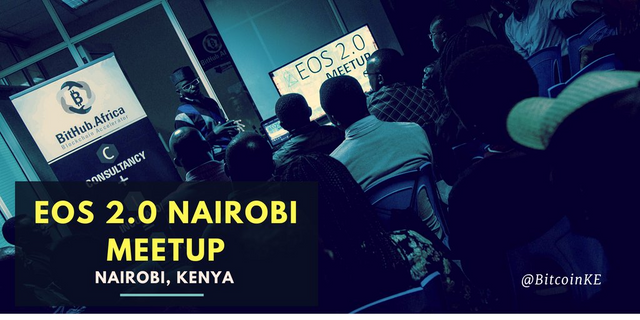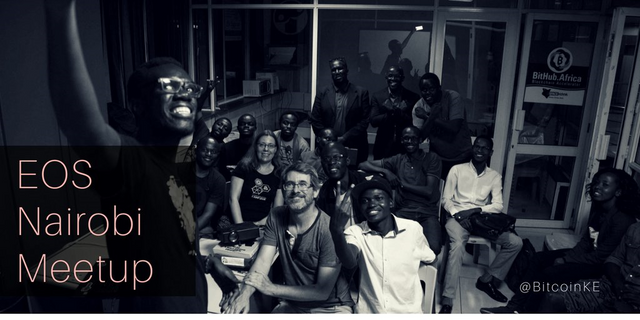 Our first Nairobi meetup.
we had the pleasure of having Ian Grigg and Eva Stowe in Nairobi.
BLOCK PRODUCER CANDIDATE ROADMAP
We are fully self-funded, which means that as a community we have control of the direction we want to take. We strongly believe in collaboration with the global EOS community in delivering the promise of EOS of "securing life, liberty and property". Some of the core values we hold and believe are key in serving the global EOS community include: Collaboration, transparency and openness, creative spirit and integrity.
We have invested the necessary financial and technological resources to ensure that the node will be supported and will not experience downtime due to dependence on token rewards. Of the token rewards we receive we have prioritized two major areas of investment:
1. Block producer node maintenance, improvement, scaling
We recognize that top-level performance in terms of hardware and bandwidth is required to maintain the EOS network. We have prioritized investment in that direction in scaling up our hardware specs to ensure we give the best service possible to the EOS community. Some of these resources will also be used in technical support i.e. hiring and improving the skill sets of the operation team to ensure they are at par with the demands of the network.
2 . EOS ecosystem and community improvement
We are inspired by the great ideas that are coming from community members in terms of how we can use EOS to create life transformative impact. We believe in supporting these ideas and initiatives. For that reason, we will be setting up an incubator for EOS Dapp developers to offer them an opportunity to bring their ideas to life. We will also invest in the education direction- holding meetups, conferences, hackathons and workshops to inform the public on the uses and benefits of blockchain technology and EOS specifically. Later on, we look to opening a seed stage venture capital fund that will aid businesses built on blockchain to effect the changes they want to see in the world.
EOS NAIROBI COMMUNITY ROADMAP
May 26th 2018:
Launch the EOS Nairobi blockchain Incubator in partnership with Techno Brain and our Academic partners: Strathmore University, Meru University and the University of Nairobi.
Late May- Early June 2018:
Preparation for Main launch. We are part of the Jungle and the Aurora EOS test nets.
June- October 2018:
-Expansion of the Dapp developer ecosystem through the EOS Nairobi incubator.
• Partnership with legal experts to launch an ICO framework for Kenya and Africa. This is to aid businesses launching on EOS to do so with the necessary legal support they may need.
• Opening of EOS chapters in University Computer Science Departments in collaboration with the incubator's academic partners.
• First Transparency and Technical audit report on Block Producer operations.
• Regular meet ups and workshops
• Monthly infrastructure review
November 2018:
• Host EOS hackathon in Nairobi, Kenya.
• Launch first set of blockchain Dapps from the EOS Nairobi community (this will be a continuous process however).
• Research team journal report released
• November monthly infrastructure review
December 2018:
-End of year review
Moving forward (June 2019-) we will prioritize:
• Building the EOS Dapp developer ecosystem
• Educating the public on EOS through conferences, meetups and workshops
• Supporting the business ecosystem for ideas built on EOS
• Contributing research and code to improve the EOS protocol
• Collaboration with the global EOS community
POSITION ON DIVIDENDS AND VOTER KICKBACK
EOS Nairobi was among the first block producer candidates to denounce voter kickbacks and voter buying. We believe that such a practice would in the end hurt the EOS ecosystem and derail the achievement of EOS noble goals. Corruption and voter bribery has hurt institutions in Africa and around the world and as such should be discouraged from the get go. We pledge as a community not to participate in any form of voter buying.
Contact Us
Website: https://eosnairobi.io
Telegram: https://t.me/eosnairobi
Twitter: https://twitter.com/EosNairobi