Blockpit ICO Review

Paying crypto taxes shouldn't be complicated...
Let Blockpit do it for You!
Its one of the few projects out there with a Working Product and a real usecase for their Token
What is it?
Blockpit is a Tracking Tool for Crypto Trades. For a look inside, please read my previous post
The Blockpit platform offers an overview of your current portfolio, its value in different currencies, the development over time, list of assets, a transaction history and the result of taxable gains per year.
The Blockpit token ($TAX) is the means of compensation for the use of Blockpit's services. The goal is to offer an open and fair ecosystem, which gives higher benefits for those who extensively use it and keeps costs low for those who just need the essentials.
Who are they?
The company is based in Hagenberg, Austria, my homecountry.
For me its always great to see new, innovative Startups from my area
The core team consists of impressive people who already have a lot of experience with successful Start-up's and running a business.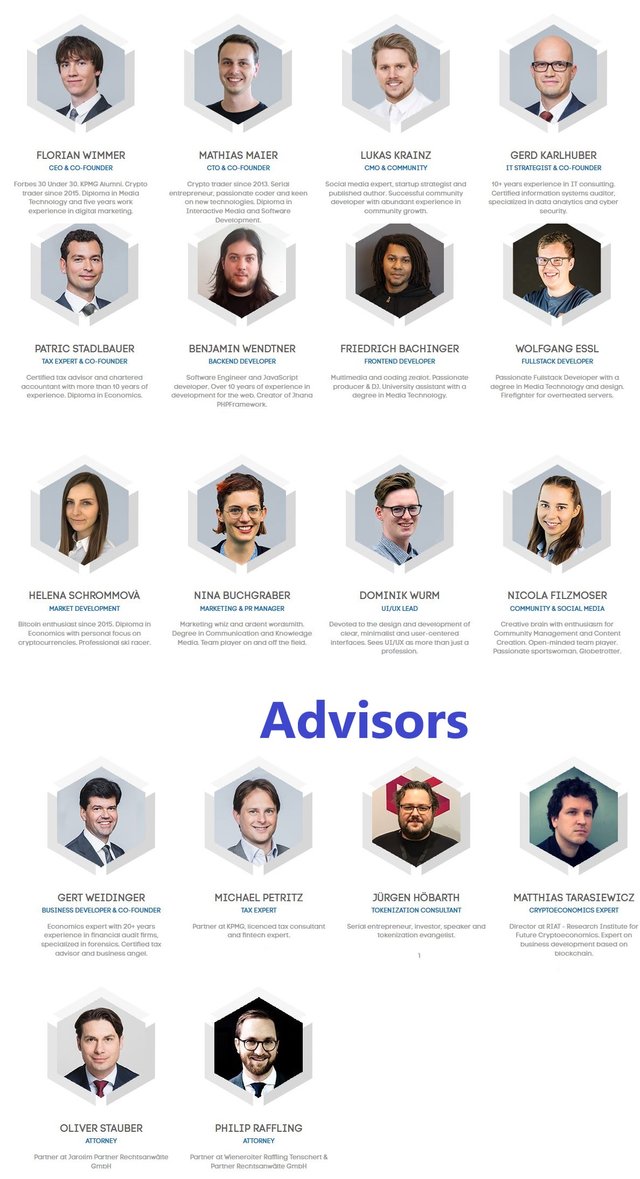 How to contribute to the ICO
As the tokensale is performed according to Austrian law, Every participant will have to register an account with the Blockpit platform. To be eligibile to join the tokensale, users need to perform a KYC process. This will be possible within the account menu as soon as whitelisting starts.
Accepted contribution in BTC, ETH and XEM.
The aim is to raise 12,5m €, which means €0,10 per Token which is an amazing price in my opinion.
The initial supply during ICO will be 178,5 Mio Tokens without Bonus
With Bonus 212,8 Mio. Token (if all Stages sold out)
Blockpit only creates as much Token as they are selling, so the real Supply shows up after the ICO is done
The Blockpit tokensale will consist of a preceding limited private sale and two public phases. The presale phase mandates a minimum contribution limit of 500€ and offers a 20% token bonus for early inves-tors. This requires active and timely whitelisting.
The following crowdsale will be open for everyone and mandates no minimum contribution.
Tokensale terms
Hardcap: € 12.5 million
Price per token: € 0.10
Limit per contributor: € 250,000
Minimum contribution in Pre-sale: € 1,000
whitelisted contributors can claim a 20% bonusin the first 24 hours of the tokensale
Token bonus in Pre-sale: 20%
The Bonus Token are locked through a overall period of 10 Months.
Partial Payout of the Bonus (20% Presale / 50 %Privat Sale) every 2 months on different days.
So Blockpit prevents a dump of the Bonus coins and a break down of the Token Price
Pre-Sale Whitelisting starts 14.07.2018. Register an account on the Token sale Page to receive news regarding the TGE.
Distribution and use of funds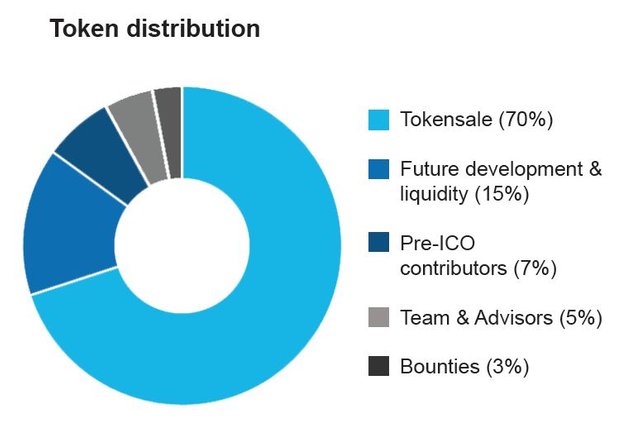 Team token will be vested over the course of two years with a partly payout every three months.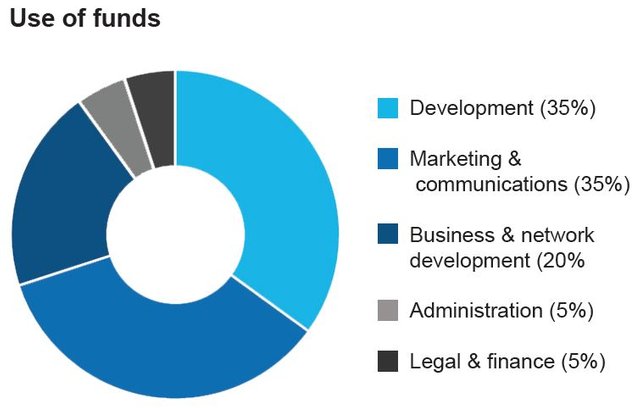 Platform functionality
The Blockpit platform enables you to combine all your different sources of cryptocurrency income into one complete record. Including but not limited to trading profits, mining income, ICO participation, hardforks, airdrops, master nodes and more.
This complete documentation of all transactions is essential for calculating correct tax liabilities. The goal of Blockpit is to have a one-time setup for the user to attach income sources. Once all accounts are set up, Blockpit will automatically keep the data updated in real-time.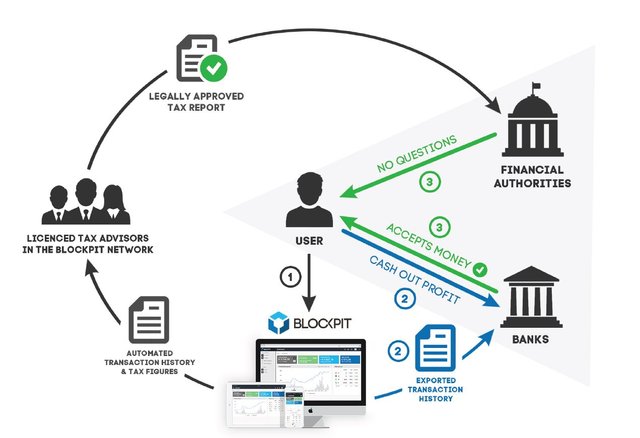 The Blockpit (TAX) Token
The TAX token acts as a so-called "Application Access Token", meaning users of the platform will have to use this token for its services. The goal is to offer an open and fair ecosystem, which gives higher benefits for those who extensively use it and keeps costs low for those who just need the essentials.
By buying and locking up token in the Blockpit account menu, limits on the reports can be lifted and additional features will be unlocked. Staking a higher number of token, results in a higher limit on transactions and simultaneous imports. The cost of Blockpits services will adjust to a fluctuat¬ing token valuation. This will keep entry levels fair and benefit early supporters.
Example (the rates are not fixed yet)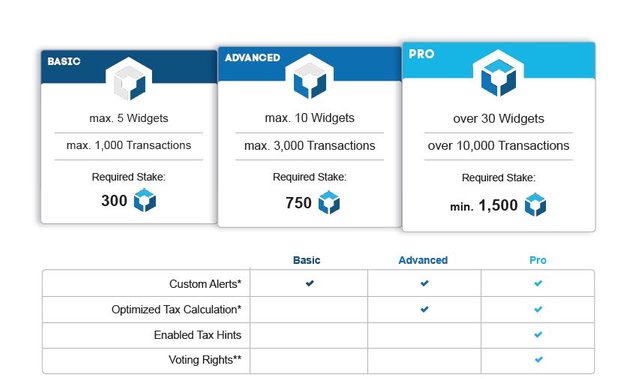 The Blockpit token is blockchain angostic, meaning that you will be able to claim and transfer the token between different blockchains. We are starting with Ethereum and NEM
When will the token be tradeable on an exchange?
The plan to get the token listed on multiple exchanges as soon as they can after the crowdsale ends. Exchange negotiations are ongoing, but announcements about token listings will not be made until the token gets listed to avoid insider manipulation.
Conclusion
05 | 2018 Start of Private Presale
14.07.2018 I Start of Whitelisting for Public Presale
Q3 | 2018 Token Generation Event
more detailed dates tba
The Euro Price is €0,1
Supply (up to) 212,8 mio
It has a talented team and investors with a lot of experience
They are working with the leading law company concerning cryptocurrencies in Austria
It is community focused and has already a working platform!
Blockpit Sentry Mobile App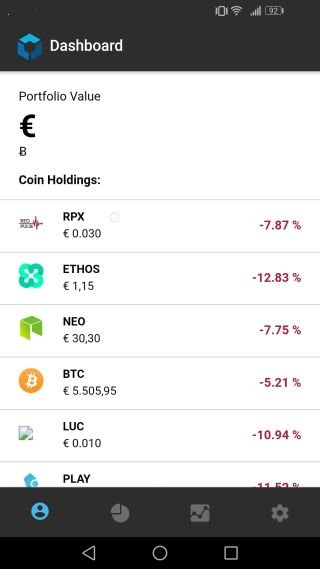 Image is from my Mobile Phone - Assets hidden
The Sentry App acts as the mobile extension of the
Blockpit platform and brings all important information
on your smartphone or tablet.
The dashboard is a miniature version of your dashboard
in the web application, but contains the same
relevant information. Instead of checking your portfolio
every now and then in your browser, you can
quickly access it via the app. Relevant tax information
is available and reports can be downloaded to
your mobile device.
Apply for the Closed Beta
Further Information
Blockpit Platform
Main Page
Token Sale Page
Whitepaper (Englisch)
Tokensale Paper (Englisch)
Telegram
Twitter
Facebook
Blog
Roadmap
Team
Youtube
Medium
Reddit
I'm not related to Blockpit.io in any way
The information consists partly of my own thoughts as well as copied passages of blockpit.io, Blockpit Whitepaper and answers to User Questions in the Telegram Group
All image rights are with blockpit.io
Coloured Blockpit links contain my Ref code connected with their Affiliate System. There is no disadvantage for you, i would appreciate it very much if you klick on it. .
Your help is highly appreciated!
Thank you!
Cheers Patrick
Disclaimer: Investing Money in Crypto is always risky. Don't see this as investment advices. Invest Carefully. Always invest only Money u can afford to lose. Always DYOR. I am not responsible for losses.